Muscovites give IAAF world championships a miss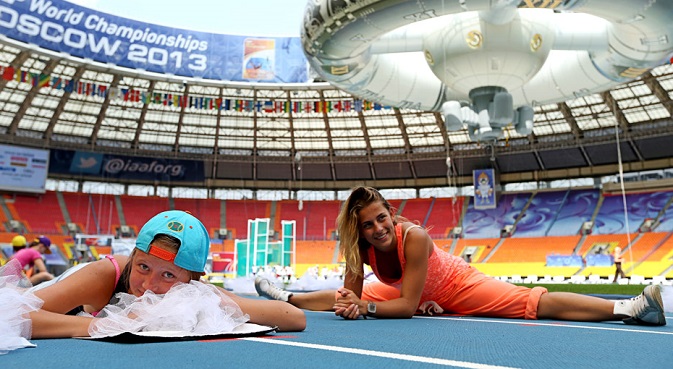 Dancers take a rest during a rehearsal of opening ceremony in Luzhniki stadium in Moscow on August 7, 2013 ahead of the World Athletics Championships. Source: AFP/East News
Warm sunny weather, lack of proper marketing leave Moscow's Luzhniki stadium empty during the first two days of the competition.
Thin crowds plagued the World Athletics Championships in Moscow for a second day in a row Sunday, as one of the first in a series of large international sporting events being hosted by Russia failed to attract substantial local interest.
Photographs and video footage during the competition's opening ceremony Saturday – when President Vladimir Putin gave a welcome speech to athletes and spectators – showed large blocks of empty seats in Moscow's Luzhniki stadium, while reports on Sunday suggested that most of the stadium's 78,000 seats had not been filled.
Concerns over poor attendance were voiced repeatedly during preparations for the event. In April Lamine Diack, the head of the International Association of Athletics Federation (IAAF), criticized the Russian organizers for inadequate promotion. And last week the Moscow authorities attempted to give away 240,000 free tickets in a bid to boost crowd numbers, the BBC reported.
Luzhniki stadium, which also hosted the 1980 Olympics, was less than half full Sunday afternoon, James Appell, a spectator at the stadium, told RIA Novosti by telephone.
Between 80 percent and 85 percent of the tickets had been sold for the whole event said Sergei Bubka, pole vault world record holder and IAAF vice president, and he attributed poor attendance over the weekend to summer sunshine tempting Muscovites to escape to the countryside for a few days.
"Maybe some people bought tickets and didn't attend," Bubka said. "I hope we will settle this issue, because for athletes the crowd is the most important."
There was a particularly large group of Ukrainian supporters in the half-empty arena over the weekend, whose cheers for their athletes often drowned out the support Russian track and field stars received from the home crowd. Bubka said that a Ukrainian company had paid for a large group of Ukrainian fans to attend.
Others blamed the half empty stadium on a widespread ignorance about athletics in Russia, and other countries of the former Soviet Union.
"They don't know this type of sport very well in post-Soviet countries," Ukrainian decathlon athlete Aleksei Kasyanov said Sunday, the BBC reported. "Although there are some serious fans, when you say 'athletics' people sometimes reply, 'that's the one on horseback, right?'"
The World Athletics Championships in Moscow will run until August 18. Russia is due to host the 2014 Winter Olympics in Sochi, the World Aquatics Championships in Kazan in 2015, and the football World Cup in 2018.
First published in RIA Novosti.
All rights reserved by Rossiyskaya Gazeta.