Visa regulations hinder international stars from performing in Russia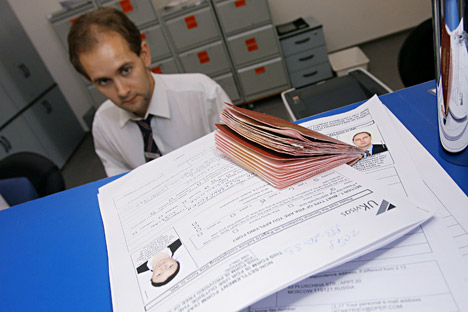 Foreign artists have to deal with a wall of red tape to get a work permit. Source: RIA Novosti / Ilya Pitalev
Russia might stop tours of international artists due to visa problems. Current visa rules don't allow commercial performances and Russia doesn't issue artist's visas.
In July, the Ministry of Culture of the Russian Federation ceased to issue visas with the words "cultural relations" to foreign artists coming on tour in Russia. The reason is simple – these visas are intended for persons engaged in non-commercial activities on the territory of the Russian Federation. However, no other type of visa, including business and tourist, entitle artists to come to Russia on a tour.
The only option is to apply for a work visa through the Federal Migration Service (FMS), which is a very difficult process that takes about half a year. The artist would also be required to terminate all existing contracts in his/her home country. It is hard to imagine that Madonna would terminate contracts with her agents for a tour to Russia.
"I would not confuse the cultural ties that Russia has successfully maintained and developed with the majority of states, and show business," First Deputy Minister of Culture Vladimir Aristarkhov says. "The support of show business is not included among the tasks of the Ministry of Culture. We are ready to support the performances of talented artists, but do not have the right to, and will not, engage in violations of the law. I believe the Federal Migration Service should come up with proposals so that this situation may be resolved."
Edgard Zapashniy, general director of the Moscow State Circus believes it is a cumbersome procedure to obtain visas for artists. "At the beginning of the year, Italian trainers experienced a one-week delay in coming here, because of visa problems," Zapashniy says. "Now, on the eve of the International Circus Festival, which will take place in October, we are working on concluding contracts with artists from more than 15 countries, and face daily challenges. We are offering half-year contracts, and if we try for humanitarian visas, it would be a violation of the law. A working visa is extremely difficult to obtain, as it requires the termination of contracts with foreign agents, and seeing that all artists work with several agencies, the problems begin. Moreover, if the replacement of an artist or someone on the permanent staff is needed, getting a work visa becomes impossible."
Andrey Klyukin general director of the J Group and the Wild Mint Festival believes that a new type of visa must be created. "At the festival, we present the cultures of many different countries. Over the years, we have worked with many embassies, and we bring artists into this country within the framework of cultural exchanges," Klyukin says. "However, when it comes to ordinary commercial concerts, organizers do face visa problems. We are still a country that cannot receive or refuse international touring stars of world of opera, ballet, jazz, pop and rock music."
He is supported in this by Dmitry Sarayev, head of the RIFF Concert Agency "In all civilized countries, artists are given special visas that are issued using a simplified scenario," Sarayev says. "Now we have to resort to tricks in order not to break the law and be able to get our work done, because artists do not have much time to work on getting visas. The usual visa types simply do not fit artists."
Ilya Bortnyuk, general director of Light Music, also believes that it is necessary place actors into a special category. "A businessman who comes for six months, and an artist coming for two days – are two fully different things," Bortnyuk says. "If a work visa becomes the only option, artists will simply stop coming here. To obtain a work visa, you need half a year, and it costs a fortune. We must understand that the majority of artists who come to club concerts get about € 200–300 for one performance. To get a visa would cost more than this, and they simply will not come here. In the end, the audience will suffer, as well as the country's reputation."
Eduard Ratnikov, president of TCI – a large Moscow concert agency, pointed out that artists now have difficulties even getting business visas. "I almost never applied for cultural visas for artists, always using business visas," Ratnikov says. However, not everything is well here either – and there is plenty to complain about. Our Federal Migration Service still has not drawn up regulations for artists. They have fully airtight regulations for migrant workers, but these cannot be applied to Madonna, Elton John, Lady Gaga or Rammstein. In civilized countries, they have special visas for artists. These are absolutely logical and straightforward as ABC, and this is as it should be."
Based on materials from Izvestia.
All rights reserved by Rossiyskaya Gazeta.