Delhi's Russian cultural centre celebrates Indian Independence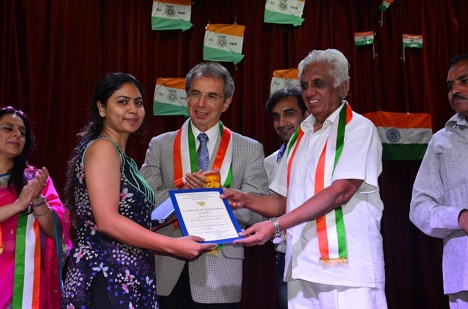 The celebrations were inaugurated by Senior Counsellor of the Russian Embassy in India and distinguished photographer Sergey Karmalito (c). Source: RCSC
Indo-Russian photo exhibition and concert held on the eve of independence day, highlighting the diversity of India.
On the eve of the 67th Independence Day of India, August 14, the Russian Centre of Science and Culture (RCSC) in New Delhi organised a colourful celebration.
The programme kicked off with a photo exhibition by Russian and Indian photographers appropriately titled 'Incredible India.' This was followed by a concert by young Indian music and dance performers.
The celebrations were inaugurated by Senior Counsellor of the Russian Embassy in India and distinguished photographer Sergey Karmalito.
Source: RCSC
"It is gratifying that no domestic social or economic shocks or sweeping shifts in the international arena managed to shake the tradition of Russian-Indian friendship," Karmalito said. "The potential of bilateral trade, economic, scientific, technological and cultural cooperation is far from being tapped fully. There are plenty of opportunities for its substantial build-up and diversification and we must actively work together to search, explore and utilize all new vistas and horizons."
Noted artist Aakshat Sinha conveyed his gratitude to the RCSC on behalf of FIPA and Citizens' Film Forum for organizing the event and expressed eagerness towards future cooperation.
The photo exhibition comprised of over 45 photographs by Russian and Indian photographers, including works by Karmalito, Vimal Mehta, president of FIPA and a number of acknowledged Indian photographers, reflecting various aspects of Indian culture and traditions, nature, Indian people, monuments and architecture. The show will be on display till August 25.
The concert was organised by members of the Federation of Indo-Russian Youth Clubs and elite schools of the Indian capital.
Cultural events organised by the Russian centre tend to be popular in the Indian capital, which has a small and thriving Russian community and a large number of Indian Russophiles. Delhi enjoys a sister city agreement with Moscow and the cities also have an economic cooperation agreement, which was signed when chief minister Sheela Dixit visited Moscow in 2005.
All rights reserved by Rossiyskaya Gazeta.