Sonu Nigam mesmerises Moscow; won over by Russia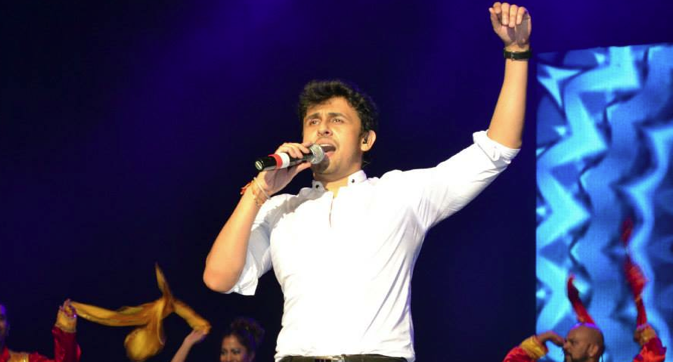 Sonu Nigam's visit and impressions may just be what is needed to boost cultural ties between the two countries and bring Bollywood film crews to Russia. Source: Embassy of India in Moscow
Showered with affection and gifts from adulating fans in Russia, the Indian singer wants Bollywood and Indian tourists to explore the country.
Sonu Nigam's first visit to Russia proved to be a memorable occasion for both the Indian singing sensation and his fans and admirers in the country.
Performing in Moscow was like a dream come true for the artist. "From my childhood my siblings and I were told by our parents that Russia is our friend, and we have a great love for Russia," Nigam told RIR in an interview. The country definitely won over the artist. "The bigness, the warmth of the people, the history, and the rich legacy is what I liked about this country. I have explored a lot of countries. But this is the first time I came to the country where I had to buy extra two bags to fit all the gifts from my Russian fans."
Source: Embassy of India in Moscow
Sonu Nigam's visit to Moscow was arranged by the Overseas Bihar Association (OBA), a non-commercial socio-cultural organization of Indians established in May, 2012 in Moscow to promote Indian culture through its different activities.
Last year it organised a celebration to mark 100th anniversary of the foundation of the Indian state of Bihar. Bollywood singer Alka Yagnik, Bhojpuri singer Devi Verma and the winner of K for Kishore, Chetan Rana performed in a concert in Moscow to mark the occasion.
This time a large audience of fans, both Russians and Indians, turned up at the prestigious Crocus City Hall for the concert on a warm summer afternoon.Many Russians in the crowd were dressed in traditional Indian clothes, with some fans making the long trip from St Petersburg just to watch the concert.
In keeping with Russian concert traditions, fans went up to the stage to hand over bouquets and other gifts. A teary-eyed admirer gave the star a Matryoshka and tried to teach him how to pronounce the Russian word for doll (kukla), which Sonu repeated almost without an accent.
"I was truly overwhelmed," he says adding that he observed the Indian attire of the Russian fans who knew his songs. "For me music is not just profession, it's a state of mind. So when you see your art and your work appreciated by people from so far, they don't understand your language, you don't understand their language." Describing the love he received from the Russian fans, Nigam said he felt "indebted" to them. "So I have become more of a fan of Russian people than they can ever be of me."
It's not just gifts and warm memories that the singer wants to take back to India.
"My doors are open for any composer and any producer from Russia, he said adding that some of the greatest composers are from Russia. "I want to take Russian music to India and to share this soulful music with Indians."
At the Moscow concert, he performed a lot of well-known film songs, including "Dil mangta hai dildar soniye" (from Mujhse Shaadi Karoge), "Kal ho na ho" and "Kiska hai yeh tumko." All this to the delight of the audience! The high point of the concert was Sonu's singing the song "Abh Mujh mein kahi" from Agneepath. He said this song is like a prayer to him and he only performs it for very special audience.
Cultural ambassador for Russia
Sonu Nigam's visit and impressions may just be what is needed to boost cultural ties between the two countries and bring Bollywood film crews to Russia. "You know, two days back I was using whatsapp and I told my friend who is a very big director in India (Mani Ratnam) that he must come to Moscow and make a film here," Nigam said. "This place should be more explored by Indians! I am already making Moscow popular in twitter. Everybody who follows my tweets knows: he is in Moscow and he's enjoying it there. (laughs) So hopefully many more Indians will come to Russia after reading that."
Source: Embassy of India in Moscow
At one point during the concert, Sonu brought his son Nevaan on the stage and they danced together to Kolavari Di. At the August 10 concert, the singer, who has strong family values, also paid an emotional tribute to his mother who passed away recently and appealed to the audience to spend as much time as possible with their parents. "10th is a very special date for me because it is my mother's birthday and I lost my mother just a couple of months back. I am taking a lot of "Ms" with me now. "M" for mother, "M" for music, "M" for Moscow, "M" for memories. I hope this "M" for Moscow is not the last for me."
Sonu Nigam shares his impressions of Moscow. Source: RIR
All rights reserved by Rossiyskaya Gazeta.