Sharapova fires Jimmy Connors after just one match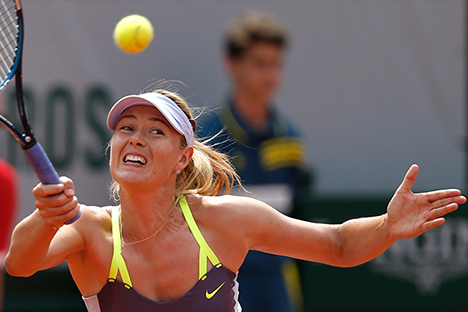 The split leaves Sharapova without a coach heading into the US Open which starts on August 26. Source: AP
After losing her first round match at the Cincinnati Masters Sharapova decided to fire the American tennis legend who she hired as coach after Wimbledon.
Russian tennis star Maria Sharapova ended her relationship with coach Jimmy Connors after just one match, Tennis.com reported. "It's not the right fit for this time in my career," Sharapova was quoted as saying in a statement.
On August 13, Sharapova lost her opening-round match at the Cincinnati Masters to Sloane Stephens. That was her first match since Wimbledon and became curtains for the Sharapova-Connors team-up.
The Telegraph reported that Sharapova looked more eager to impress Connors than to play her natural game, shanking her returns and committing a hail of unforced errors as she became nervy after winning the opening set. Connors was visibly upset with his pupil's abject display, holding his head in his hands and making a hasty retreat from Cincinnati's Lindner Tennis Centre afterwards.
After the match Connors tweeted: "Every good round starts with a bogey - not the start we wanted, so back to work tomorrow." But Sharapova's thoughts were different. "It's not the right fit for this time in my career," she said in a statement.
Tennis.com said, Sharapova made her father Yuri make the phone call to Connors to tell him that they will no longer be working together. It was Yuri, who initiated the hire of Connors.
Maria Sharapova hired Jimmy Connors in July to replace Thomas Hogsted, following the Russian star's shock 2nd round defeat at Wimbledon. Hogsted had worked with Sharapova since 2010.
Tennis legend, 60-year-old Jimmy Connors won eight Grand Slam singles titles in a storied career. He won five US Open titles, two Wimbledon titles and the Australian Open once, topping the world rankings from July 1974 to August 1977. Connors had already worked with the Russian star. He was Sharapova's coach in 2008, just before the Australian Open, which she won.
Connors was sanguine about the firing, Tweeting Thursday: "Back home in SB-_ family, pups, and home cooking. Oh-- I forgot, and a vodka on the rocks."
Andy Roddick, close to both Connors and Sharapova, could not resist commenting on the haste of their parting of ways. "Who had the under [odds] on a match-and-a-half for Connors/Sharapova?" he tweeted. "If you did, congratulations on your newfound wealth."
The split leaves Sharapova without a coach heading into the US Open which starts on August 26. It is unclear whether Sharapova will try to hire a coach prior to the tournament or work with an interim coach. She could ask one of her regular hitting partners, such as former Wimbledon semifinalist Vladimir Voltchkov, to assume that role.
Some observers at the Cincinnati tournament believe that Sharapova may be having shoulder troubles again.
Based on Tennis.com, RIA Novosti, The Telegraph.
All rights reserved by Rossiyskaya Gazeta.