St. Petersburg police raid the Museum of Authority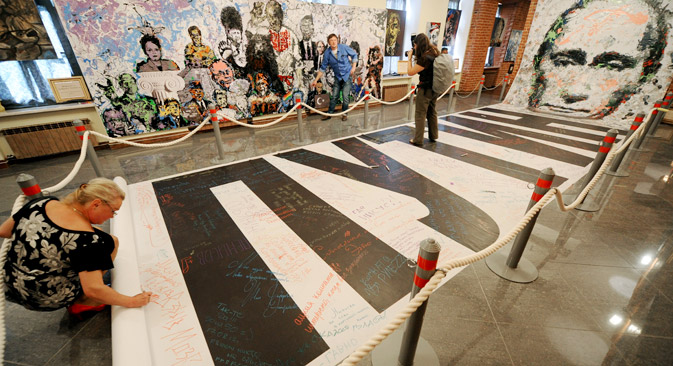 In the Museum of Authority in St. Petersburg, the paintings on display contained provocative images of officials, politicians and religious leaders. Source: ITAR-TASS
Radical Russian art finds itself at the center of another political scandal.
Authorities seized provocative paintings featuring likenesses of prominent Russian politicians from the Museum of Authority in St. Petersburg. Experts question the artistic value of the paintings and contend that modern artists are consciously creating inflammatory works to draw attention to their selves.
Alexander Shaburov, an artist belonging to the Siniye Nosi (Blue Noses) association, often incorporated images of politicians from different countries in his works. His videos and photo collages were extremely provocative. The main characters in his art were Vladimir Lenin, Vladimir Putin, Georgian President Mikhail Saakashvili, former Ukrainian Prime Minister Yulia Timoshenko, and others.
Once, Shaburov's "Era of Mercy," which depicts two policemen kissing, was not even allowed to be taken out of the country for an exhibition. According to the artist, he uses politicians in his art so often because contemporary artists must attract attention any way they can.
In the Museum of Authority in St. Petersburg, the paintings on display contained provocative images of officials, politicians and religious leaders. Police closed down the museum and seized four paintings: "Travesty," which depicts people who look like Russian President Vladimir Putin and Prime Minister Dmitry Medvedev dressed in women's swimsuits; the diptych "Erotic Dreams of State Duma Deputy Mizulina" (the sponsor of a law prohibiting the promotion of homosexuality to minors); "From Confession," a painting showing Patriarch Kirill with prison tattoos; and "Rainbow Milonov," a portrait of a St. Petersburg deputy known for opposing homosexuality.
According to representatives of the Ministry of Internal Affairs, police officers visited the exhibition in response to complaints by citizens that the organizers of the exhibition had violated the law.
The owner of the gallery is Alexander Donskoi, the former mayor of Arkhangelsk who left his post after a series of widely-reported scandals that ended in criminal proceedings. In 2007–2008, he was found guilty of forging a diploma and abuse of authority.
After leaving office, the former official started a rather unusual business: Besides the Museum of Authority, he has a museum of erotic art in St. Petersburg and one in Moscow. Donskoi explained to RBTH that the police did not show any documents when they confiscated the art, which could be considered illegal.
"People in uniforms took away four of our paintings; one we found at the police station, the others have simply vanished. These paintings are the property of the artist and he would like them back," said Donskoi.
"None of the police officers showed us any documents, except one lieutenant. We did identify Milonov. He said that we are dealing with extremist activities. But he was the one who broke into our building and insulted the work of our artist."
Donskoi claims that modern art often causes a scandal and this is normal. "Contemporary art is always on the brink of provocation; it is a kind of exaggeration. Some of our works of art actually depicted our highest officials in a very positive light. Art must evoke emotions," said the former mayor.
The former director of the Perm Museum of Contemporary Art, Marat Gelman, agrees that art should be seized only by court order, and that the police behavior only attracted attention to what had been an inconspicuous event.
"It was a weak and uninteresting exhibit: No one would have noticed it, but now everyone knows the works of art that was there. The police have made an advertisement for the artist and the gallery owner," Gelman said. He further commented that officials should be happy that they are depicted, even in ironic art.
"Everything that happens in the artistic world — including criticizing the authorities—is normal and we should be glad about it. Russian culture is very self-depreciating: People laugh and humanize the image. The authorities should encourage the creation of ironic and comical portraits of themselves," said Gelman.
The director of the Multimedia Complex of Contemporary Arts, Olga Sviblova, believes that the main goal of art should not be political.
"I am against the unprofessional use of art as an aide in solving political or economic interests," said the expert. "The Museum of Authority most likely is not related to the art world. There is room in art for political themes, but we need to seriously ask ourselves whether or not a work of art was created for posterity or if it is a political cartoon. A cartoon also can sometimes become art, but in rare cases. It is important to understand the context in which the work is shown, why, and what issues it addresses."
Sviblova explained that it is important to establish what issues Donskoi was dealing with in this exhibition and which of his personal interests were highlighted.
"We often create an uproar over an event that prevents us from addressing the issue and creates difficulties in the future for the participant. If Pussy Riot had not received so much publicity, the girls would have been released long ago," she concluded.
All rights reserved by Rossiyskaya Gazeta.