Romanov Dynasty through the eyes of Russian artists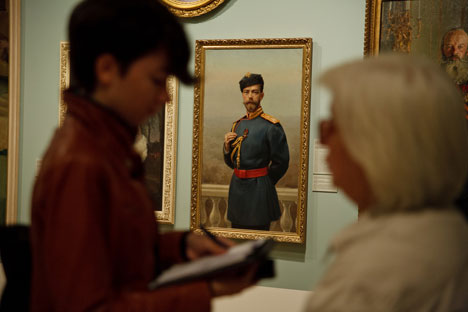 The exhibition includes both historical content and art. Arranged in chronological order, it tells the story of the portrait genre in Russia. Source: Press Photo
A military brass band accompanied the opening of a new exhibit called "The Romanovs: Portrait of a Dynasty" at the State Historical Museum. The exhibition celebrates the 400th anniversary of the reign of the Romanov dynasty in Russia.
According to the curator of the exhibition,Yevgeny Lukyanov, their main goal is to show that, in addition to popular monarchs such as Peter the Great, Catherine the Great and Nicholas II, there were other interesting personalities in the royal family.
Among them were talented artists, such as the Grand Duchess Maria Feodorovna, wife of Paul I, who personally carved portraits of her family out of stone and glass.
Or the actor, poet and translator, Grand Duke Konstantin Konstantinovich, who is pictured in a colorized photo from 1899 dressed as Hamlet—a role he played in the Hermitage theatre with the permission of the emperor.
There were also people with dramatic fates. Take, for example, Grand Duchess Anna Pavlovna, who is shown here in a Western European engraving, grandly marching arm-in-arm with her husband, the Duke of Orange.
The Russian duchess who became a Dutch queen was and still is so beloved by her adopted people that the Dutch city of Anna Paulowna was named in her honor.
The exhibition includes not only historical content, but also art. Arranged in chronological order, it tells the story of the portrait genre in Russia—from the early "parsuna"(secular portraits) of the 1670–80s (represented by a portrait of czars Mikhail Fedorovich and Alexei Mikhailovich), up to pre-revolutionary photographs.
Among the artists are some famous names: There is the formal portrait of Nicholas II painted by Ilya Repin, and a marble bust of Alexandra Feodorovna created by Mark Antokolsky.
There is also an etching by Ivan Kramskoi of Crown Prince Alexander Alexandrovich, the future Alexander III; the artist created the etching after his own portrait. Kramskoi called his prints "banknotes," since engravings of monarchs were always printed in large quantities, were popular, and brought artists a handsome income.
In the next room are small, black-and-white photographs of Alexander II holding his infant son on his lap. At the feet of the emperor rests his beloved dog, Milord, who was so attached to his master that, when the emperor went to Paris for the World's Fair in 1867, the dog could not stand to be without him and died.
From the court painter Mikhail Zichy there is a watercolor of the reception at the Winter Palace on April 5, 1866—just one day after the unsuccessful assassination attempt on Alexander II by Dmitry Karakozov.
Russia's era of terrorism began at that moment, but, in the drawing, the emperor is accepting congratulations for his miraculous escape.
All rights reserved by Rossiyskaya Gazeta.