Bolshoi ballet rocked by a year of scandals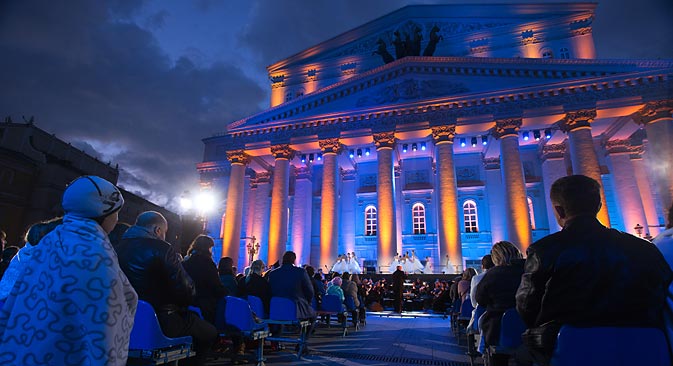 The upcoming 238th Bolshoi Theatre season will premiere three new ballets. Source: RIA Novosti
Artistic director Sergei Filin is set to make an emotional return to the Bolshoi Theatre in Moscow this month, as the scandal-plagued troupe attempts to rebound from a year of unprecedented turmoil.
Sergei Filin, artistic director of the Bolshoi Theatre, has undergone 22 eye surgeries and tissue transplants at a clinic in Aachen, Germany, since suffering severe burns to his eyes and face in a vicious early morning attack in Moscow on Jan. 17.
The assault revealed bitter infighting at the Bolshoi and led to criminal charges, sacks, walkouts, protest petitions and, eventually, the dismissal of the general director, as the Ministry of Culture moved to safeguard the image of Russia's flagship ballet company.
Dancer Pavel Dmitrichenko, who played villains such as Ivan the Terrible, allegedly confessed to hiring two hitmen to attack Filin; all three men now face lengthy prison terms.
However, 300 dancers and staff, led by the popular dancer Nikolai Tsiskaridze, signed a petition claiming Dmitrichenko had been forced by police to slander himself.
British choreographer Wayne McGregor, citing Filin's absence, postponed his production of "The Rite of Spring," which was scheduled to open at the theatre in March. This left his replacement, avant-garde choreographer Tatiana Baganova, just one month to re-stage a new production.
In June, Tsiskaridze was sacked, following reports of a power struggle with general director Anatoly Iksanov. Just weeks later, the Ministry of Culture shocked ballet circles by removing Iksanov himself after 13 years in charge.
"A difficult situation had developed […] Human strength and ability, even of the most superlative professionals, has its limits," Culture Minister Vladimir Medinsky told a press conference, announcing the appointment of new director Vladimir Urin.
"I do not plan any revolutions, and only together can we solve the problems," said Urin, a widely respected administrator seen as a steadying hand.
"The scandals of the last year have damaged the image of the company a lot, because it's difficult to understand how such cruelty can happen in the magical world of dance," Bolshoi spokesperson Katerina Novikova told RBTH.
"But the dancers have pulled together to support each other in the face of some harsh press attention and are more united than ever," said Novikova. "In terms of artistic quality, this remains one of the best classical companies in the world. Everybody saw it in Australia earlier this year, and again in the recent sold-out season at the Royal Opera House in London."
Filin surprised the London audience and rapturously received curtain-call on opening night there, after Urin visited him in Aachen to assess his medical progress.
Urin has said that Filin will be welcomed back to the company, but he has urged caution also.
"He is psychologically ready to return to work and I would love to have him back, but his medical treatment continues," said Urin.
Filin, who remains upbeat, told Russian channel Rossiya 1 that his appearance in London was "a huge boost."
"The doctors are doing all they can," said Filin. "My right eye still sees nothing, and my left eye is working at about 10 percent. If my left eye continues recovering at the same pace […] it is quite possible that I could return to work and attend the opening of the new season in Moscow in mid-September."
The upcoming 238th Bolshoi Theatre season will premiere three new ballets: "Marco Spada" by Pierre Lacotte; "Lady of the Camellias" by John Neumeier; and "The Taming of the Shrew" by Jean-Christophe Maillot.
International tours for 2013–14 include performances in Singapore, France, Norway, the United States and Japan.
All rights reserved by Rossiyskaya Gazeta.