Shiva Keshavan "amazed" with Sochi Olympic infrastructure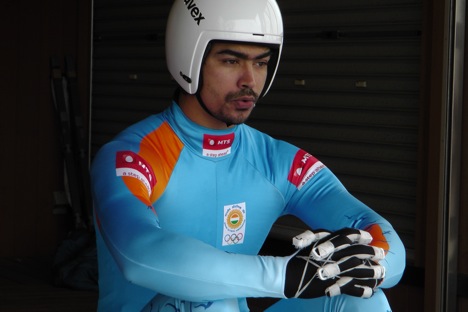 Shiva Keshavan: "I always wanted to go to Russia". Source: Alexander Tomas
In an exclusive interview with RIR, the 32-year-old luger talks about his first sled, travel to Russia and the quest to win a medal for India.
Shiva, the first question is quite predictable for you. How did an Indian end up going in for winter sports?
It snows a lot in the Himalayas where I live. In the winter, everything is blocked with snow and there is nothing much to do. So winter sports were some kind of fun for us. We used to make our own skis and sledges out of wood. Then of course I took part in various competitions like the National Winter Games of India that have been taking place since 1996.
Do you remember your first sled? How did you get it?
Actually for a long time in my career I didn't have a personal sled. In the beginning I borrowed a sled from FIL (International Luge Federation). At my first Winter Olympics in Nagano (Japan) in 1998 I wanted a better sled, so I bought an old sled from the Korean team. Then I started making my own sled with the help of other competitors. So it took a long time before I finally got my personal sled in 2008. My first ten years in sport I didn't have any equipment of my own.
Do you apply for any help from the government at that time?
Yeah, I applied for it. But it`s difficult to come to Delhi and explain to people that there is something called Winter Olympics – the same thing like Summer Olympics. Right now we are also negotiating with the government to give us some help to participate in the Sochi 2014 Winter Olympics. Since nobody had been there before me and I am the first one, there have been a lot of difficulties along the way. Initially the sport was not recognized and there was no any official association. Even now the Indian Amateur Luge Association is not recognized by the Sports Ministry of India in spite of its recognition by the Indian Olympic Committee (IOA) and International Luge Federation. There is a rule that any federation should be represented in at least nine states. But in India we don't have nine winter states , you know. This causes a lot of hurdles. I, along with the Indian Amateur Luge Association conduct camps and more and more sportsmen come. We are training a junior team and they performed well at the Asian level. But it couldn't be followed-up because no funding is coming through. The present Honorable Sports Minister, Mr. Jitendra Singh is very active and he assured me that something was going to be done about it. All this needs to be done quickly. An athlete`s career passes very fast. It can`t last forever.
How many people in India play winter sports nowadays and which ones are the most popular?
There are a lot people actually practicing winter sports. Every year we have the National Winter Games that are held either in Kashmir or Himachal Pradesh or Uttarakhand. In these games, more than five hundred athletes participate in various sports. In terms of popularity various forms of skiing, mainly slalom and giant slalom, are practiced here. We still don't have any ski jumping or mogul skiing. Cross-country skiing is also very popular because the army trains a lot of people in it. There are some ice rinks in Delhi, Dehradun and Simla where people do ice skating. But still India has not been able to produce any high-level athletes.
So are there any plans to build a sled track in India?
Well, see, in luge we have two kinds of tracks – natural track, which needs only a road that is iced in the winter. You can practice in that. A track suitable for Olympics events is an artificially refrigerated unit and ice has to be maintained in special ways because we go on a very high speed and it could be dangerous. To prepare a natural track there is no need for much investment but to make an artificial track someone actually has to build it. And I think this would be a next great step for us in luge. If the government builds it than it will be a take-off for sport. But as of now there are no such plans in India. The only natural luge track here is what we prepare in the winter to train. We do it close to our house in a village called Vashisht and some other guys who do luge also come and practice there. In the summer we practice on sleds on the wheels and do training camps.
Source: Dietmar Reker
Last year you visited Sochi in Russia. How did you find it?
Well, it was an amazing experience for me, because I always wanted to go to Russia. But it was very different from what I expected. First of all, of course I thought it would be really-really cold there, but Sochi has quite pleasant weather. There are palm trees close to the airport. Then on the way to the venue I didn't know how Russian people would be. From my experience I`ve never met many Russians speaking English so I thought it would be difficult to interact with them. I also heard that Russians are more reserved than us and it`s difficult to make friends. But I was surprised because people were really friendly and they used to come to us to get to know us and even if somebody spoke very little English he still tried to say something. I really enjoyed it and also I was quite amazed to see all the infrastructure already created for the Olympics. So I immediately liked the place and since I had these good feelings even since I arrived I performed quite well. This is all linked. If you like the place you automatically practice better. I am looking forward to go back again. Last time I went a lot of construction was going on. This time it will be ready.
How did the Russian people react when you said you were Indian?
When I met people in Russia and said that I was Indian first of all they were very surprised about I was doing there because there were apparently not so many Indians in Russia. I felt this connection between us, I mean the connection between our two countries that has been there for a long time. Despite the fact that we are very different in culture and language we can be a good friends. Many Russians are curious about India. They asked a lot about it.
When are you planning to go next time?
I plan to go in November. We have seven days of training. We have certain amount of runs that every athlete has to do before the Olympics. That's a safety issue. So it also gives us a chance to get to know the track and train over there.
How do you feel about the possibility of winning a medal for India at Sochi 2014 Winter Olympics?
My best result was in the Turin 2006 Winter Olympics. In my best run I was 24th. I am getting better and better. Last year it was my best season and I had my personal best runs on most of the tracks. It is very important for the government to provide us an international coach. I have given an application for this. Now it`s very important to improve on my previous performance, keep moving. Already we came so far… I hadn't imagined (all this) before. I will try and do my best.
All rights reserved by Rossiyskaya Gazeta.