Festival of Indian culture to be held in 11 Russian cities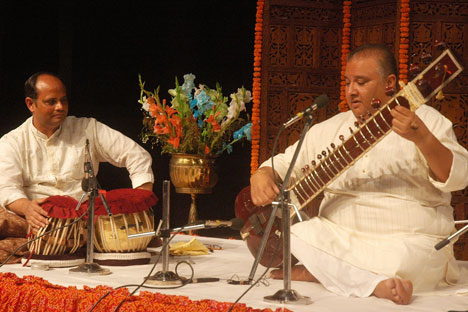 Singer and sitar maestro Ustad Shujaat Husain Khan will perform in Ufa, Kazan and Moscow on October 19, 21 and 23 respectively. Source: AFP/East News
This autumn Indian musical legends such as Ustad Shujaat Husain Khan and Dr L Subramaniam will perform in several Russian cities as part of the festival that looks to showcase Indian culture across Moscow.
11 cities across Russia will host the Festival of Indian culture, which will feature dance, music and puppet theatre, Ajai Malhotra, India's ambassador to Russia, said at a press-conference hosted by RIA Novosti.
"Friendship between Russia and India is a time-tested relationship. Indian dance and music, yoga, ayurveda, Indian medicine are becoming increasingly popular among Russians," Malhotra said.
The festival will be held in Moscow, St Petersburg, Veliky Novgorod, Vladimir, Kazan, Kislovodsk, Rostov-on-Don, Ufa, Yaroslavl and Tomsk. 6 collectives and more than 50 artists will take part in 16 performances.
"We began the preparations for the festival in Moscow and St Petersburg, and then realised something was missing. I often travel to different Russian regions and I see that people are very much interested in India there," Malhotra said.
The festival follows in the footsteps of the Year of Russian culture in India in 2008 and the Year of Indian culture in Russia in 2009. As a result of those cultural initiatives, it was decided to hold such festivals annually, Malhotra said.
A performance of a Bollywood Sugar & Spice collective will mark the opening of the event. The ensemble will perform on September 10, 12 and 13 in Moscow, St Petersburg and Veliky Novgorod respectively. The Sugar & Spice choreography combines folk traditions and modern Bollywood-style including fusion. Classical and modern dances, songs from popular films are included in the festival tour around Russian cities.
The highlight of the festival will be concerts by two of India's greatest musical legends. Singer and sitar maestro Ustad Shujaat Husain Khan will perform in Ufa, Kazan and Moscow on October 19, 21 and 23 respectively. Dr L Subramaniam's violin ensemble will perform in St Petersburg and in Moscow on October 28 and 29 respectively.
Ustad Shujaat Hussain Khan - Ye Inayteen Ghazab ki. Source: roothmens / YouTube
The festival also has a special treat for children and for those who are young at heart: the Yakshagana puppet theatre. This theatre, founded more than three hundred years ago in Karnataka, combines, dance, music, dialogue, costume, make-up, and stage techniques with a unique style and form. The plays are often based on Hindu epics, Ramayana and Mahabharata.
Yakshagana raktharatri. Source: naveenhegde78 / YouTube
The festival will conclude with Kathak duet performances in Kislovodsk (December 8), Rostov-on-the-Don (December 9) and Moscow (December 11).The duets will be performed by Vidha and Abhimanyu Lal.
Source: Bibi Apa / YouTube
Based on materials from RIA Novosti.
All rights reserved by Rossiyskaya Gazeta.