Mushroom madness: It's all in the quest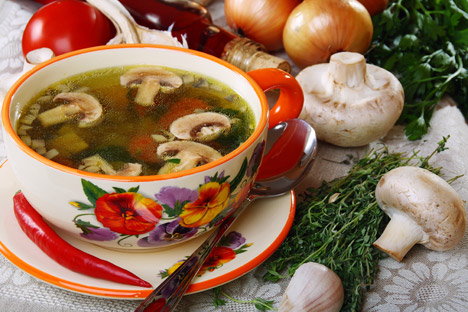 Try one of the many traditional Russian mushroom recipes, like this modern take on a hearty mushroom soup with barley and potatoes. Source: Lori / Legion Media
Russians call the collecting of mushrooms "a quiet hunt", and autumn is the best time for this. RBTH presents the recipe for a traditional soup with mushrooms and vegetables. Let's hunt together!
I take pride in many things I've accomplished during my 20 years in Russia, but inventing a succinct description of Russia's favorite pastime is right up there. Like many lightening bolts of genius, it was a mistake.
I knew that "going fishing" in Russian was "na ribalku" so I assumed that "mushroom hunting" had to be "na gribalku." Makes sense, right? Wrong. Russians refer to mushroom picking as "khodit' po gribi," but HRH, (my Handsome Russian Husband) who does not squander compliments, says my version is much better.
Russians, like J.R.R. Tolkien's hobbits, are passionate about mushrooms. As late summer rolls into early autumn, Russians feel the visceral stirring of their primal hunter instincts.
Ingredients:
6 Tbl butter, 4 cups of white button mushrooms
2 cups of boletus, portabella or chanterelle mushrooms
1 cup of dried mushrooms, 2 cups of Madeira wine
1 cup of hot water, 1 yellow onion, 3 Tbl of garlic
2 Tbl of tomato paste, 8 cups of stock – chicken, mushroom, or vegetable
3 celery stalks, 1 cup of uncooked barley
2 russet potatoes, 2 large carrots
1 Tbl of fresh thyme buds, 3 Tbl of soy sauce
Salt and pepper to taste, Sour cream and more fresh thyme to garnish
Armed with long walking sticks and wicker baskets, they follow the umami into the woods to gather nature's crop of boletus, white buttons, and golden chanterelles.
If you are out for a stroll on a Sunday evening in September, you are almost certain to encounter weary, but victorious mushroom hunters making their way back from suburban train stations, baskets and buckets filled with pungent quarry.
Where does this signature Russian passion come from? It is as age old as it is universal: young and old, rich and poor, men and women, city slickers and country mice — Russians throughout the centuries approach "gribalku" with a frantic energy, which these days is only matched by a visit to T.J. MAXX.
In a way, mushrooms are like T.J. MAXX: you get designer food at rock bottom prices. Is it the unpredictability of the search: the never knowing what you'll find under the next fir tree?
Or is it the thrill of the chase as Vladimir Nabokov (before he explored other obsessions) described his mother's mushroom madness in Speak, Memory?
"Her main delight was in the quest. […] As she came nearer from under the dripping trees and caught sight of me, her face would show an odd, cheerless expression, which might have spelled poor luck, but which I knew was the tense, jealously contained beatitude of the successful hunter."
Nabokov's mother never spent any time in the kitchen with her mushrooms: "…they were bundled away by a servant to a place she knew nothing about, to a doom that did not interest her," but don't let that deter you!
While mushrooms are fresh, affordable, and plentiful, try one of the many traditional Russian mushroom recipes, like this modern take on a hearty mushroom soup with barley and potatoes.
Adding soy sauce, tomato paste and dried mushrooms reconstituted in Madeira wine boosts the distinctly umami or savory flavor. Happy hunting!
Instructions:
Rinse the dried mushrooms in cold water. Place them in a shallow bowl and submerge them in the wine and hot water. Let stand 20-30 minutes.
In a heavy-bottomed pot, melt 3 Tbl of butter until it bubbles. Add the sliced white button mushrooms. Toss gently so that the butter coats the mushrooms, then cover and adjust heat to medium low. Cook for 25 minutes, stirring occasionally until the mushooms "sweat" their moisture out, then re-absorb it. Set aside.
In a large Dutch oven, melt the remaining butter. Gently sauté the onions and garlic until translucent. Add the celery, carrots, potato and barley and cook 5-7 minutes until vegetables begin to soften.
Add the tomato paste and soy sauce and stir through to coat the vegetables. Add the cooked mushrooms and toss to combine.
Line a sieve or small colander with clean cheesecloth or paper towel, then set over a clean bowl. Use a slotted spoon to remove the now reconstituted dried mushrooms from the wine and water mixture, then carefully strain the liquid through the sieve to remove the grit from the mixture. Add both the mushrooms and the liquid to the pot. Simmer gently for 5-7 minutes, stirring with a wooden spoon so that the mixture does not stick to the bottom of the pot.
Add the stock, cubed mushrooms and thyme to the pot. Cover and cook for 25 minutes. The starch from the barley and potatoes should thicken the soup considerably; add more stock to thin to your desired consistency. Adjust seasoning to taste, adding more soy sauce or salt and pepper.
Serve in shallow soup bowls, garnished with a dollop of sour cream and more fresh thyme.
Based on a recipe in A la Russe by Darra Goldstein.
Priyatnogo Appetita!
Jennifer Eremeeva is an American free-lance writer longtime resident of Moscow. She is the author of the humor blog, Russia Lite and creator and curator of the culinary website The Moscovore. Her forthcoming book, Lenin's Bathtub, is scheduled for publication in November.
All rights reserved by Rossiyskaya Gazeta.