'Sugar n Spice' troupe opens Indian festival in Russia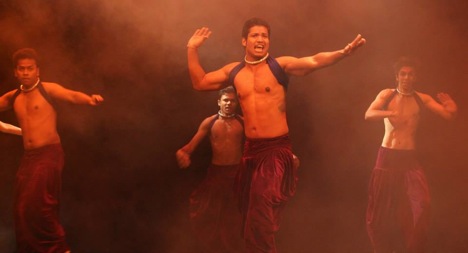 The 'Sugar n Spice' troupe touched on different cinema epochs and genres, portraying the famous moments from different films starring the whole Kapoor dynasty as well as Mithun Chakraborty's hits. Source: Indian Embassy in Moscow
Moscow crowd sings along to tunes such as "I am a Disco Dancer" and "Jimmy Jimmy Aajaa Aajaa".
The Festival of Indian Culture in Russia was inaugurated last week with a series of concerts by the 'Sugar n Spice' Bollywood troupe in Moscow, St Petersburg and Veliky Novogorod.
The first concert, held in Moscow's Yauza Palace, celebrated 100 years of the Indian film industry commenced with songs from Bollywood classics such as Mughal-e-Azam and Pakeezah.
"Well done! There was a great variety chosen from well-known Bollywood movies," said Yogender Nagpal, who was at the concert with his wife Zulfia. "It was very entertaining, I spent a pleasant evening!"
His wife Zulfia Nagpal, a long-time admirer of Indian classical songs, was amused by the band's attempts to perform ragas and by modernising and incorporation them into popular songs. "Well, it is far from the high level of the great performers whose range of voice and skills are amazing but it is still a nice try." She added that she liked the attitude of the band members towards their performance. "They give themselves wholly to the rhythm of the music, their self-abandon is remarkable."
Famous songs from films that were incredibly popular in Russia like Awaara and Disco Dancer became the highlight of the concert. The audience in unison chanted "I am a Disco Dancer," "Jimmy Jimmy Aajaa Aajaa" along with the band. The 'Sugar n Spice' troupe touched on different cinema epochs and genres, portraying the famous moments from different films starring the whole Kapoor dynasty as well as Mithun Chakraborty's hits. They finished their performance with 'Jai Ho' from the Slumdog Millionaire.
The Festival of Indian Culture is being jointly organized by the Indian Centre for Cultural Relations and the Russian Ministry of Culture.
The festival will be held in Moscow, St Petersburg, Veliky Novgorod, Vladimir, Kazan, Kislovodsk, Rostov-on-Don, Ufa, Yaroslavl and Tomsk. 6 collectives and more than 50 artists will take part in 16 performances.
All rights reserved by Rossiyskaya Gazeta.