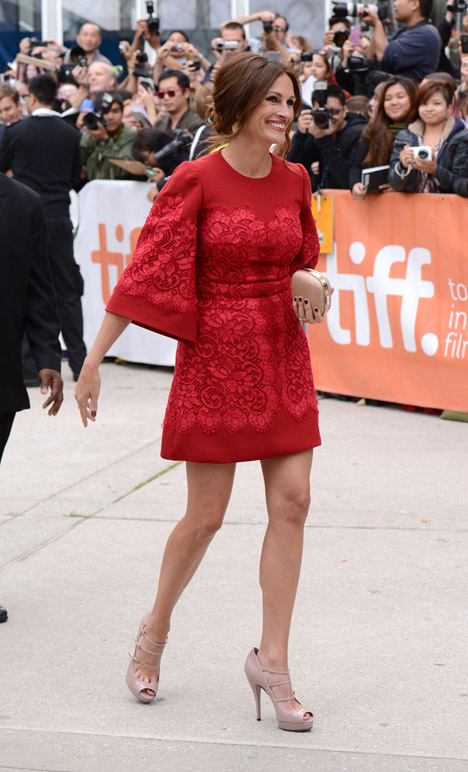 Julia Roberts at the Toronto International Film Festival at the Roy Thomson Hall, on Sept. 9. Source: AP
Recent Toronto International Film Festival critics and fashion experts were in for a surprise. The actress Julia Roberts, known for her love of pantsuits and the color black, appeared at the premiere of the film "August: Osage County" in a red Dolce & Gabbana dress. The style of the dress, the lace and the actress' hairstyle parted in the middle turned the Hollywood star into a real Russian beauty!
It's strange, but true: In the past few years, world-famous stars have been showing great interest in Russian styles.
The Russian style is considered to be feminine silhouettes with lush skirts (often long), emphasized waistline, fur hats (a la "Doctor Zhivago"), scarves, floral prints, lace and embroidery.
Elements are also taken from Russian folk art: Pavlovsk Posad scarves, which are large, mostly wool scarves with bright floral patterns and fringes; and Khokhloma designs, which are a type of painting depicting flowers and vegetables in only red and gold on a black background.
Gaga "a la Rus"
Last year, Lady Gaga surprised everyone by appearing in public in outfits from the collection of the Russian designer Ulyana Sergeenko, who has become a guru of Russian style for the Western world.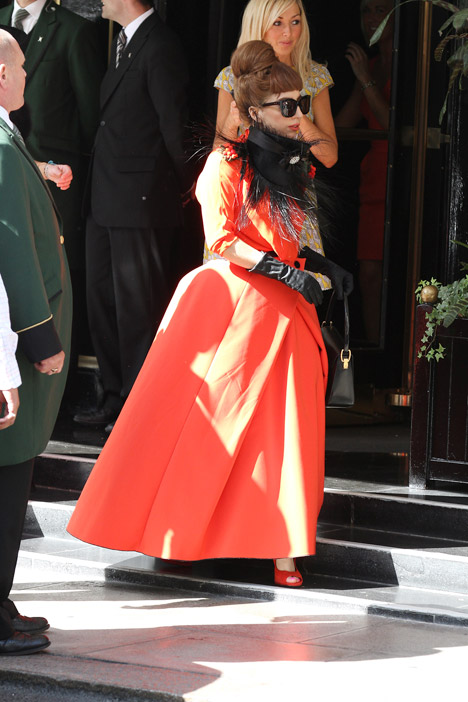 Lady Gaga wearing a suit from the collection of Ulyana Sergeenko in London. Source: Getty Images / Fotobank
The photos of the singer prompted a lot of noise, criticism and barbs (such as "exotic lady wearing something exotic").
Ulyana Sergeenko herself, creator of her own brand, has recently turned into a permanent member of fashion weeks in New York, Paris, Milan and Moscow, as well as other important social events.
Perhaps it is because of this memorable woman in long, lush skirts, scarves and heels that a tangible Russian style has appeared worldwide with a formula applicable in real life.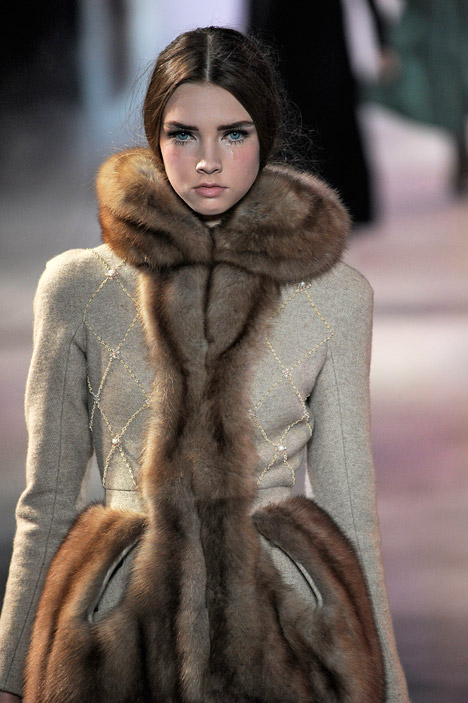 Fall/Winter 2013 Ulyana Sergeenko collection. Paris 2013. Source Photoshot / Vostock-Photo
Undulating interest
The interest in Russian culture and Russian fashion in the West historically has gone up and down, but it never fades for long. Russian culture bursts onto the scene whenever there are upheavals in the country, whether it is a change of ruler, war, revolution or perestroika.
In the 18th century, the reformer Czar Peter the Great stirred the imaginations of Europeans; then, the Cossack and hussar regiments of the Russian army occupied Paris in 1814; and later, in the late 19th century and early 20th century, there were the costume balls of the Russian aristocracy that were attended by even the imperial family.
Interest in the Russian theme came back with full force in Europe in 1909, right after the first season of Diaghilev's "Ballets Russes" in France.
"Boris Godunov," "The Rite of Spring," "The Firebird" and other Russian-themed performances were hugely successful and featured costumes and sets designed by the best artists of the Mir Iskusstva avant-garde artistic association—artists such as Leon Bakst, Ivan Bilibin, Alexandre Benois and Nicholas Roerich.
Two years later, in 1911, the famous French fashion designer Paul Poiret introduced Ukrainian embroidery and Cossack boots into Parisian fashion after a trip to Russia. After the revolution, the influx of immigrants from the former Russian Empire to France, Germany, the U.S., Great Britain and other countries helped started a trend for all things Russian.
The Boyarsky collar (a tall collar that stands straight up), traditional Slavic designs, the northern kokoshnik (a traditional Russian head dress), shawls with tassels, and many other elements inherent to Russian style, became firmly entrenched in European fashion.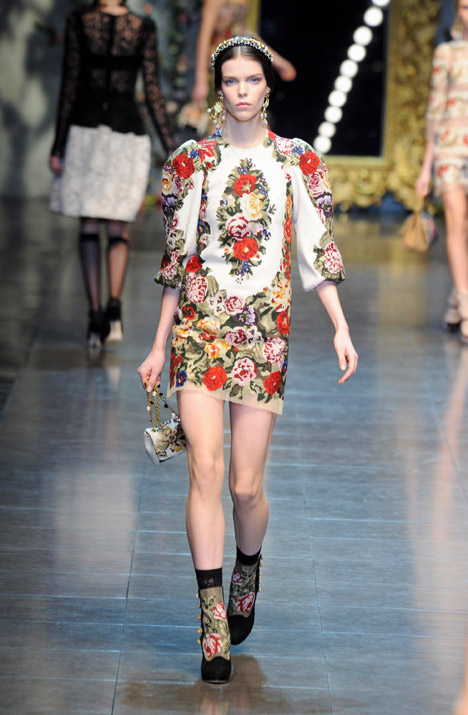 The Dolce & Gabbana show during Fall 2012 Fashion Week in Milan, on Feb. 26, 2012. Source: Photoshot / Vostock-Photo
In the second half of the 20th century, interest in Russian fashions was revived by Yves Saint Laurent, who created the "Russian Collection," which included fur hats, boots, layered skirts and embroidered blouses—all of it very luxurious and unexpected.
Russian style really became popular in the mid-2000s, when Russian-inspired collections came out. This included Roberto Cavalli and "Paris-Moscow" by Karl Lagerfeld for Chanel, "The Russian Line" by Marras for Kenzo, the John Galliano collection, and Valentino and Dolce & Gabbana.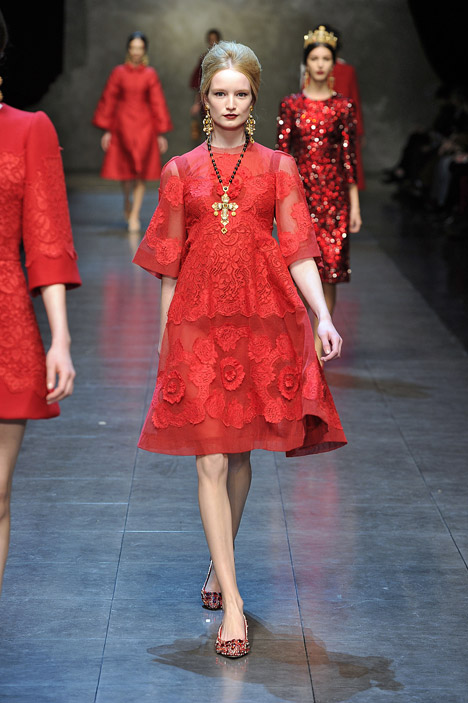 A model walks the runway at the Dolce & Gabbana Ready to Wear Fall/Winter 2013-2014 fashion show. Source: Getty Images / Fotobank
The abundance of plant designs and a variety of "grandma scarves," hand embroidery and lace, fur collars and hats, full skirts with accentuated waist and high collars, large, chunky necklaces and earrings—all of this has now become the hallmark of Russian style.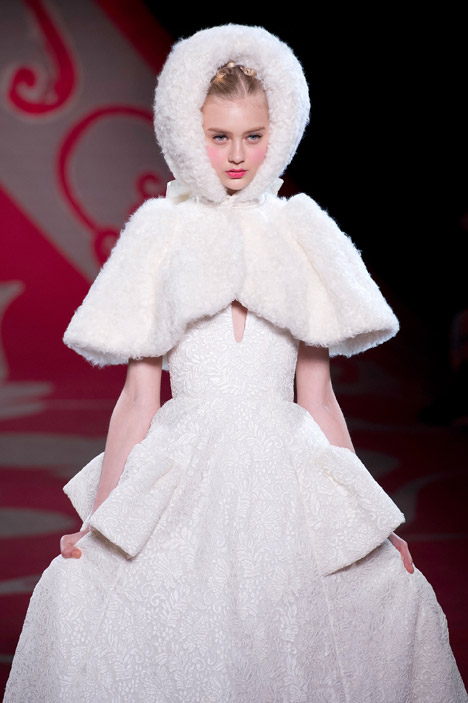 The Ulyana Sergeenko Haute Couture show at the Theatre Marigny on July 3, 2012 in Paris. Source: Getty Images / Fotobank
The Russian style is extremely feminine and attractive in its luxurious elegance. It is particularly noticeable against the background of minimalism and androgyny, which has reigned in the fashion world in recent years. Women, however, always want to remain women, and that means Russian style will always be in fashion.
All rights reserved by Rossiyskaya Gazeta.