Malayalam poet O N V Kurup honoured in Moscow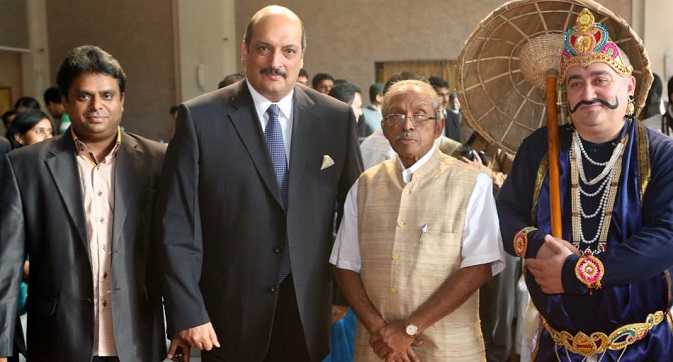 Well-known Malayali poet and lyricist O N V Kurup (second right) with Ajai Malhotra, Ambassador of India to the Russian Federation (second left). Source: All Moscow Malayalee Association
The Jnanpith award winner's book was published in Russian by the Gorky Institute of World Literature. Kurup was also felicitated by the Malayali community during Onam celebrations in the Russian capital.
Ottaplakkal Nambiyadikkal Velu Kurup, a well-known Malayali poet and lyricist who is also a winner of India's prestigious Jnanpith Award, was honoured in Moscow last week by the Gorky Institute of World Literature, which published a collection of his 50 poems translated into Russian. The book's introduction was written by Russian Foreign Minister Sergey Lavrov.
The book, which begins and ends with poems on Alexander Pushkin, has some of Kurup's most famous Malayalam poems as well one on Leo Tolstoy.
The 82-year old writer's links to Russia go back to his youth, when he first started believing in Socialism, but his closeness to the country went well beyond political ideologies. One of his most read books in Malayalam is titled 'Pushkin - Swatantrya Bodhatinte Durantagatha.' Unfortunately for non-Malayalam readers, the book has neither been translated in Russian or in English.
Kurup was also the chief guest at the Onam celebrations, which were held on Saturday, September 21 at Moscow's Sputnik Hotel. The annual Onam programme is organised by the All Moscow Malayalee Association, which was set up to promote the culture of Kerala among the Indian Diaspora.
Source: All Moscow Malayalee Association
Onam marks the commemoration of the Vamana reincarnation of Vishnu and the subsequent homecoming of mythical King Mahabali. The celebrations to mark the harvest festival in Moscow comprise of a cultural programme that includes traditional Kerala dances and a traditional feast known as the Onam sadhya.
Kurup's legacy
Kurup worked as a lecturer in Malayalam in several cities in Kerala and wrote poetry on the sidelines. His first poem was titled 'Munnottu' (Forward) and was published in 1946. As a lyricist, he also penned more than 900 songs for Malayalam films and television programmes and worked with popular music directors such as G Devarajan and V Dakshinamoorthy.
He received the Jnanpith Award in 2007. The trust that awards the highest Indian literary award said Kurup began his career as a "progressive writer and matured into a humanist though he never gave up his commitment to socialist ideology."
All rights reserved by Rossiyskaya Gazeta.