Russian Kitchen: Mayonnaise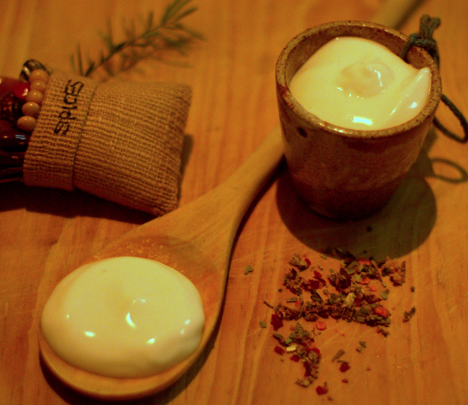 Mayonnaise. Source: Divya Shirodkar
Mayonnaise is becoming increasingly popular in India and is used in salads and sandwiches, but did you know that it is an essential part of Russian cuisine?
Mayonnaise traces its origins to France and was invented in 1756 by the French chef of the Duke of Richelieu. After the Duke beat the British at Port Mahon, his chef created a victory feast that was to include a sauce made of cream and eggs. Realizing that there was no cream in the kitchen, the chef used olive oil instead and a new culinary creation was born. The chef named the new sauce "Mahonnaise" in honour of the Duke's victory.
Russians fell in love with this sauce and can't imagine their food without it. I am pretty sure that Russians consume more mayo than any nation in the world. A 2004 study showed that Russia is the only market in Europe where mayonnaise is sold more than ketchup by volume. An average person in Russia consumes 2.5 kilos of mayonnaise per one year. In any Russian household you can find the sauce that is applied on bread, used as a dressing for the salads, put on roasted chicken, mixed with pasta, and even added to plain rice! Russians love mayonnaise.
But this sauce was not known in Imperial Russia till the beginning of the 20th century. Commercial production of mayo named 'Provansal' started in the USSR in 1936. The new sauce was presented to none other than Josef Stalin to taste. Apparently the leader and his senior party colleagues liked the taste and the sauce was even given a place in the minimum list of food items allocated to people through the ration system.
For a long time Provansal was the only type of mayo available. Later on along with the development of the chemical industry, Soviet mayo went through unhealthy changes. There were several artificial ingredients added to the production of mayo: expensive oil was diluted with milk and water, instead of eggs they used egg powder.
Olive oil gives a great taste to mayonnaise. Source: Divya Shirodkar

Since I left Russia 10 years ago, my consumption of mayonnaise has reduced significantly. Still, every time I discuss with my mom some roasting ideas, she suggests I put some mayonnaise on the ingredients to make everything juicy (in my opinion oily).
Mayonnaise can be made at home. Do you know that it consists only of 2 main ingredients: egg yolk and oil mixed with lemon juice and spices! The technique is very simple but tedious. All you have to do is keep mixing yolks extremely slowly adding oil. By "slowly" I mean with the speed that is just faster than drops. You could make a healthier version by using olive oil and a much tastier version by adding various spices. I do warn you. Even though it seems very simple it doesn't come 7 out of 10 times because it tends to split which is an irreversible process. It may be a better option to buy readymade mayonnaise at the shop. Luckily, it is available in any shop in India, including a vegetarian version (which found its way to substitute for the eggs).
Here are some dishes you could make with mayonnaise:
Salad with tomatoes and onion
Ingredients:
Tomatoes 200g
Onion 1 medium piece
Garlic 2 cloves
Mayo 2 tb sp
Salt and pepper to taste
Procedure:
1. Wash tomatoes and cut into slices.
2. Peel onion and cut into very thing semi-circles. Chop raw garlic into small pieces.
3. Add seasoning to taste and mix thoroughly with mayonnaise. Garnish with chopped herbs if desired.
Roasted potatoes with mayonnaise
Ingredients:
Potatoes 500g
Mayonnaise 100 g
Cheese 50 g
Seasoning
Procedure:
1. Peel and slice potatoes into 1.5mm round slices. Wipe with paper towel to remove excess liquid. Mix with seasoning of your choice (salt, pepper, chilli, masala, oregano, etc.) Be careful with amount of salt you use, because mayo already contains the salt.
2. Spread potatoes equally on the baking tray and apply mayo in top of it. It doesn't have to look perfect. Scrape cheese after that.
3. Bake potatoes on 180 degrees C for 45 min or until it is cooked through. You should achieve golden crust on top of your potatoes.
Dip for potato chips
Ingredients:
Mayonnaise 200 ml
Dill 2 tb sp chopped
Garlic 3 cloves
Salt to taste
Chopped dill and garlic, mix thoroughly with mayo adding seasoning to taste.
Priyatnogo appetita!
All rights reserved by Rossiyskaya Gazeta.