Saint Laurent, Gaultier inspired by Russian trash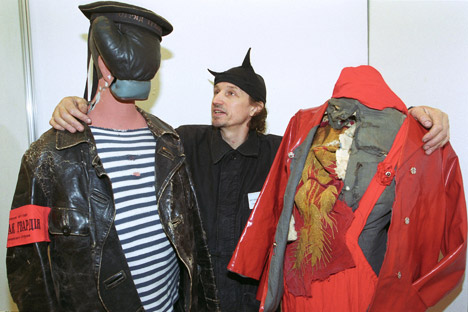 Petlura's collection of vintage accessories alone runs close to 3,000 pieces. Source: PhotoXPress
Adopting the pseudonym Petlura (the surname comes from the famous Ukrainian Civil War commander and leader of the Nationalists, Simon Petlura) Alexander Lyashenko, a trained artist and natural-born rebel, stood at the origins of avant-garde Soviet fashion. His legendary Moscow shows are remembered to this day, starring venerable, child-sized actress Pani Bronya and showcasing items that were found in trash bins.
World fashion trends today are dictated not only by street fashion, but also by Russian avant-garde—by people like Alexander Petlura.
"The foreigners were going crazy, saying stuff like: 'What dresses! What beauty!' But the Russians were saying 'What the heck is that?! My grandma's got a whole chest full of that crap,'" says the fashion designer, recalling people's reactions to one of his collections.
Petlura is Russia's—and, if truth be told, the world's—most famous lover of "junk." His collection of vintage accessories alone runs close to 3,000 pieces.
Pani Bronya. Source: Presonal archive
Petlura always chose the most unsuitable places for his shows—basements, abandoned factories and railway-station waiting rooms, for example. He dressed extravagantly for those times, in a long coat, sheepskin hat (the traditional head wear of Cossacks) and a cane—not exactly formal dress, but pretty stylish.
"Those clothes were exquisite! Better than anything everybody else was wearing. I bought a 1918 German great-coat that belonged to the director of the Berlin Circus. It was of really good quality—wool with a velvet collar. Then, I bought a 1922 sheepskin hat from the Svoi Trudwork association. Everything was old—old but elegant, not bedraggled. That's what was stylish about it! Stretched and austere," says Petlura. "Dress coats and tuxedos gave you good posture, proud shoulders: All this against the backdrop of a T-shirt that had USSR written on it, or a little devil, or something like that."
Petlura is Russia's most famous lover of "junk". Source: Kommersant
In 1990, Petlura organized an "art squat" in the center of Moscow called the Art Reserve on Petrovsky Boulevard. It became one of the most popular hangouts of its time. The squat, together with the Tishinsky Flea Market, became the epicenter of all things underground in the capital. In 1993, he started the Art Reserve Foundation, which still organizes alternative exhibitions and festivals.
For 30 years, Petlura has been promoting the idea of valuing things for what they are. Coincidentally, he refers to himself as an artist-cum-junkologist. What this uniquely charming individual tries to bring to the people with his flamboyant performances (which involve putting on a pair of underpants over a tuxedo) and conceptual exhibitions (most of which are held in Europe) is the idea that "a country's culture can be defined by rubbish," and "anything can be a pearl."
Spectators were particularly impressed by Petlura's Brussels project, which was entitled "The 20th Century: The Empire of Things." In the show, 12 artists showcased 120 outfits in just one hour. The show had everything, from aristocrats in gas masks to silent films lasting 10–15 seconds.
The Jean-Paul Gaultier Retro Fashion Show in Paris. Source: Getty Images / Fotobank
"It all comes as a shock to people from other countries who are involved in fashion," Petlura says. "Our fabrics from the 1950s–1970s that had pictures of telegraph poles and wires, atoms, the Baikal–Amur Mainline and the Moscow underground... It's all really cool avant-garde! It would never even occur to Western fashion designers to sew things using those kinds of fabrics."
When the Russian designer-rebel gives lectures in Europe, there is not an empty seat in the house. He has even taken on students. Some experts are convinced that, when designing one of the first ever "scruffy" fashion collections, Jean Paul Gaultier was inspired by Petlura (the highlight of the program was a gorgeous evening dress made from old threadbare jeans and peacock feathers).
The sensational, grunge-inspired Saint Laurent Autumn/Winter 2013–2014 collection also has traces of Petlura's beloved "aesthetics of garbage."
All rights reserved by Rossiyskaya Gazeta.