Superhero Putin battles zombies in upcoming mobile game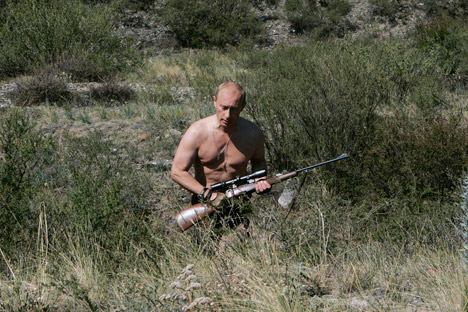 The game "You Don't Mess With Putin" will be available around October 31 on iOS and Android. Source: Itar-Tass
The Russian president plays the superhero in a new mobile phone game, "You Don't Mess With Putin," due to be released around Halloween this year.
A roving horde of the living dead – followers of an evil cult headed by Russian mystic Rasputin – attack a press conference and target Russian President Vladimir Putin for termination. With the help of an American sidekick, alcoholic and aggressive American tough-guy Mike, the Russian politician battles the infinite host of zombies with wit, style – and a pen.
Putin plays the superhero in a new mobile phone game, "You Don't Mess With Putin," due to be released around Halloween this year. The role is perfect for the steely Russian president, the game's developer – Belgian programmer Michele Rocco Smeets – told RIA Novosti.
"Putin has this tough guy image and he's not afraid to get his hands dirty," Smeets said in a phone interview. "He hunts, he rides, he shoots. A leader should be strong, and in my opinion Putin is the only world leader that really fulfills this image."
Putin also fights for the light in the battle against darkness in a Russian comic strip series, Smeets noted, so he's not the only person who envisions the president as a superhero.
While Putin plays the good guy in "You Don't Mess With Putin," though, the game doesn't reflect any serious political views, he said. "I'm not supporting socialism – I just like the guy [Putin], as a person and as a leader."
In the game, Putin holds a press conference to demand the Westernization of Russia's video game industry. An army of zombies attacks the meeting and kills everyone but the president and an American video game expert, Mike, who's the second character if gamers choose to fight the undead in two-player mode.
The game's dialogue is full of one-liners based on things the Russian president has said in real life, Smeets explained.
After Putin stabs a zombie with a blunt writing instrument, he says, "Give me back my pen!" – an echo of the leader's similarly blunt dressing-down of oligarch Oleg Deripaska in 2009, when Putin visited the struggling Russian town of Pikalyovo and famously tossed a pen over to billionaire factory owner Deripaska and ordered him to sign an agreement to restart the plant's activities, before reminding the tycoon to return the pen to him.
Putin had a cameo appearance in Smeets's last mobile game ("Run Snowden Run," another endless runner where gamers playing fugitive former US security contractor Edward Snowden collect USB sticks and laptops while avoiding National Security Agent Jake) that players found funny, he said, which is one reason that the politician and martial arts enthusiast made a return as the main character in the new game.
In "Run Snowden Run," Snowden's character – whose real-life archetype was granted political asylum earlier this year by Russia – can call "Uncle Putin" on a cell phone to drop a USSR hydrogen bomb on the game map, effectively ridding it of obstacles.
Smeets likes to base his games loosely on current events – a tactic that helps boost download numbers, he said. The initial idea for "You Don't Mess With Putin" was originally supposed to star US President Barack Obama in a showdown against his political opponent Mitt Romney during the 2012 presidential election in America. Romney, in league with the devil and angry that he was losing the election, would attack Obama with the zombie horde in revenge.
Unfortunately, Smeets ran out of time before the election to finish the game, so it's now been reborn, Russian-style.
This version – a first-person shooter/endless runner-style game – is a parody based on another hugely popular video game, "Call of Duty: Black Ops: Zombies," which first came out in 2011 and has recently been brought back to life in a mobile platform version.
While "Call of Duty: Black Ops: Zombies" costs 220 roubles ($6.80), "You Don't Mess With Putin" will be free. The game will be available around October 31 on iOS and Android.
First published in The Moscow News.
All rights reserved by Rossiyskaya Gazeta.