Povetkin-Klitschko: An epic fight in the making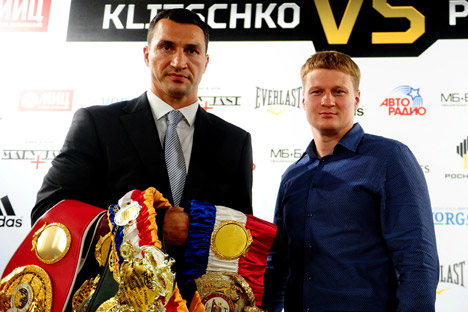 According to experts, Povetkin (r) may prove to be a real opponent for Klitschko (l), and he has the greatest chance of succeeding among the others who have fought him. Source: Itar-Tass
Can the Russian boxer challenge the dominance of the Ukrainian champion at a much-hyped heavyweight bout in Moscow?
October 5 is a red-letter day for boxing fans in Russia's capital. Two outstanding champions – Wladimir Klitschko and Alexander Povetkin – will enter the ring. This will be only the fifth time that boxers from the former USSR will fight against each other for the world title in the heavyweight division.
Negotiating a fight between the 2004 Olympic champion and the most decorated fighter in the heavyweight division of the last decade took about five years. The parties couldn't find a compromise and the fight kept getting postponed. Finally high-ranking boxing officials had to intervene and force both parties to sign a contractual agreement. $23 million in prize money is offer for the winner.
For 37-year-old Wladimir Klitschko, this will be the second time he enters the boxing ring in 2013. In the Ukrainian's last fight, which took place in May, he beat Italian Francesco Pianeta by technical knockout in the sixth round. The fight with Povetkin will be Klitschko's 24th defence of his World Champion title.
Alexander Povetkin (34) is approaching the most important event of his boxing career in excellent shape. The last fight of the Russian boxer was also in May. Voluntarily defending his title against little-known Polish boxer Andrzej Vavzhikom, who had 27 professional wins to his name, Povetkin took only three rounds to knock out his competitor.
Povetkin is considered a rather contradictory figure in the world of boxing. On the one hand, he is an Olympic champion, a professional with an impeccable record (26 wins in 26 fights) and inflexible character, but on the other hand, he has not yet been seriously tested. Povetkin has not met any boxers that throw truly dangerous punches and how he will fare in a fight with a top-ranked boxer remains to be seen.
Povetkin is not a typical opponent for Klitschko. The Russian champion is not intimidated, is in his prime, and has not been giving high-profile interviews promising to knock out Klitschko. One thing is clear: Povetkin is not fighting for the purse. This fight is a matter of principle for him and a great chance to be the best. According to experts, Povetkin may prove to be a real opponent for Klitschko, and he has the greatest chance of succeeding among the others who have fought him.
Sydney Olympic champion Aleksandr Lebziak believes that a Povetkin victory would influence the further development of boxing in the heavyweight category. "Povetkin has a chance to win this fight due to his nature and his fighting spirit. At this point, he's the only one who could win in the heavyweight division and set the course for further development," Lebziak told RIR. "Sasha can win on points, if he doesn't miss too much. If he could boost his defensive skills and improve his movement, then victory would be realistic. If he is still at the level of fighting that we saw against German Marco Huck and American Hasim Rahman, then most likely Klitschko will decisively win the rounds."
The bookies believe the Ukrainian boxer is the clear favourite. The odds of him beating Povetkin have been given as 6 to 1. They have ample reason to make such predictions: Klischko's vast experience, perfected defence and the many years that he has dominated all his competitors. None of his rivals in recent years have been able to handle the Ukrainian's jabs. However, Povetkin is a dark horse, a very dangerous contender who is capable of creating a sensation.
Former world champion of the World Boxing Council (WBC) among professionals Yuri Arbachakov shared how he thinks the fight would go: "Klitschko is unlikely to take risks or to get involved in a tight battle. He will keep Povetkin at long and middle ranges, picking up points. It is unlikely that the fight will end by knockout…I do not think Klitschko will make any serious mistakes that will allow Povetkin to knock him out. Also the fact that Povetkin changed his coach and manager speaks in favour of Klitschko. I have the impression that Povetkin and his team do not have a clear plan of action to cover all situations that may occur in the ring, and character alone will not win the fight against Klitschko. It is possible the fight may end in a draw, where both fighters retain their titles and plan another large-scale fight. Every year boxing becomes more commercialised, and so I would not rule out such an outcome."
However, whoever wins on October 5, it will be a great show. The ring announcer will be the famous entertainer Michael Buffer, who is known for his catchphrase "Let's get ready to rumble!" The hall will be packed to capacity and white, blue, red, and yellow colours will surround the ring. Tickets for the championship match, which ranged in price from €30 to €3800, are completely sold out.
All rights reserved by Rossiyskaya Gazeta.