Soviet basketball legend Sergey Belov passes away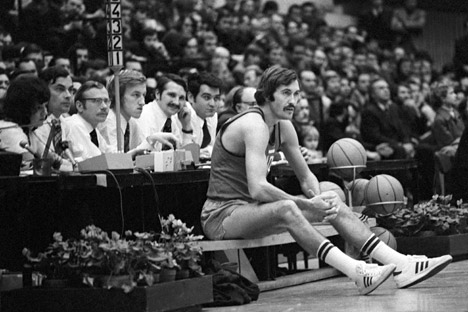 Belov won gold in the legendary final at the Munich Games in 1972. Source: Itar-Tass
One of the heroes of the USSR's 1972 Munich Olympic gold medal winning team, Sergey Belov died at the age of 70 on October 3. He was also the first non-American to be inducted into the NBA Hall of Fame.
Sergey Belov's career, even if judged only by the dry statistics, would be enough for several players. Over the years spent in basketball, he won the USSR Championships 11 times, (all as a member of Moscow CSKA). He also won the European Championships four times, and there was a period of 12 years between the first (1967) and last (1979) "European" gold.
Sergey Belov was World Champion twice (1967, 1974), and, of course, he had Olympic medals. Three of them were bronze (1968, 1976, and 1980) and one gold. The gold was undisputedly the most valuable. After all, this medal was won in the legendary final at the Munich Games in 1972.
Most fans remember the last three seconds of the game. They are the seconds that produced the most accurate pass from Ivan Edeshko to Alexander Belov, who then proceeded to earn his team victory in the final. This is still disputed by the Americans (the U.S. team refused to accept their silver medals at the Games), score – 51:50. Yet these last three seconds would hardly mean anything, if Sergey Belov had not worked so hard during the game and scored 20 points. That was 40 percent of the total number of points scored by the Soviet team!
Its hardly surprising that the U.S. basketball experts, who of course believed that the victory of the United States in 1972 was "stolen by the Communists", unanimously recognized that Sergey Belov was really the best on the court in that match.
Source: FIBA official / Youtube
After that triumph, there were still a lot of great moments in Sergey Belov's career. There was the Moscow Olympics in 1980, which was not won by the Soviet national basketball team, however the Olympic fire was lit by none other than Sergey Belov. After the Olympics, he worked as head coach of CSKA. In 1990, Sergey Belov coached the Russian national team and served as president of the Russian Basketball Federation.
In 1992, he became the first non-American who was entered into the NBA Hall of Fame. A year earlier, the International Basketball Federation had declared him the "Best European Player of All Time". Then there was the World Championships in 1994, where Sergey Belov's team was stopped only in the final game by the Dream Team, led by Shaquille O'Neal.
In 1998, Belov's team again won silver at the World Championships. In the late 1990s, Sergey Belov headed Ural Great Perm club, which twice won the Russian Championships. Belov lived in Perm until the last days of his life.
First published in Russian in Kommersant.
All rights reserved by Rossiyskaya Gazeta.