The Soviet voice that infuriated Hitler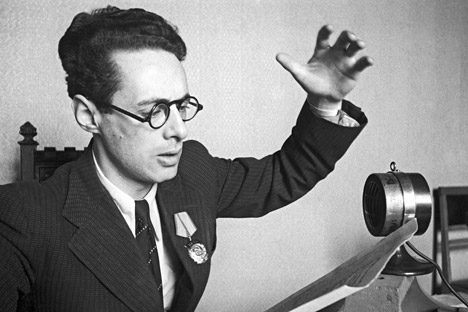 Yuri Levitan. Source: ITAR-TASS
Handpicked by Joseph Stalin, Yuri Levitan is still revered as the voice of World War II.
It is 99 years this month since the so-called "Voice of the War," Yuri Levitan, was born. Blessed with a naturally powerful and commanding voice, he unified the huge Soviet Union in the face of the Nazi threat. "Attention, this is Moscow calling."
These are the words with which, embodying the capital and carrying the expectations of the country on his shoulders, the bespectacled presenter would calmly begin his regular wartime announcements until the war ended and Hitler was defeated 68 years ago.
Up and down the country ordinary Russians and military men alike would listen for news of which cities had fallen, which regions had been retaken, and whether there were imminent air raids. Nina Trifonova, a native of Orenburg in the south Urals, remembers the impact Levitan's broadcasts had.
Yuri Levitan announces the beginning of the war, on June 22, 1941. Source: YouTube
She explains that, "In those days we couldn't afford a radio, but there were loudspeakers mounted on certain streets, and people would flock to them at a strictly defined time to listen to news from the front."
This communal experience brought people closer together, and Trifonova describes it as "like being part of one big family – with Yuri Levitan at the head." This was despite the grim news that he was often relating, particularly in the early days of the war.
Trifonova puts this down to his voice, which she describes as "clear and velvety, with an ability to bring us hope no matter what he was saying." She fondly recalls how buoyed his listeners were and the impact this had on the residents of her town.
Such reminiscences, common to all Russians of Trifonova's generation, show just how far Levitan rose and how quickly. His is a story of a determined outsider who found himself thrust into the spotlight and rose to the occasion.
From son of a tailor to voice of a generation The son of a tailor in Vladimir, a city 120 miles to the east of Moscow, Levitan was keen to escape his humble origins from an early age. Originally intending to become an actor, he moved to the capital, where, having failed in his first endeavor, he applied to join the radio.
At first he was told that his "provincial" Vladimir accent was too strong, so he worked for hours and hours to perfect the Moscow pronunciation. Then, during his first ever broadcast – a nighttime reading of a Pravda article – Soviet leader Joseph Stalin happened to tune in.
The authoritarian leader declared that this was who should read the report of the following day's Communist party congress, and Levitan was on his way to stardom. He was just 19. Hitler, that arch manipulator of media and propaganda, recognized Levitan's enormous impact on morale and designated him "Public Enemy Number 1."
The bounty on his head was worth 250,000 Reichsmarks - about $1.3 million in today's money. Marshal Rokossovsky said that his voice was worth an entire division. Levitan was given his own security detail and, as was revealed only a quarter of a century after the war, the soviet radio machine was relocated to the Ural Mountains for safety.
Ironically, Levitan became so famous for his wartime role that he had periods in his later life when he found it difficult to get work on the radio – the upper echelons of the Soviet government deemed his voice too connected to the war. His appearances became limited to grand events in Soviet life – for example, announcing the first man in space or Stalin's death.
Most of his income came from doing voiceover work for documentaries, talking to veterans or lecturing students. In his later life, Levitan was asked what events he remembered most keenly, and he replied instantly that it was his announcement of Gagarin's spaceflight. He described how the tears welled up in his eyes and it was "just like 9 May [1945], when I read the act of surrender by Hitler's Germany."
The man whose unflinchingly resolute voice represented the power and might of the Soviet Union was concealing a very human side after all. Two days after his death, The New York Times recalled his "sonorous, distinctive tones." Thirty years after his death at the age of 69, the man and the voice are still revered.
All rights reserved by Rossiyskaya Gazeta.