Five cultural events for next week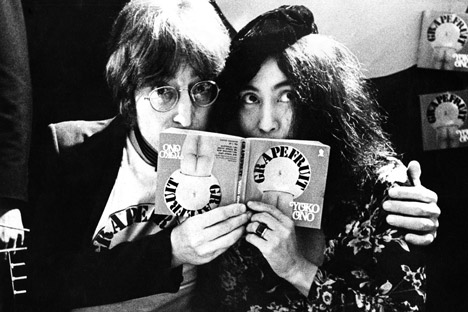 The Lumiere Brothers Center of Photography in Moscow will host an exhibit by Dutch rock photographer Gijsbert Hanekroot, who captured the dawn of the stars of the 1970s. Pictured: John Lennon, Yoko Ono, London, 1971. Source: Press photo
Oct. 21-27: Opera rock, women in jazz, 1970s rock photography, and more.
Oct. 23 (Wednesday)
The French group Les Arts Florissants — one of the best Baroque ensembles in the world — will hold a concert at the Tchaikovsky Concert Hall.
These French performers periodically come to Moscow with a new program. This time, the program is called "Le Jardin de Monsieur Rameau" ("The Garden of Mr. Rameau"), which includes excerpts by Rameau, Gluck and de Monteclair.
Les Arts Florissants not only plays early music, but delivers works that have not been performed in over 100 years or more to listeners' ears.
Oct. 23 (Wednesday)
The Lumiere Brothers Center of Photography in Moscow will host an exhibit by Dutch rock photographer GijsbertHanekroot, who captured the dawn of the stars of the 1970s.
He also captured emotional moments from concerts by Mick Jagger, David Bowie and Miles Davis, as well as John Lennon hugging Yoko Ono, Elton John with two bottles of Coca-Cola on his piano, and other icons of the genre.
Oct. 25 (Friday)
The 8thInternational Lady in Jazz festival will kick off in St. Petersburg. The genre of women in jazz is a special one, with millions of fans.
Rising British singer-songwriter Andreya Triana, German nujazz sextet Club De Belugas & Brenda Boykin, and Russian group Gayana will take to the stage.
Andreya Triana. Far closer (live). Source: Youtube
Oct. 24 (Thursday)
Celebrated Italian tenor Alessandro Safina will sing at the Moscow International House of Music. This will be the premiere of his anniversary program, which will kick off with a tour of 27 cities.
Alessandro's greatest hit — "Your Song" — is a single written jointly with Elton John. Safina stands at the intersection of popular and classical music; he defines his genre as "opera rock."
During his tour, Alessandro will give a series of charitable master classes for students from Russian conservatories.
Oct. 26 (Saturday)
The 9th Stanislavsky Season International Theatre Festival will begin in Moscow. Theatre troupes will travel from Austria, Germany, Lithuania and Russia to take part in the festival.
The event will present directors honored with the Stanislavsky Award — custodians of the traditions of Russian psychological theatre. In an era of total experiment, this is a major rarity.
Celebrities such as founder of the Meno Fortas Theatre Eimuntas Nekrosius, Flemish artist Luk Perceval, and father of modern German theatre Peter Stein will attend the festival. These stars are united by their love for Russian literature.
The IX Stanislavsky Season International Theatre Festival will begin in Moscow. Source: Press photo
Nekrosius became famous for staging works by Pushkin, Gogol and Chekhov, and critics have singled out his tetralogy of Chekhov productions and trilogy of Shakespeare works.
Stein staged Gorky's "Summerfolk," Vishnevsky's "Optimistic Tragedy," and Chekhov's beloved plays "Three Sisters" and "The Cherry Orchard" at the Berlin theatre.
Russian theatre also appeals to Luk Perceval, who heads the Thalia Theatre in Hamburg. In May 2014, he will stage Shakespeare's "Macbeth" at Baltic House.
For the first time in 12 years, the festival will feature the work of Swiss theatre director Luc Bondy. One of the most prominent actors in modern Germany, Martin Wuttke, will also take part in the festival by presenting Moliere's comedy, "The Imaginary Invalid."
All rights reserved by Rossiyskaya Gazeta.