Winners of RIR and RCSC's essay-writing competition felicitated in Delhi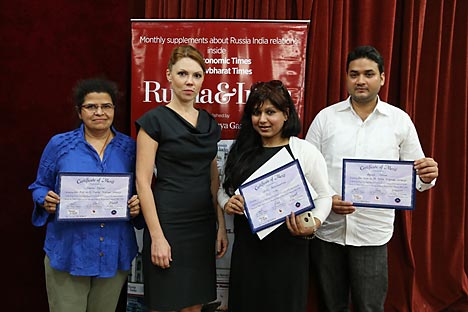 RIR representative in India Diana Alipova with the essay contest winners (from left to right) Rashmi Rajput, Nidhi Balachandran and Aqueel Ahmad. Source: Alexander Tomas
Winners of the essay-writing competition on the future of the Indo-Russian relationship were felicitated at a special ceremony at the Russian Centre of Science and Culture (RCSC) in New Delhi on Thursday.
Nidhi Balachandran, the winner of the contest jointly organized by the Russia & India Report and RCSC, was presented with air tickets to fly from New Delhi to Moscow and back from the contest sponsor – Salvia Travels.
Nidhi Balachandran admits that she fell in love with Russian at the first lesson. "I tried to learn French. It's not the same," she said. Now she is preparing to defend her doctoral thesis at the A.S. Pushkin's Institute of Russian Language on the subject of cross-cultural communication. Nidhi's love for Russia is closely connected with her love for India.
She wrote about the challenges that young people are faced with today. "I chose this theme because for me it is closely linked with Russia," Nidhi said. "The main challenge for young people in both our countries is the need to keep our traditions. In India, there is a struggle between a sari and jeans, just like in Russia, where there is one between traditional braids and mini-skirts. We are trying to keep a tradition and yet we are losing ourselves."
About 300 essays were submitted for the contest in total. Moreover, the authors were from all over India and out of the six runner-up prize winners – only three were from Delhi. The out of town runner-ups included Jay Mehta from Maharashtra, Ratish Balachandran from Haryana, and Gagarin Swain from Odisha.
The other participants who were awarded runner-up prizes in the categories of the Best Essay in Russian and Best Essay in English were Archit Pandey (Lucknow), Aqueel Ahmad (Delhi) and Rashmi Rajput (Delhi). All the winners received a colorful book and albums about the Kremlin, Russia, Russian art and Faberge products.
Mr. Prashant Chaudhary, the head of Salvia Travels, is handing in the main prize – air ticket Delhi-Moscow-Delhi to Nidhi Balachandran. Source: Alexander Tomas.
"I'm very proud that the competition had quite a substantial reach," said Diana Alipova, Russia & India Report's Indian Representative. "We have received works from all around India."
Each winner was also presented with commemorative envelopes with stamps marking the 50th anniversary of Valentina Tereshkova's flight into space, which is widely celebrated in India this year.
Aqueel Ahmad wrote an essay about the prospects of cultural cooperation between Russia and India. "I am very fascinated about Russia," he said. I like everything about Russia. When I was a child, I started reading Russian novels and skazki (this means fairy tales.) My favourite one was The Flying Ship.
According to him, in order to intensify the Russian-Indian cultural relations, the two countries should come forward to make films together, jointly directed ones, and in two versions, in Hindi and in Russian, like the 1957 film 'Pardesi' in Hindi or 'A Journey Beyond the Three Seas' in Russian by Khwaja Ahmad Abbas and Vasili Pronin, which was based on the Russian traveller Afanasy Nikitin's travelogues in India.
Rashmi Rajput feels that in order to improve bilateral relations Russia and India should enhance students' exchange programs "with not just going there and studying, but to live with the families…Like this they can learn more and more about Russia and Indian culture as well," she said.
Winners were chosen by a jury that comprised of Russian and Indian journalists at the Russia & India Report and teachers from the Russian Language School headed by Feodor Rozovsky, the Director of Russian Cultural Centre.
The award ceremony was followed by a performance of Siberian Patterns, a popular Russian folk dance ensemble from Novosibirsk.
All rights reserved by Rossiyskaya Gazeta.