Russian Britten: A bond of friendship through the language of music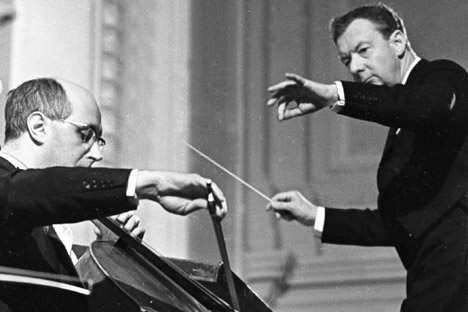 Rostropovich (L) and Britten (R) collaborated a lot, performing many times together. Mikhail Ozerskiy / RIA Novosti
RBTH author Alina Ivanova-Scriabina is strolling down memory lane to revive Britten's strong connection with Russia.
November marks 100 years since the birth of Benjamin Britten, the internationally known composer, pianist and conductor. "Seasons of Benjamin Britten in Russia" will celebrate the date with concerts, exhibitions, a new biography and an educational programme.
Britten season in Russia started on October 6. The programme includes musical events in Moscow, St Petersburg and Yekaterinburg, an international conference devoted to Britten and English culture, an art exhibition in The Pushkin Museum of Fine Arts, the publication of a biography of Britten and master-classes, lectures and documentary film screenings.
Find out more in our CULTURE CALENDAR
There is a long history of friendship and working relations between the British composer and Soviet artists. Britten was highly musical as a child, adored the masterpieces of Brahms and Beethoven, and was fascinated by Mahler as a teenager as well as by the Russian composers Tchaikovsky and Stravinsky. In 1932 he heard Stravinsky's "The Rite of Spring" in a BBC broadcast, and reflecting later: "I didn't really enjoy it, but I think it's incredibly marvellous & arresting."
The Russian conductor Sergey Koussevitzky, who was musical director of the Boston Symphony Orchestra from 1924 to 1949, created the Koussevitzky Music Foundations in 1942 to help composers by commissioning new works and underwriting the cost of their performance. Britten's opera "Peter Grimes" was among the compositions that received support. Koussevitzky offered him a $1,000 commission to write the opera shortly before Britten left the United States, where he had lived for three years, to return to Britain.
Britten's active connection to Russian culture began in the 1960s. He developed a curious affection for the Soviet Union where he toured repeatedly, accompanied by his artistic muse and long time partner Peter Pears. Britten first met Dmitri Shostakovich in 1960 in England where the Russian composer was performing his First Cello Concerto. That was the beginning of a mutual professional admiration and devoted friendship that lasted through the rest of their lives. Most of all, this friendship can be seen in letters between the two men.
"My dear Dmitri Shostakovich, Our good friend Slava [Rostropovich] has been with us for 2 days here & will bring this note to you from me – to thank you most warmly for your wonderful letter. I was deeply sad not to be able to greet you with thousands of other English people at the performance of "Katerina". (the opera "Lady Macbeth of the Mtsensk District" renamed "Katerina Izmailova"). You know how much I love this opera myself & rejoice that it has made so many friends here…" reads one example of their communications with each other.
As composers, they dedicated works to each other as a sign of mutual respect. Shostakovich dedicated his 14th Symphony to Britten, and was the dedicatee of Britten's "Prodigal Son". Britten also conducted the first performance of Shostakovich's 14th Symphony outside Russia in 1970.
Rostropovich and Britten play Shubert. Source: Youtube
It was Shostakovich who introduced the then 23-year-old Mstislav Rostropovich to Britten in London in 1963, just after the cellist had given the British premiere of the Russian composer's First Cello Concerto. Rostropovich and Britten collaborated a lot, performed many times together and became the greatest of friends. The Russian cellist felt that he couldn't play some pieces with anybody but Britten. He once said: "Schubert's Arpeggio Sonata I never play again, because nobody plays Schubert like him. Such a sensitive and perfect partner: I cannot repeat".
Britten composed his cello suites, Cello Symphony and Cello Sonata especially for Rostropovich, who premiered them at the Aldeburgh Festival in Suffolk.
Though Rostropovich didn't speak English and Benjamin Britten didn't know any Russian, they get along well on some other level of communication – through music. Many times Britten and Pears were welcomed guests at the country house of Rostropovich and his wife, the leading Bolshoi opera soprano Galina Vishnevskaya. The roles were reversed when the cellist came to visit England. Rostropovich shared his feelings towards his British friend in one interview, saying: "Benjamin Britten - such a clear, strong personality. He glowed from within - as a saint, just as a saint. I believe Britten appeared in my life just in time."
Britten went on to write a series of major scores for Rostropovich and Vishnevskaya: three unaccompanied cello suites, the Cello Symphony, the Pushkin settings published as "The Poet's Echo" and "War Requiem". Britten declared that the requiem was devoted to the memory of the victims of fascism, a call for peace in the world and a representation of the horrors of war.
Like Shostakovich's "Leningrad" Symphony and Sergei Prokofiev's "War Sonatas", written in the same period, Britten infused his works with a universal pacifist message. He had intended that Vishnevskaya should sign at the premiere in 1962, but the Soviet government refused to allow her to visit England for the performance at Coventry Cathedral. However, she was able to perform her role at the premiere in Holland in 1964.
As a consequence of the strict Soviet policy regarding international relations, Britten's collaborations with Vishnevskaya could not be fulfilled completely. Nevertheless, the composer was eventually welcomed into the Soviet Union, and he and Pears were invited to participate in the British Music Festival in Russia in 1963. The pinnacle of English-Soviet cultural ties during this period was the contract offered to Britten by the Bolshoi Theatre to conduct the opera "Anna Karenina" with Vishnevskaya as lead singer. But when the Soviet army marched into Czechoslovakia in 1968, Britten declined the contract and refused to travel to the USSR in protest.
For Russians, who have tender feelings towards Britten's musical legacy, he has become a truly close friend, related to outstanding Russian composers and culture. Shostakovich once expressed a desire to see "more Brittens. Russian ones, English ones and German ones. Various, and of different generations. What attracts me to Britten? The strength and sincerity of his talent, its surface simplicity and the intensity of its emotional effect".
Did you know about Benjamin Britten's connection with Russia? Share your opinion in the comment section below!
All rights reserved by Rossiyskaya Gazeta.