The couturier Valentin Yudashkin is one of Russia's most successful fashion designers. There are many high-profile projects to his credit—from the training suit of the Russian Olympic team, to his own Valentin Yudashkin House of Fashion, with stores in Hong Kong, France and the United States—and this is not all that he has achieved in the fashion world over last 25 years.
Yet even the recognized masters make some blunders. Once, Yudashkin designed a beautiful new uniform by order of the Defense Ministry, but a wave of cold-related diseases overwhelmed the army and the designer was blamed for this. Many people openly said they did not expect anything practical from Yudashkin, and that it was clear from the very beginning nothing good would come of all of his "doings."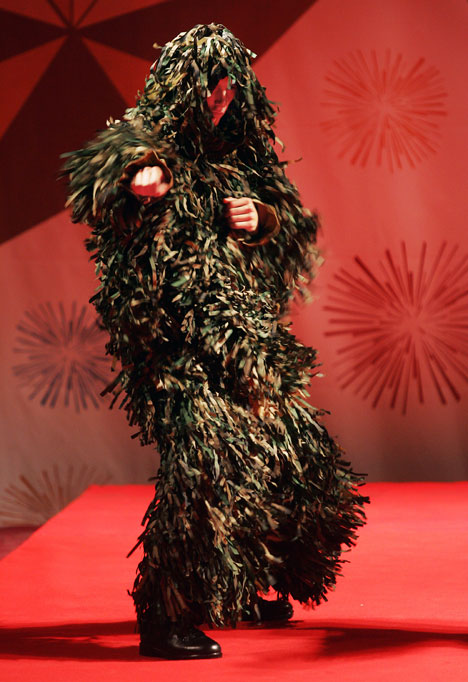 The presentation of the new uniform in 2008. Source: AFP / East News
The couturier later officially announced that his designs (lightweight, but warm and durable fabrics, multifunctional accessories) were virtually ignored during the manufacturing process. Being an expert in historical costumes (he received his first diploma from the College of Art, specializing in history of costumes), he approached the issue seriously and spent more than one year studying the specifics of military uniforms in the archives.
In general, Yudashkin analyzes all of his projects in detail. His first major collection had the promising name "Faberge," and each dress from that collection can be considered a work of art (one of which is now displayed in the Louvre, and several are exhibited in the California Museum of Fashion and in the State Historical Museum in Moscow).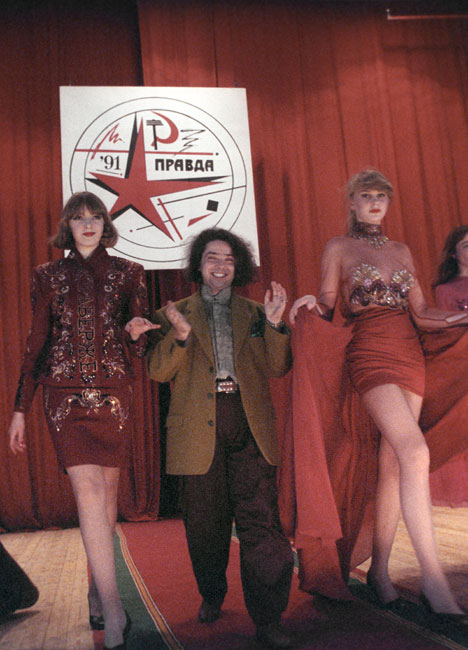 The Faberge collection. Source: RIA Novosti
Everything is very thorough and serious. If it is a question of a clothing brand, then this means lines of underwear, prêt-à-porter and jeans clothing, shops of designer accessories, shoes, jewelry, watches, porcelain and furnishings.
If it is a question of his career, than it means growth up to membership in the Paris Syndicate of High Fashion, after less than 10 years of professional experience (in 1996, Yudashkin became a corresponding member of the Syndicate, along with Valentino Garavani and Gianni Versace).
Having visited Paris for the first time, the fashion designer was shocked. Given the eternal Soviet shortages of good fabrics, one had to "obtain" them through one's friends or dealers. Accessories were considered a luxury, and textile factories produced one or two models of mittens and hats in mass, which were appreciated mainly for their practicality. A regular citizen could not even dream of having several purses with matching pairs of gloves.
Only imported goods from the socialist countries were stylish; they cost a lot of money and "were thrown" onto the shelves of department stores in very small batches. Thus, the chances of getting a pair of the cherished Romanian gloves, even after having waited long hours in line, were very slim.
Perhaps it is thanks to this background that Yudashkin managed to become a real star. There were few fashion designers in the country, but each of them became known and loved. After the collapse of the Soviet Union, the phrase "a dress by Yudashkin" sounded just as luxurious as "a Pierre Cardin dress," or "a Chanel costume." Yet, even in Russia, few people knew that displays by Yudashkin Fashion House participated in the fashion weeks in Paris.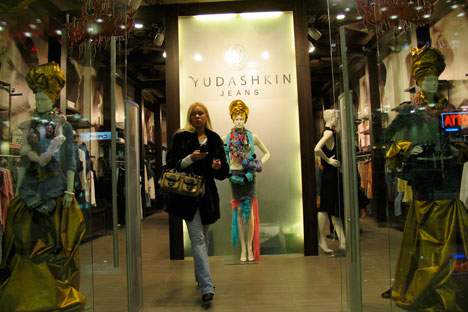 Yudashkin boutique in Moscow. Source: Foto Imedia
The name of his own studio—the Vali-Moda Fashion Theatre—was also purposefully selected.
First, in the early 1990s, the concept of mass equality was still firmly fixed in the minds of the Soviet people, and it was immodest to give his own name to the theatre—and, so he thus decided.
Second, it was artistic origins that prevailed in Yudashkin's collections. Models were distinguished by an abundance of decor and a riot of colors, by daring shapes and femininity. Under Soviet rule, this all seemed like a fairy tale and was perceived as a spectacle.
"We were ordered to come, for example, to a workplace. And, at 9:00 a.m., we showed costumes and dresses to the working women, while they were wearing padded jackets, headscarves and caps. And they applauded so heartily. They felt about it this way: 'I cannot wear it, I will never be able to buy it, but at least I had a chance to see it,'" says the designer.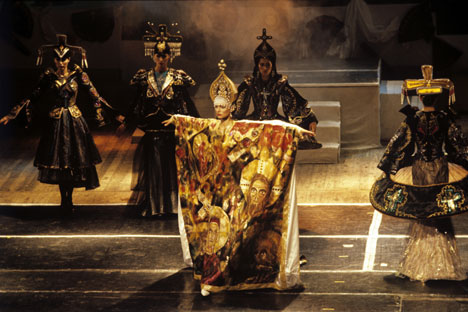 Yudashkin's display in 1989. Source: RIA Novosti
Yudashkin has an uncontrollable imagination. Take, for example, the fall/winter 2013-2014 collection ("The Snow Queen"): Models strolled down the catwalk wearing steel gray trouser suits, fur coats with silver fur and translucent dresses of lace, simulating frost on the windows. The result was a real winter fairy tale, as if from a children's play, the effect of which was created with the help of numerous white fur accessories—hat-tablets with small pom-poms, clutches, pom-pom earrings and even leggings.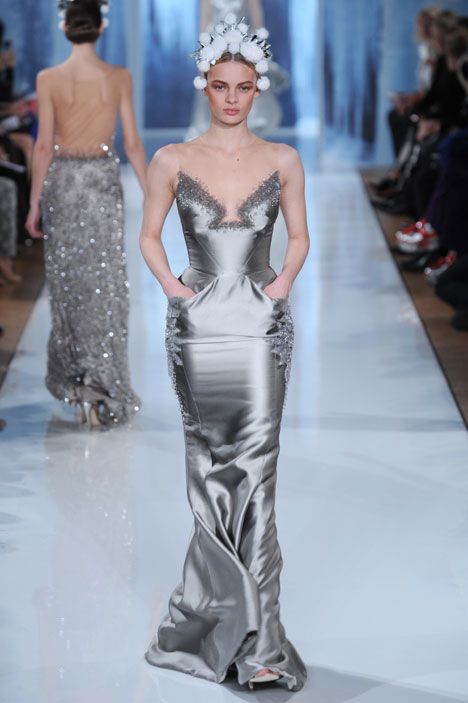 The 2013-2014 fall/winter collection shown in Paris. Source: Vostock Photo
Yudashkin sees the modern woman of fashion as a self-confident and self-reliant woman: "Today's woman is pragmatic, conceptual and understands what she wants. My heroine is a young, sexy, athletic, active... and working woman!"
All rights reserved by Rossiyskaya Gazeta.