Russia needs to reach out to small town and rural India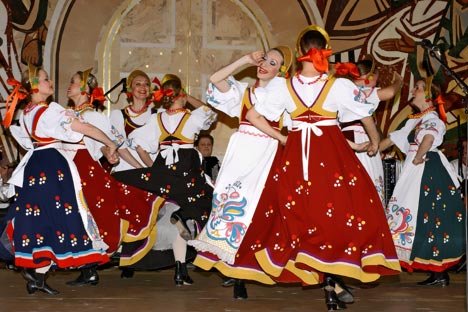 Many Russian artists feel that their most unforgettable experiences in India were in smaller places. Source: TASS
The next great India story is coming from its smaller towns and villages, and Russia should not miss this opportunity to spread its soft power in these parts.
It's not very easy for those of us who weren't alive in the heyday of Indo-Soviet bonhomie to imagine how much of an impact the USSR actually had on India. Films like Raj Kapoor's magnum opus Mera Naam Joker reflected this warmth. Even when the character played by Dharmendra discourages Raju the Joker from "leading on" the Russian circus performer who he fell in love with, there is such an emphasis on how the Russians are "our friends." The film did flop at the box office but the popular mood prevailing in India towards the Russians was clearly portrayed in it.
Magazines like Soviet Land reached out to a young generation of Indians across the country. The state-run broadcaster Doordarshan, which was the only channel that the unfortunate Indians could watch, broadcasted Nu Pogodi!, the hilarious animated series produced by Soyuzmultfilm. The reach of the USSR extended well beyond the metro cities. Way back in 1970, a Russian language department was established at the Shivaji University in Kolhapur, a major religious and cultural centre in southwestern Maharashtra.
This department played a key role in spreading Russian soft power in Maharashtra by translating Soviet and Russian books into Marathi. Like in many other places in India, the Soviet Government funded small rural projects near Kolhapur. The city also produced one of the finest Russian-language scholars in India, Dr Suniti Deshpande, who was the first Indian to get a PhD from Moscow's Pushkin Institute and was awarded the Pushkin Medal for Lifetime Contribution to Russian Literature.
Rossotrudnichestvo, the autonomous body that comes under the Ministry of Foreign Affairs and looks to promote Russian soft power abroad, does a commendable job in India. The Russian Centres of Science and Culture are very active and organise a number of interesting programs that help urban Indians get familiar with both traditions and contemporary trends in Russia, but they have a limited reach and mainly address an increasingly Western-oriented audience.
The so-called tier-2 cities, smaller towns and villages don't get much exposure to Russian culture. These are the places where people feel a genuine sense of happiness when they see photographs of summits between India and Russia and the genuine warmth between the leaders. Whatever they think of Manmohan Singh, the prime minister of India is an institution and the Russian hospitality towards him is seen as something that is extended to the people as well.
Cultural and musical programmes, exhibitions and special events need to be organised in these tier-2 Indian cities. A complaint that is often heard on this site's social media pages is that concerts and dance performances are held only in Indian metros. Agreed that the large cities of Delhi and Mumbai are of prime importance to Russia, but the smaller towns should not be overlooked. Russian artists that I have spoken to often told me that their most unforgettable experiences in India were in smaller places. They were fascinated with the stronger traditional values that they witnessed and the greater sense of openness and adulation.
Young dancers from the Sibirskiye Uzory troupe, who came to India as a part of the annual Himalayan expedition organised by Dostayanie, also had Pune on their itinerary. The city, which is just a few hours away by road from Mumbai, is an industrial, educational and intellectual hub. Few people in India appreciate a good cultural performance more than the traditional inhabitants of Pune. The city also is a magnet for software professionals and students from different parts of India, another important group that Russia should look to reach out to.
At the moment, the only glimpse of Russian culture that many of the smaller cities in India witness is the circus, which definitely has mass appeal, but Russia is so much more than trapeze acts. It may be logistically unfeasible at the moment to fly in cultural troupes to smaller towns in India, many of which lack decent hotels and infrastructure, not to forget proper power supply. However, one worthwhile project would be the dubbing or sub-titling of Russian films into regional languages and screening them in local theatres. Smaller exhibitions would also evoke a lot of interest and lead to more curiosity about Russia.
Considering the fact that many still appreciate the small developmental projects that the USSR undertook in rural India, it may not be a bad idea for Russian university students and adventure-seekers to try volunteering in Indian villages. Many Europeans and Americans have sworn by such experiences and said they were among the most enriching of their lives. Such volunteering programs also present a good opportunity to be cultural ambassadors.
The next great India story is coming from its smaller towns and villages, and Russia should not miss this opportunity to spread its soft power in these parts.
All rights reserved by Rossiyskaya Gazeta.