Five cultural events for next week Oct. 28 — Nov. 3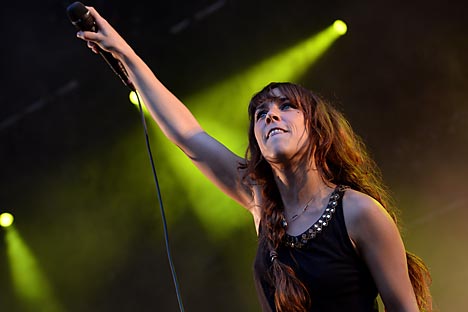 The concert of a French star Zaz will be held on Nov. 3. Source: AFP / East News
Surrealistic portraits, Chinese toys, a Japanese violinist, and Zaz in concert.
Oct. 29 (Tuesday)
The "Man Ray: Portraits" photo exhibition will open on Oct. 29 at the Museum of Private Collections of the Pushkin State Museum of Fine Arts. Man Ray (born Emmanuel Radnitzky), an American, was one of the founders of the Dada and Surrealist movements.
Man Ray. Kiki de Montparnasse. 1924. Source: Press Photo

The exposition displays 100 of his photos from the London National Portrait Gallery — portraits of Jean Cocteau, Gertrude Stein, Dali, Max Ernst, Paul Éluard, Coco Chanel, Catherine Deneuve and other artistic bohemia characters.
Oct. 30 (Wednesday)
On Oct. 30, Multivision–2013, the 11th International Cinema Festival of Animation Arts, will kick off in St. Petersburg. The program includes films from England, France, Japan, Germany, Spain, Czech Republic, Brazil, Argentina, and the best animation program from EYE Filminstitut, Holland.
The festival will feature more than 300 animations on various topics, as well as master classes, where anyone can try their hand as an animator.
Oct. 30 (Wednesday)
Midori Goto will play in Moscow on Oct. 30. Source: ITAR-TASS
On Oct. 30, Midori Goto, a famous Japanese violinist and world-class star, will play at the Moscow International Performing Arts Center. Midori is currently on an anniversary tour devoted to 30 years of creative activities; the tour will take the violinist across the United States, Europe and Asia.
Midori in rehearsal with the VSO. Source: YouTube
The Moscow program includes the following sonatas: E major by Paul Hindemith, A major by César Franck, E minor by Wolfgang Amadeus Mozart and E-flat major by Richard Strauss.
Nov. 2 (Saturday)
On Nov. 2, the "In some kingdom..." classic Chinese toy exhibition will open at New Manezh Moscow Exhibition Hall.
Chinese toys will be on display at New Manezh in Moscow. Source: Press Photo
Rag tigers, bamboo dragons, toys made of metal, stone, fur and leather — more than 200 exhibits in total from the China State Art Museum collection. The toys range from amulet trinkets for newborns to figurines symbolizing Chinese theatre characters.
Nov. 3 (Sunday)
On Nov. 3, the concert of Isabelle Geffroy, a French star most widely known as Zaz, will be held at Crocus City Hall.
Zaz. Je Veux. Source: YouTube
Her "Je Veux" was on the top of 2010 pop-charts in Belgium, Austria and Switzerland. Zaz was already in Moscow in 2011 and had great success.
This time, her concert will be devoted to the release of new "Recto Verso" album, which includes both cheerful chanson and bohemian melodies. Besides her hits, the singer is planning to perform sings from the repertoires of Edith Piaf, Charles Aznavour, Serge Gainsbourg and other variety icons.
All rights reserved by Rossiyskaya Gazeta.