Sparkling chefs on the wine list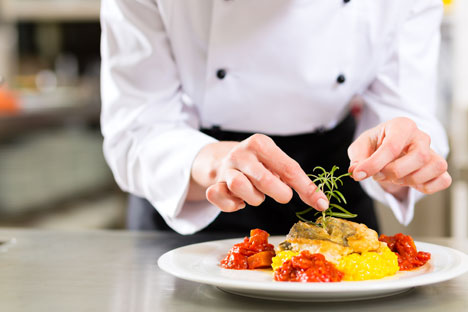 Students will be taught by leading French and Russian chefs. Source: Shutterstock
Abrau-Durso sets up gastronomic center of excellence to boost Russia's culinary image.
In the past seven years, the wine-maker Abrau-Durso, founded in 1870, has become a shining example of the successful reawakening of an almost forgotten wine brand.
Now it aims to do for nation's gastronomic reputation what it did for its sparkling wines by training a new generation of chefs.
The school was the brainchild of Pavel Titov, company chairman and son of the man who revived the brand's fortunes, Boris.
"We had planned for years to open a centre of gastronomic excellence," says Mr Titov. "We wanted to lead by example in educating the next generation of Russian chefs."
He added: "Historically, Russia has not possessed one single specialised gastronomic institution that could rival the best schools in Europe. With this project, we now have an opportunity to change Russia's poor global image for hospitality and gastronomy that has endured for decades."
Situated in the Krasnodar region of southern Russia, the estate's gastronomic centre was officially opened in November last year and welcomed its first cohort of students earlier this year.
The project is estimated to have required an investment of many millions of pounds, although Mr Titov refuses to divulge the exact costs. Classes are held at new teaching facilities in areas based in the winery's existing hotel and restaurant complex.
The new institution is reaching out far and wide in the culinary world to ensure that its students receive a well-rounded and international education.
Mr Titov says that students will be taught by leading French and Russian chefs, including Philippe Mille and George Tashker.
There will also be an opportunity to study at the two Michelin-starred Les Crayères restaurant in Reims, in collaboration with the French city's food academy.
The sparkling wine house was founded when Emperor Alexander II decreed that a wine estate be built in the village of Abrau-Durso.
After the Russian revolution in 1917, the estate became a favourite of Stalin, who was convinced that champagne should be the people's drink and set Abrau-Durso on a mission to bring champagne-style sparking wine to the masses.
After the Soviet Union's collapse, the winery was left to rot and production stopped.
Enter Boris Titov. The former petrochemicals trader fell in love with the beauty of Abrau's lakeside location and purchased the property in 2006.
He set himself the task of reviving the estate's fortunes and instigated a major investment in the restoration of the vineyards: 200 hectares of new vines from France and Austria were planted and more than $20m (£12.4m) was spent on renovating the winery's equipment.
Today, it is a symbol of pride for urban Russians, who enjoy many million bottles each year of Abrau-Durso's champagne-style sparkling wines in restaurants and in the home.
All rights reserved by Rossiyskaya Gazeta.