Russian beauty in an Indian's heart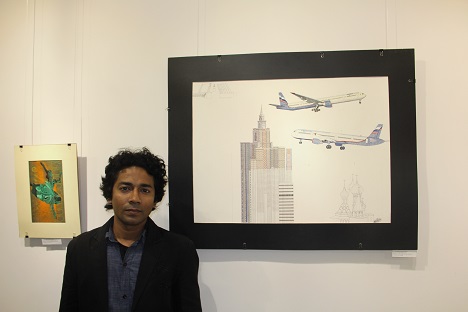 Adarsh Sinha. Source: Alexander Nevara / RIA Novosti.
The Russian Centre of Science and Culture in New Delhi is hosting an exhibition of Adarsh Sinha, featuring paintings that reflected the young Indian artist's August visit to Moscow.
On November 7th, an exhibition of the paintings of young Indian artist, Adarsh Sinha was opened at the Russian Centre of Science and Culture in New Delhi. The exhibition titled 'I love Moscow' featured paintings that reflected the artist's impressions of his visit to Russia this summer.
Sinha, who graduated from College of Art, University of Delhi, in 2009, combines the excitement of historical architecture and modern trends in painting. Typically in his paintings we see architectural ensembles of people, different shapes, all together or separately, painted with great detail. Each picture should be examined for a long time – in detail and as a whole.
Source: Alexander Nevara / RIA Novosti.
"I mainly paint with pens and ink, but I also use oil paints and acrylic paints. I create my paintings on paper, on canvas," Sinha told RIR. "Each work takes me about a month; sometimes a picture takes me three months to paint... If we talk about the artists whose works I am most influenced by – among the Western ones it is Breugel, Leonardo da Vinci, and Dali. If we talk about Indian artists, there is Ghulam Mohammed Sheikh."
The exhibition bears a stamp of Russia. In August, Sinha, along with other young Indian artists, filmmakers and journalists visited Russia as part of a program called 'New Generation' implemented by Rossotrudnichestvo. Not only did he become acquainted with the country, but he expressed it in his painting.
"I have been to Moscow, Vladimir and Suzdal. Russia is a beautiful country, I will definitely come back again," Sinha said. "I was especially impressed by Moscow's architecture. My earlier work was based mainly on Indian architecture. But after visiting the Kremlin I started studying Russian architecture, I began to put its images in my work. Today I am showing the paintings I created after visiting Russia."
In contemporary Russia, the artist saw a "spirit of the search, enterprise, aspiration for the future."
Source: Alexander Nevara / RIA Novosti.
The guests of honour who opened the exhibition were K. K. Chakravarty, Chairman of the Lalit Kala Akademi, S. N. Lahiri, Principal of the College of Arts, University of Delhi and Sergey Karmalito, Senior Counselor of the Embassy of India in Russia.
"Sinha's paintings presented today at the exhibition demonstrate the meeting the modern Russian architecture and its monuments with his creative style, Lahiri said while opening the exhibition. "They successfully engage the audience in a game of the mind and imagination."
All rights reserved by Rossiyskaya Gazeta.