Russian actor cast in 'Game of Thrones' fourth season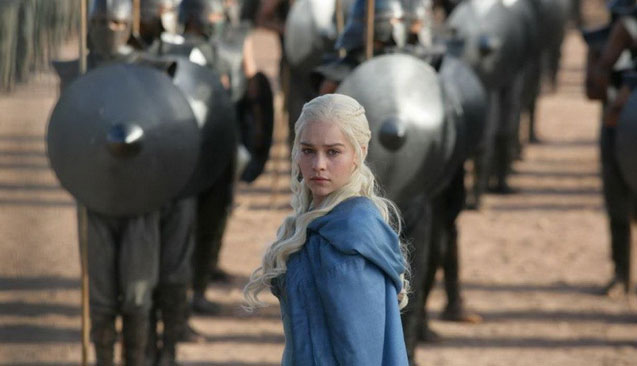 Kolokolnikov will play Styr which will have neither ears nor hair. Source: kinopoisk.ru
Russian actor Yury Kolokolnikov will feature in the fourth season of the popular U.S. television series to play the wildling leader Styr.
Yury Kolokolnikov, a Russian actor best know for his roles in the television series "Children of Arbat" and the recent art-house movie "Intimate Parts," will star in the upcoming season of "Game of Thrones" as Styr, the Magnar of Thenn and a leader of the wildling clan.
The Russian actor's upcoming role in "Game of Throne" marks his first foray into a U.S. production.
Kolokolnikov, 33, spent his childhood in the United States and Canada, where his mother worked as an interpreter. He received Canadian citizenship but then returned to Russia and graduated from a theater college. Kolokolnikov went back to America in 2000 and did odd jobs for a year, while trying to take Hollywood by storm.
Yury Kolokolnikov. Source: Legion media
He returned to Russia in the early 2000s and made a successful career as an actor at Moscow's Sovremennik Theater. He also played in Russian motion pictures and TV series, including such blockbusters as the World War II spy film "August '44", the popular TV series "Children of the Arbat."
Still, Kolokolnikov held out hopes conquering Hollywood.
"Game of Thrones" ranks among the most successful products of America's premier TV network HBO. The company revolutionized the market of TV series with its "The Sopranos" as it turned from consumers of endless soap operas to intelligent audiences and started speaking normal language to them. This led to an overhaul of the entire TV series marketing strategy and set new standards of production.
"Game of Thrones" is based on George RR Martin's cycle of novels "A Song of Ice and Fire." It is one of the most successful TV projects in America, and the most expensive fantasy TV series to date. This is an unusual fantasy story too, because there are nearly no miracles in it. It can be termed as an alternative history film, with invented kingdoms and continents, and its storyline includes episodes bearing strong semblance to certain episodes in the history of humanity. "Game of Thrones" has been nominated for multiple awards, including Emmy Awards, and got a Hugo trophy in the Best Dramatic Presentation category. Fan communities sprout up across the globe.
Kolokolnikov is not the first Russian actor to have been cast in a U.S. series. The most prominent example is ballet dancer Mikhail Baryshnikov's role in "Sex and the City." The roles played by Alla Kliouka and Oksana Lada in "The Sopranos" are also worth mentioning. The latter played Tony Soprano's spouse, while the latter was her one-legged friend.
Soviet film veterans Natalya Andreychenko and Elena Solovey had much tougher luck in Hollywood. They used to be real stars in the U.S.S.R. Andreychenko had a role in Andrey Konchalovskiy's "Siberiade," and shined in "Mary Poppins," a cult Soviet film based on children's stories by British author Pamela Travers. Solovey was cast in several movies by Nikita Mikhalkov and got to work with many other renowned Soviet film directors; one of her most famous roles is that of Russian silent cinema star Vera Kholodnaya in Mikhalkov's "RabaLyubvi."
In the U.S. both actresses found that their repertoire was severely limited by their Russian accent, meaning they could only be cast as Russian nationals or land cameo roles. However, even this restricted niche provides good opportunities for some. For example, Elya Baskin, one of America's oldest Russian-born actors, has virtually monopolized the roles of ethnic Russian characters in American movies and TV series.
It is easier to get to Hollywood for the younger generation of Russian actors, those who have lived in the States or have been studying English since childhood. Anton Yelchin is a rising star of the U.S. cinema screen, as is Margarita Levieva, who woke up famous after playing in "The Blacklist" and made New York Magazine's 50 Most Beautiful New Yorkers in 2005. Kolokolnikov also belongs to this generation. He has solid U.S. background, ambition and talent, and therefore stands a good chance of conquering first U.S. television and then Hollywood.
All rights reserved by Rossiyskaya Gazeta.