Yekaterinburg theatre to stage Philip Glass' Satyagraha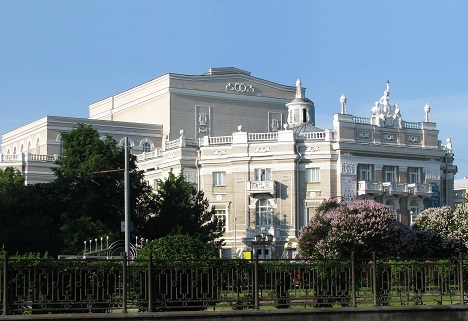 The Yekaterinburg State Academic Theatre of Opera and Ballet. Source: Vladislav Falshivomonetchik / wikipedia.org
The opera based on Mahatma Gandhi's life in South Africa and the Satyagraha movement will be staged in the Sanskrit language.
The Yekaterinburg State Academic Theatre of Opera and Ballet is to stage Satyagraha, an opera composed by Philip Glass, which is loosely based on the life of Mahatma Gandhi.
Theatre director Mikhail Shyshkin has said the opera will be performed in the Sanskrit language. "I was terrified of putting up the notice about the new production because it says at the bottom, 'to be performed in Sanskrit,'" Shyshkin says. "I did it only after the arrival of the conductor, Oliver von Dohnanyi. Once we had finalized the list of the performers. Despite my fears, the company met the news with enthusiasm."
The opera will be directed by Dohnanyi and British director Thaddeus Strassberger, who will come to the Urals from London especially for this project.
Written in 1981, the opera about Gandhi is the central piece in a famous trilogy by Philip Glass, a famous American minimalist composer. The first piece was Einstein on the Beach, which came out in 1976. The second was Akhnaten (1983).
The opera centres on the early period of Gandhi's life in South Africa. The scenario includes uprisings in North Africa and the Middle East, and protests in Europe and the United States. The original American production of Satyagraha uses a large number of puppets in many scenes. The text, from the Bhagavad Gita, is sung in the original Sanskrit, with the translation provided in supertitles.
"I drew my inspiration for this opera from great historical figures," the composer said at the time. "These include Leo Tolstoy, Rabindranath Tagore, and Martin Luther King Junior. The libretto is written in Sanskrit based on the Bhagavad Gita."
The Russian premier of the Satyagraha is scheduled for September 2014.
Based on materials from Gazeta.ru and kbanda.ru.
All rights reserved by Rossiyskaya Gazeta.