Five cultural events for the week of Nov.18–24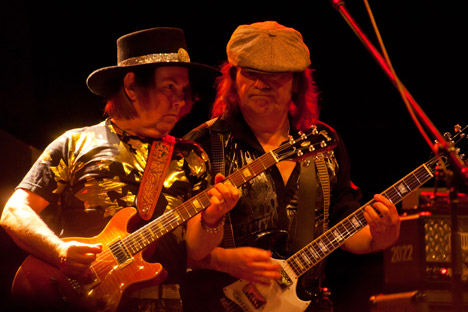 British band Slade to perform in Moscow. Source: Alamy / Legion media
Nostalgic rock concert, Beethoven at the whole in Moscow, performance anthology in the Jewish Museum.
November 19 and 21
Slade, a legendary British band, will give two concerts in Russia, one in Moscow's Crocus City Hall and one in St. Petersburg's Lensoveta Culture Center.
The glam and punk rock stars toped the pop charts in the 1970s, but the band broke up in the 1990s, when the vocalist, bass player, and main songwriters, left. Two remaining members continued concert activities with new musicians under the old brand. All this, however, does not prevent the Russian public, "falling short" of live rock concerts at their time because of "iron curtains," from being nostalgic about and taking pleasure in Slade classic repertoire at this week's concert.
November 18 to 23
The 23rd International Festival of VGIC (All-Russia State Institute of Cinematography), the oldest Russian film school, starts on November 18.
The festival is one of the largest students film festivals in the world, with more than 200 films from 25 countries. They include Argentina, Belgium, England, France, Germany, Greece, China, Indonesia, Mexico, Spain, and the United States. The festival will be held in 20 Russian cities.
November 20 to 24
Nine symphonies by Beethoven in 4 days — Vienna Symphonic Orchestra comes to Moscow under the guidance of Christian Thielemann, a German conductor. "No such musical event has been held in Russia ever. Vienna philharmonic orchestra is the best orchestra in the world, and listening to all Beethoven symphonies is a rare opportunity one should never miss", said Irina Nikitina, the Musical Olympus Foundation president. Symphony No. 9, written by the already deaf composer, will be played.
Source: Youtube
The Vienna orchestra was founded in 1842, making it the oldest in Europe. Its conductor's deck has been in the hands of such symphonic music titans as Herbert von Karajan, Leonard Bernstein and others.
November 21, 23, 24, 25
On November 23 and 24, the première of "The Nights" ballet by Angelin Preljocaj, a French choreographer, will take place at Alexandrinsky Theatre in St. Petersburg. And "The God and Dogs" ballet performed by Bayerische Staatballett will take place at Mikhailovsky Theatre on November 25.
Source: Press photo
Such performances will take place within Dyagilev PS IV International Festival. In addition, a number of other events will be held including "Theatre and Fashion: Arts' Dialogue" scientific conference. While Sheremetev Palace will host "Style on the Stage: Elegance Art" exhibition starting on November 21. The festival is named after Sergei Dyagilev, a Russian impresario, the founder and inspirer of legendary Russian Seasons, a European ballet theatrical enterprise that opened the entire galaxy of great dancers, choreographers and artists of the world, including Igor Stravinsky, Waclaw Nizynski, George Balanchine, Leon Bakst, Alexandre Benois.
November 21
"Performance now: Anthology of the 2000s" exhibition starts at the Jewish Museum and Tolerance Center in Moscow. That is a large-scale, international project under the oversight of RoseLee Goldberg, a reputed American historian, critic and curator, the author of "Performance Art: From Futurism to the Present" book.
Source: Press photo
"Performance becomes a major visual culture type in the XXI century, owing to such genre synthetic character and complexity, an artist uses and combines various media in order to embody his conception as fully as possible," Goldberg said. Spectators will see performances by such well-known artists as Marina Abramovic, Claire Fontaine, Allora and Casaldia, Santiago Sierra, Clifford Owens, Yael Bartana, Guy Ber-Ner and others.
All rights reserved by Rossiyskaya Gazeta.