St Petersburg and India to jointly promote Nicholai Roerich's legacy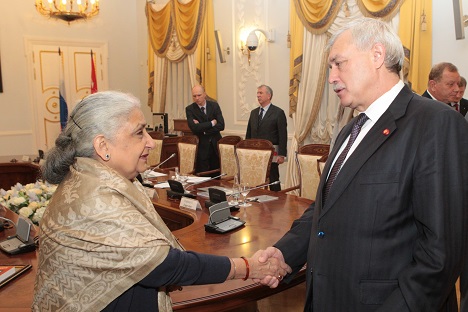 St Petersburg Governor Georgiy Poltavchenko and India's Minister of Culture Chandresh Kumari Katoch at the meeting in Smolny. Source: Official webiste of the Saint Petersburg City Administration
Cultural cooperation between India and Russia's northern capital is likely to get a boost with a series of agreements being signed.
India and Russia's cultural capital agreed to jointly promote the legacy of painter, philosopher and writer Nicholas Roerich, after a meeting in Smolny between St Petersburg Governor Georgiy Poltavchenko and India's Minister of Culture Chandresh Kumari Katoch.
"In the cultural and economical sphere we have established a good relationship which we should definitely keep on developing," Poltavchenko said.
Many agreements were reached during the meeting, according to the St Petersburg administration. The first step of the cooperation will consist of sharing experiences regarding the preservation and restoration of architectural monuments and art memorials. An official agreement will be signed between St Petersburg and the India's National Centre of Archeological Studies.
The highlight of the meeting was an agreement for joint efforts to promote the Roerich legacy. Few people have bound Russia and India together like the author of the famous Roerich Pact, also known as the Treaty on Protection of Artistic and Scientific Institutions and Historic Monuments. The painter and philosopher travelled around the whole world and had a special love for India, where he spent his last years, socializing with Indian scientists, philosophers and writers. It was India where Roerich completed his well-known series of paintings, such as Shambala and a series on Tibet and ashrams.
Russia and India have had a long history of strong cultural relations and this legacy extends to St Petersburg, a city with a traditionally large number of Indophiles . A new book was recently published in the northern capital titled 'St Petersburg – India: History and Modern Times.' The book, which elaborately looks at the cultural connections between the city and India, was presented one to Katoch by Poltavchenko. An English-language version of the book is likely to be published in India soon.
First published in Russian in Iskusstvo.tv.
All rights reserved by Rossiyskaya Gazeta.