Street fashion in Russia: spike heels and minis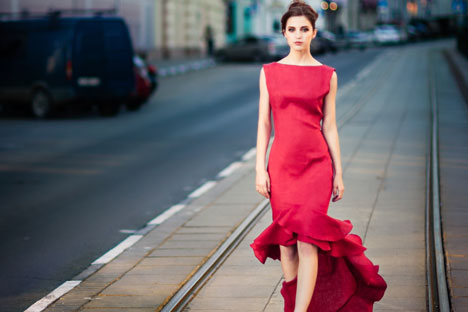 Once shy about how foreigners might judge their fashion sense, Russian now see themselves as trendsetters.
Source: Vladimir Vyatkin / RIA Novosti
"My impression is that Russians – at least in Moscow – are more stylish and up on fashion trends than the Americans," says Lara, an American who has lived in Russia for several years.
This is unexpected, especially for the majority of Russians who internally always feel a bit shy about their appearance before foreigners, and therefore believe that the whole world considers us as savages.
We really look different. And there are objective reasons for that. For years, the Iron Curtain did not give Soviet citizens a chance to dress well or stylishly. World fashion reached us always with a delay, mainly in the form of movies and imported goods, which seldom got onto the Soviet retail shelves. When they did, huge queues formed immediately.
Then the Perestroika and the transition to a market economy occurred on the background of this "clothing deprivation." However in the 1990s, large Western companies were still afraid of the Russian market, and the country was flooded with Chinese and Turkish clothing. People got ahold of bright prints and rhinestones, and of trendy styles that allowed for an opportunity to show their personalities.
Almost all global clothing companies operate in Russia today, but many people have retained the habit of excesses.
Source: Iliya Pitalev / RIA Novosti
"At first, your style in clothing seems vulgar, but when you realize that the culture is different here, and that it is the norm, you start to get used to it and consider it attractive!" says my French friend, who has lived in Russia for several years. "The girls are particularly good-looking, they wear high heels and dresses much more here, even in winter when it's snowing ... that surprised me! However, men and older people do not care much about their appearance, at least compared to the Europeans."
Indeed, a woman in stiletto boots, thin nylon tights and a very short, down-padded coat in -30 C weather is the norm in our country. What should one do? The winter lasts for six months, and you cannot go dressed in a fur coat to the floor and UGG boots all the time! You want to look beautiful!
Source: Reuters
Moreover, it is not appropriate in Russia to substitute the functions of things – a sports suit is appropriate only in a gym, and open sandals are appropriate only at the beach or on a walk, but not at work. Even on the playground, you will hardly find a mother in a sports suit and without even minimal makeup.
There is a joke: "A Russian woman will not go out without makeup, even to throw out the garbage! What if she happened to meet her prince around the corner?"
Foreign women highly appreciate this characteristic of Russian women. "I also wear higher heels than I would in the USA. I pay more attention to what other women are wearing on the street, and that influences the kind of clothes and accessories I buy," Lara said. "For example, I noticed a couple of years ago that Russian women were all carrying rough leather purses, so now I have one. I also see that this year tall leather boots, with flat heels, are being worn in Moscow, so now I am looking for a pair of those."
You also have to take into account the climatic diversity we live in. It is a necessity to have a lot of clothes in the wardrobe. Sunny days are few in Russia, and the soul strives for a holiday, so we compensate it with attire.
However, now the concentration of stylish women in the big cities of Russia is comparable to those in New York and London. The Russians are trying to create a thoughtful integrity of image, the so-called "put together," to select bags and accessories to match their footwear, to watch the combination of colors and textures.
Source: Getty Images / Fotobank
"I think American women should care more about how they look in public. Of course you shouldn't judge people by how they dress, but I think leaving the house looking "put together" shows respect for yourself," says my other American friend who works in Russia.
All rights reserved by Rossiyskaya Gazeta.