Russia cherishes memory of T.N. Kaul – Alexander Kadakin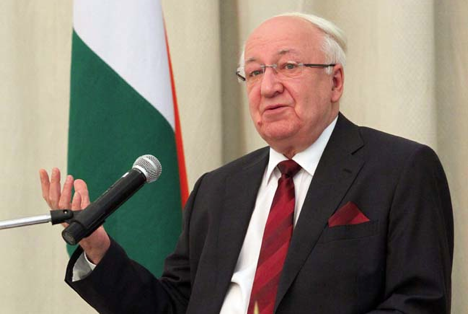 Kadakin: "T.N.Kaul's contribution to stronger friendship and strategic partnership between Russia and India is highly valued and remembered in my country". Source: Russian Embassy in New Delhi
The two-time Indian ambassador to Russia played a pivotal role in strengthening the friendship between the two countries and wrote the timeline of international politics in the second half of the 20th century.
The Russian Embassy's initiative, along with the MEA, to host a jubilee event to mark the centenary of India's outstanding diplomat and statesman, T.N.Kaul, is a labour of our love and affection for him and India. Russia cherishes the memories of and holds in great esteem this brilliant and illustrious son of Mother India, who played a pivotal role in strengthening friendship between our nations and in a talented way wrote the timeline of international politics in the second half of the 20th century.
T.N.Kaul was a witness and architect of epoch-making landmarks in Russian-Indian cooperation, generated bold and innovative ideas, non-standard and crucial decisions which outlined the continuity of our relationship for generations to come. Russia and India must always be together - that was the conviction of and the clarion call for T.N.Kaul in all his activities and life. He was a pioneer who stood at the cradle of independent India's relations with Moscow. T.N.Kaul first came to the USSR as first secretary in July 1947 to literally open the doors of the first embassy. India stood at the threshold of breaking the chains of colonialism. Throughout his life he maintained intimate links with my country - for him it became karma-bhoomi.
T.N.Kaul's two tenures as ambassador in Moscow were unprecedentedly fruitful. During 1962-1966, when the foreign policy course of the young republic was shaped, he was instrumental in broadening full-scale cooperation between our countries. He helped the Kremlin leaders and thousands of my compatriots to make a Nehruvian discovery of friendly India and her ancient culture and history. How profound was his immersion into the galaxy of Russian culture and literature, at times dissident, during the famous thaw – never before had Moscow seen such affable and scholarly ambassador!
His second ambassadorship prominently stands out for many remarkable bilateral events. President Mikhail Gorbachev visited India twice, and Prime Minister Rajiv Gandhi paid two visits to my country. It was the time when tradition of annual summits was started. Now it is an established practice. The Delhi Declaration on Non-violent and Nuclear Weapons Free World became an event of global dimension, which created an amalgam international concept of Gandhian non-violence and prevention of humanity from the threat of nuclear holocaust. It was then that the agreement on a nuclear power unit in Kudankulam was signed, which marked a new edge of bilateral ties, now the flagship of Russian-Indian cooperation in the 21st century. Is not it highly symbolic that we mark the centenary of one of the authors of that historic agreement when the first unit is about to achieve its full capacity?
Indian Minister of External Affairs Salman Khurshid (l) and Russia's ambassador to India Alexander Kadakin attended a photo exhibition titled "Architect of Indo-Russian Friendship" displaying photos on T.N. Kaul's diplomatic career. Source: RCSC
After becoming Indira Gandhi's Foreign Secretary, T.N.Kaul conceptualised and was directly involved in secret elaboration of the historic 1971 Soviet-Indian Treaty of Peace, Friendship and Cooperation which turned out to be a document of global importance before Bangladesh was liberated by India. Hardly can one overestimate his achievements in tackling the regional and global challenges of the 1960s and 70s. Let alone T.N.Kaul's active participation in the settlement of Indo-Pakistan conflict at the Tashkent Peace Conference in January 1966.
T.N.Kaul's fruitful and eventful role in mutual spiritual enrichment of our peoples was reflected in the unforgettable mammoth Cultural Festivals in the two countries initiated by him. As a prolific writer and scholar, He generously shared with millions of readers his impressions of Russia and visions of the future.
Many people like me, who were lucky to know, at close distance, this unique person and work with him vividly remember his versatile knowledge, inquisitive mind and infallible memory, his extraordinary skill to manage extremely complicated situations and always find an optimal way out, his fantastic capacity for work, accuracy and punctuality as well as his sparkling speech and flashing sense of humour, so indispensable for a true diplomat. Needless to say that his peerless and truly magnetic charisma and amicability always irresistibly charmed everyone around him.
T.N.Kaul's contribution to stronger friendship and strategic partnership between Russia and India is highly valued and remembered in my country. He was a shining star in the constellation of eminent personalities awarded the highest decoration for foreigners - the Order of Friendship, which you can see at the Exhibit. It was not only the high recognition of the great merits of this brilliant Indian diplomat par excellence but also a sign of affection by my compatriots.
This article is an edited version of the speech given by the Russian ambassador to India at a function held in the RCSC in New Delhi on November 21 to celebrate the centenary of T.N. Kaul.
All rights reserved by Rossiyskaya Gazeta.