Russian buyer snaps up top Sotheby's lots before auction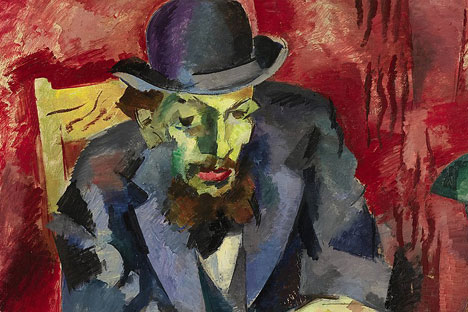 Robert Falk. Man in a Bowler Hat. Source: Press Photo
A private Russian collector purchased paintings by Robert Falk and Pyotr Konchalovsky ahead of a Sotheby's auction.
Two of the top lots that were to be put up for sale at an upcoming Russian art auction in London have been sold privately to an unnamed Russian art collector. The price paid is said to have been well in excess of the auction house's estimates.
Two famous Russian masterworks - Robert Falk's Man in a Bowler Hat (Portrait of Yakov Kagan-Shabshai) and Petr Konchalovsky's monumental Family Portrait in the Artist's Studio - both painted in 1917, have been bought privately ahead of Sotheby's Russian art auction scheduled for November 25.
"At this time, collectors are especially interested in the kind of masterpieces that both paintings undoubtedly are," said Mikhail Kamensky, head of Sotheby's Russia.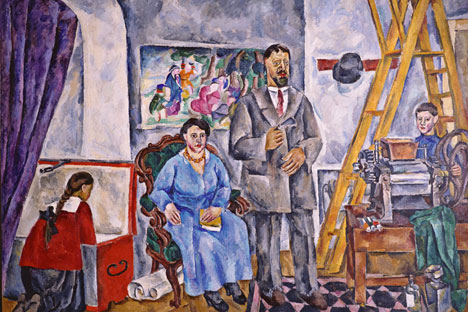 Petr Konchalovsky. Family Portrait in the Artist's Studio. Source: Press Photo
"Another important factor was that both of these masterworks were painted by prominent representatives of the Jack of Diamonds group of Russian artists, which is extremely popular among our compatriots," Kamensky told Kommersant newspaper.
The painting by Robert Falk is a portrait of Yakov Kagan-Shabshai, a famous 20th century Jewish art collector who was also Marc Chagall's patron. The man had long worked on (and very nearly brought to fruition) the idea of creating a museum of Jewish art.
Man in a Bowler Hat was part of Kagan-Shabshai's collection; before his death he sent it to his brother Alexander, who lived in Paris. While the artist was still alive it was showed to the public on three separate occasions, including during a biennale in Venice.
The portrait was valued at £2.5-3.5 million by the auction house. The actual sale price has not been disclosed, but it is said to be "many times the original estimate".
Petr Konchalovsky's Family Portrait in the Artist's Studio, which was estimated at £3.5-4.5 million, has been bought for about £4.68 million. In 2010 the painting was one of the central exhibits of the "Petr Konchalovsky. To the Evolution of Russian Avant-garde" display at the Tretyakov Gallery in Moscow.
It is the largest of the three family portraits created by the artist; the other two are part of the Tretyakov Gallery and Russian Museum collections.
This has been only the third case of lots being sold privately ahead of an auction; both the previous cases were also at Sotheby's and involved Russian buyers. In 2004 Russian tycoon Viktor Vekselberg bought a collection of Faberge eggs and other items from the Forbes family for $100 million. The collection is now displayed at the privately owned Faberge Museum, which opened recently in St Petersburg.
In 2007 Russian businessman Alisher Usmanov paid a similar sum of money for the entire collection of paintings and other art pieces previously owned by legendary cellist Mstislav Rostropovich and his wife Galina Vishnevskaya.
First published in Russian in Kommersant.
All rights reserved by Rossiyskaya Gazeta.