Russian roots run deep in Hollywood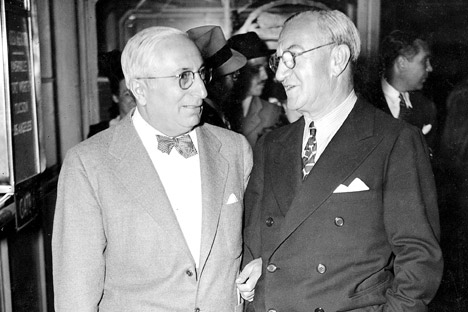 Louis B. Mayer and Nicholas Schenck at LaGuardia Airport. Schenck was at airport to say goodbye to Mayor who is leaving for Hollywood. Source: Getty Images / Fotobank
It's not just well known actors with Russian heritage. Some of Hollywood's most influential founders came from Russia.
There are quite a few stars in Hollywood who have Russian roots: Leonardo DiCaprio's grandmother's name was Yelizaveta Smirnova, and Mila Kunis and Mila Jovovich both speak Russian as they grew up in the former Soviet Union.
But many people aren't as familiar with the fact that many of Hollywood's founders also hail from Russia, including the Schenck brothers. Nick Schenck ran MGM studios, and Joseph Schenck founded the Academy of Motion Picture Arts and Sciences.
These two leading figures in the Hollywood film industry were born and grew up in a small town on the Volga called Rybinsk. Their father, Haim Schenkeir, worked as a clerk at a steamship company.
As many Jewish families in the Russian Empire in the late 19th and early 20th century, the Schenkeirs immigrated to America. They settled in New York's Lower East Side but later moved to Harlem.
Like many American immigrants, they shortened their last name to Schenck, and changed their names Nikolai and Joseph to Nick and Joe, so they would sound more "American."
In New York the two brothers' first job was selling newspapers in the streets. Once at a railway station, they noticed that hundreds of people had nothing to do while waiting for their trains.
The brothers rented a beer concession and also provided some vaudeville entertainment for the waiting public. It was there that they met Marcus Loew, a theater operator, and later the owner of the film studio which these days is known as Metro-Goldwyn-Mayer.
In the end both became film moguls, albeit with very different life stories. Nick stayed to work with Loew and became head of Metro-Goldwyn-Mayer.
By 1932 he was running a whole empire of thriving movie theaters and the MGM studio. He became one of the richest men in the United States.
In the silent period, Metro-Goldwyn-Mayer movies starred Greta Garbo, followed by Katharine Hepburn, Vivien Leigh, Clark Gable and Fred Astaire in talking movies.
MGM films have received more than 200 Oscars. Some of the studio's masterpieces include "The Wizard of Oz," "Gone with the Wind," "Singin' in the Rain," Tom and Jerry cartoons, and other classics.
Nick Schenck was a strong and gifted manager and made sure that the gigantic corporation operated like a well-oiled machine even during the Great Depression.
Joseph left his brother with Loew and moved to the West Coast. By 1925 he became the second president of the independent studio United Artists set up by silent-era film stars Charlie Chaplin, Mary Pickford, Douglas Fairbanks and film director David Griffith. Some 10 years later he founded 20th Century Pictures.
Joseph Schenck became one of the founders of the Academy of Motion Picture Arts and Sciences, which established the prestigious film industry awards, the Oscars.
He played a key role in Marilyn Monroe's life. Joe fell in love with the young actress when she appeared at his studio in 1946 and helped to launch her career.
In 1952 Joe was given a special Academy Award in recognition of his significant contribution to the development of the film industry and was given a star on the Hollywood Walk of Fame.
In Russia, the Schenck brothers became known only in the 1990s, after the break-up of the Soviet Union. No wonder: while the Iron Curtain was still in place, various dubious characters were better left unmentioned.
Now there is a plaque dedicated to them in their hometown of Rybinsk, visited by thousands of tourists, who visit the place on Volga river cruises.
All rights reserved by Rossiyskaya Gazeta.