Opera diva Netrebko opens up about son's autism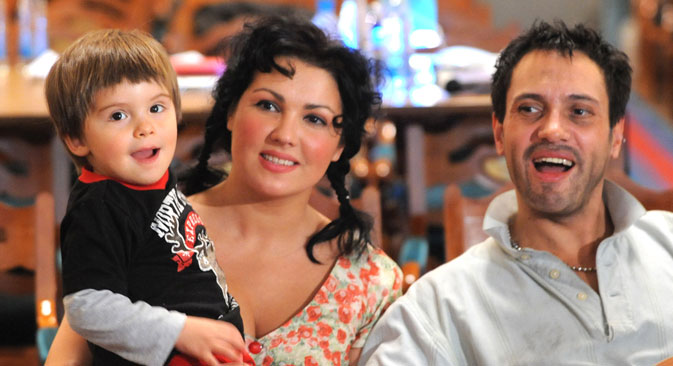 Anna Netrebko, her son and her civil partner baritone Erwin Schrott. Source: ITAR-TASS
The world famous opera singer Anna Netrebko says she will carry on despite her separation from her civil partner, baritone Erwin Schrott.
In an interview with the Russian television program "Let them talk," opera star Anna Netrebko spoke about her separation from her civil partner, baritone Erwin Schrott, and the diagnoses of her 5-year-old son, Tiago, with autism.
According to the singer, Tiago has a mild form of autism. It was diagnosed relatively late; Netrebko and Schrott learned about Tiago's condition when he was nearly three years old.
"I think, well, he is not talking ... not talking because he hears four languages," Netrebko said. "And then we noticed that sometimes you start talking to him, and he does not respond. And so it began. For me it was a shock. I was scared, but doctors quickly reassured me that it can be treated, and Tisha will return to normal in a few years, you only have to take care of it seriously.
"I want to say to women who have autistic children, that they should not be afraid, it can all be developed up to normal standards, that children should go to school and study," she said, adding that her son was treated by the best specialists in New York and is now attending a regular school. She said her son rarely sees his father, because he is constantly touring, and really misses male attention.
According to Netrebko, the reason for her separation from Schrott was due to their work schedules and overall a failure to balance between professional commitments and family life.
She added that she and Schrott remain friends and already have a series of appearances together planned. In January, both will be involved in a production of Donizetti's "L'Elisir d'Amore" at the Metropolitan Opera.
However, Netrebko's main creative plans this season are associated with the name of Verdi. The opera world is celebrating the 200th anniversary of the Italian composer's birth this year. Netrebko recently sang the role of Leonora in "Il Trovatore" at the Berlin State Opera with Placido Domingo, in a staging by Robert Shtoltsl and conducted by Daniel Barenboim.
She also released a new album devoted to the composer, entitled simply "Verdi." It does not feature the arias from some of the composer's best-known works such as "La Traviata" or "Rigoletto" or "Aida." Half of it is devoted to fragments of "Joan of Arc," "Don Carlos" and "Sicilian Vespers." The album also includes two large blocks of arias and scenes from "Macbeth" and "Il Trovatore."
Foreign critics have been cool towards the album. Some of them have said that Netrebko does not have the depth for Verdi's music with enough depth and set such singers as Karita Mattila and Sondra Radvanovsky as an example. It is also noted that the album is only a preparation for the performance of Verdi roles on stage and it is too short, less than an hour, and would only benefit if the performance were longer.
On Dec. 27, Netrebko will perform Leonora at the Mariinsky Theater in St. Petersburg.
In the Spring, Netrebko will sing the parts of Anna in "Manon Lescaut" by Puccini at the Rome Opera, and "Faust" by Gounod in London, Vienna and Baden-Baden.
In August, Netrebko will again sing Leonora in a new production by Alvis Hermanis at the Salzburg Festival. Daniele Gatti will be conducting the Vienna Philharmonic Orchestra.
First published in Russian in Rossiyskaya Gazeta.
All rights reserved by Rossiyskaya Gazeta.