Five cultural events for the week of Dec. 9-15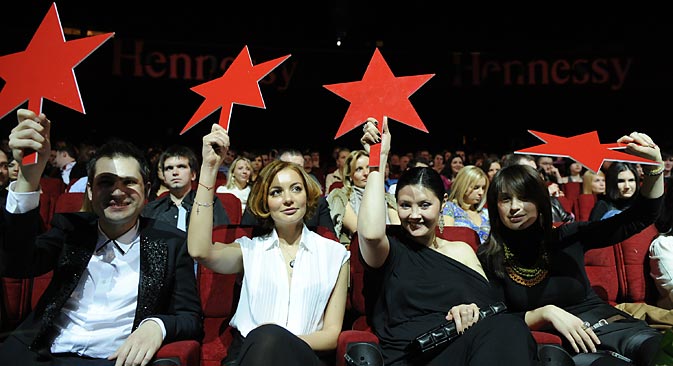 AdEaters night starts on Dec.13. Source: ITAR-TASS
Nobel Prize winner Solzhenitsyn's anniversary; a grand festival of classical music; a night marathon of the year's best commercials; and Balkan rock and American jazz.
December 10 (Tuesday)
The 95th anniversary of the Nobel Laureate for Literature Alexander Solzhenitsyn will be celebrated at several cultural venues in Moscow and St. Petersburg. Moscow's Pushkin Museum will host the exhibition "Alexander Solzhenitsyn: From under the Rubble."
Alexander Solzhenitsyn. Source: Press Photo
Also on Dec. 10, the "Concerto for Dramatic Actor, Singer and Chamber Orchestra" will be held at the Great Hall of the Moscow Conservatory.
The actor Alexander Filipenko and the State Chamber Orchestra conducted by Alexei Utkin will combine Solzhenitsyn' short stories and Dmitri Shostakovich's music.
Celebrations for will continue on the writer's birthday, Dec. 11 with an unusual flash mob held at the Museum of Dostoevsky in St. Petersburg, in which 80 politicians and actors will read Solzhenitsyn's novel "The Gulag Archipelago" during the 24 hours.
December 11 (Wednesday)
The Moscow International House of Music has several performances on schedule this week. Giuseppe Verdi Theater's Chamber Orchestra of Trieste, Italy, will perform on Dec. 11. The orchestra has been performing since 1961 and became famous primarily for its baroque interpretations of various kinds of music, including contemporary.
Giuseppe Verdi Theater's Chamber Orchestra will perform in Moscow, on Dec. 11. Source: Press Photo
On December 13, American jazz singer Jane Monheit will perform at the House of Music. She has already been to Russia and performed with Igor Butman's orchestra, and now has an army of jazz fans in Moscow.
On Dec. 15, there will be a rock concert at the House of Music. The German hard rock group Physical Graffiti will perform a tribute to Led Zeppelin. According to experts, the Germans are not mediocre imitators, but rather, real interpreters of the famous group's work.
December 13 (Friday)
Emir Kusturica and The No Smoking Orchestra. Source: ITAR-TASS
Emir Kusturica and The No Smoking Orchestra will perform "Barvikha Luxury Village" at the Moscow Conference.
Many famous actors and directors dreamed of being rock stars in their childhood, and when they reached their career heights in their main professions, they began to realize their dream with all their might to produce records and concerts.
Emir Kusturica & The No Smoking Orchestra - Bubamara. Source: YouTube
In his youth, the great director Emir Kusturica played the guitar in a rock band and wanted to become a star. Now his dream has come true – he is the group's leader, which, thanks to him, is touring the world's gathering halls.
Audiences love them for their Balkan entourage, and their sprightly and cheerful anarchy prevailing on stage. There is everything, just like in Kusturica's films.
December 13 (Friday)
AdEaters night, a night marathon showing of last year's best commercials will be held in the October Grand Concert Hall in St. Petersburg. The event is an apotheosis of advertising as a form of art, the only day in the year when advertisers can feel like free artists, who create for art lovers as opposed to customers.
This project came to Russia from France and has been a success. AdEaters nights have been held here since 1994.
December 14 (Saturday)
Yuri Temirkanov. Source: RIA Novosti
In St. Petersburg, the international Arts Square festival will be held for the 14th time. It is named in honor of the historical St. Petersburg's square. Conductor Yuri Temirkanov will gather the largest festival of musicians, who have come to congratulate him on his 75th birthday.
Gala opening concert performers will include Evgeny Kissin, Denis Matsuev, Yuri Bashmet, Eliso Versaladze, Natalia Gutman, Vadim Repin, and Sayaka Sedzi. Matsuev will be performing with a separate jazz program and Vladimir Gergiev will be performing with the Mariinsky Theatre orchestra.
The London Royal Philharmonic Orchestra will be coming to the festival, which Temirkanov conducted in 1990. In addition, a variety of other concerts will be held as part of the festival's program.
All rights reserved by Rossiyskaya Gazeta.