Exhibition on peaceful use of nuclear energy held in Delhi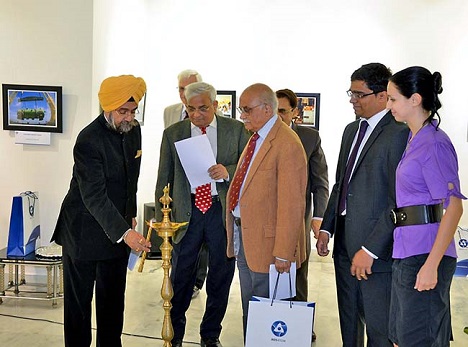 Among the guests there were diplomats, well-known scientists, representatives of the scientific elite, students and graduates of leading universities of Delhi and Russian expatriates. Source: Russian Embassy in New Delhi
The exhibition, which is jointly being organised by Rosatom and Rossotrudnichestvo, displays images from Kudankulam as well as some other plants built by the Russian state atomic energy corporation.
Last week, the Russian Centre of Science and Culture (RCSC) in New Delhi inaugurated a photo exhibition titled "The Peaceful Atom: Generating Peace for Future," which was organized by Russian State Atomic Energy Corporation Rosatom and the mission of Rossotrudnichestvo in India.
The exhibition displays images from the Kudankulam Nuclear Power Project (KNPP) and international plants built by Rosatom. Similar events and seminars were also held in October and November at the RCSC in Chennai and Trivandrum, as well as at the M.A.M. College of Engineering and Technology in Tiruchchirapali (Trichy), Tamil Nadu.
Source: Russian Embassy in New Delhi
Major Dalbir Singh, National Secretary, All India Congress Committee attended the function at the RCSC in New Delhi as the chief guest. Among the guests there also were the Chargé d'Affaires of Kyrgyzstan Eugene Kablukov, diplomats of the Russian Embassy of Russia and CIS countries, well-known scientists from various research centres of the Indian capital, representatives of the scientific elite, students and graduates of leading universities of Delhi and Russian expatriates.
Addressing the guests, Counsellor of the Russian Embassy in India (Science) Andrei Shelukhin underlined the importance of informing the general public about the modern technologies and the general environmental and nuclear safety systems used at the KNPP. He confirmed that the plant was on schedule to run at full capacity of 1,000 MW in January 2014.
Among the speakers who shared their professional views to the point there were Prof. Lohiya, Professor of Physics at Delhi University, who worked in a team led by Stephen Hawking, Prof. R. Rajaraman, Emeritus Professor of Theoretical Physics School of Physical Sciences at Jawaharlal Nehru University and Prof. R.K.Shivpuri, Distinguished Professor & Senior Advisor, University of Petroleum and Energy Studies.
Source: Russian Embassy in New Delhi
"India is having 5,780 MW of nuclear power today, out of which Kudankulam with Russian cooperation alone contributes 1000 MW and with the rest being under construction," Srikanta Panigrahi, member of the Indian Prime Minister's National Strategic Knowledge Mission on Climate, said. "There are plans for many more nuclear plants, but realistic targets have been put at 14,600 MW by 2020-21 and 27,500 MW by 2032 to meet the energy security challenges of India. Therefore, India is seen as a major nuclear market. With historic Indo-Russian cooperation we expect many more joint projects in the field of nuclear energy," he added.
First published by the Russian Embassy in New Delhi.
All rights reserved by Rossiyskaya Gazeta.