Russian police choir takes the world by storm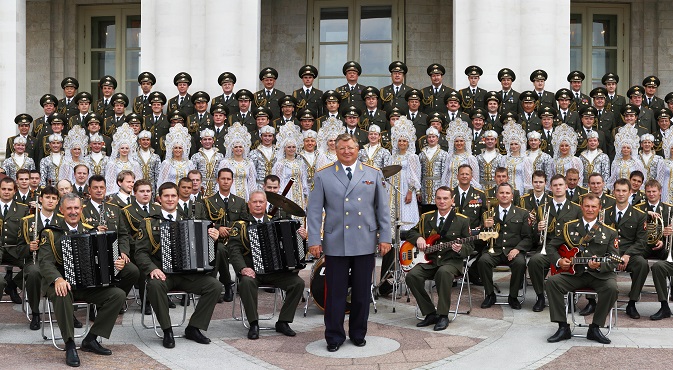 Viktor Yeliseyev (c) and his ensemble. Source: RG
The head of the Russian police ensemble whose video of a cover version of Daft Punk's "Get Lucky" went viral on Youtube talks about the band and its popularity.
The Russian Interior Ministry's song and dance ensemble released a video with its cover of "Get Lucky" by the French band Daft Punk. The video went viral and has been viewed almost 3 million times on YouTube, making the performers into heroes of the Internet. Police Maj-Gen Viktor Yeliseyev, head of the ensemble shared his insights with Bolshoi Gorod Magazine.
The ensemble and its patrons
Our ensemble was set up in 1973, and I was appointed as its chief choirmaster. The Soviet Internal Troops of the time were already famous for their amateur performers, some of whom ended up with us. We also recruited from the amateur choir of the Dzerzhinsky separate motorized infantry division. They formed the core of our ensemble, which then started to grow gradually. We had a very good patron in the person of Internal Troops Commander Ivan Yakovlev. He was both a strategist and a tactician, a true leader. Luckily for us, Yakovlev loved music.
Viktor Yeliseyev. Source: Sergei Kuksin / RG
Another person that played a decisive role was Yury Churbanov, who helped the ensemble stand on its own feet. After our concerts in Czechoslovakia in 1979, we were received by Interior Minister Nikolai Shchelokov. Deputy Interior Minister Churbanov was also present. They asked if we had any requests. We said we had no proper sound equipment. Churbanov inquired how much money we needed to get some, and we said around [$20,000 at the exchange rate of the time], which was quite a hefty sum back then. They found the money and bought us a Dynacord system. It was pure bliss! Our quality soared immediately.
There are currently 240 members in our ensemble, which comprises the choir, band, and ballet troupe. The dancers are very professional, both the men and the women.
Foreign tours
Military bands enjoy enormous popularity outside Russia. In the past three years alone we have performed more than 250 times in France. Our latest tours were to Algeria and Tunisia. Before that, we have paid 10 visits to North Korea and 10 visits to China.
Russian police - Get lucky. Source: RIA Novosti
We have also toured Australia, where our program included [a cover of Tom Jones'] "Sex Bomb". Thousands of young Australian girls followed us across the continent just for that song. We had 73 concerts in Australia, and these girls attended virtually all of them. They smothered us with flowers and bought enough tickets to keep our manager happy.
Working in trouble spots
The ensemble is an organic unit of the Russian Interior Ministry. We are on the ministry's payroll, and also benefit from a presidential grant. The ensemble is on active duty and deploys to trouble spots when ordered. We have been to all of them, including around 20 deployments to Chechnya. All our personnel are officially recognized as combat veterans for the time they spent in Chechnya.
Daft Punk and the image of the Russian police
We are happy that Daft Punk appreciated our cover of their composition, which we [partially] vocalized, including the bass section. Our cover sounds completely different from the original, it entices people and arrests their attention. I think Daft Punk saw us for the professional choir we are, saw that our cover was done professionally and, most importantly, that our performers really had something to offer the public.
To be honest, I had not expected such a huge success. But it is important, because this is the kind of music our youth listens to. We must speak the language of young people if we want to see them at our concerts. Our task is to first attract them with "Get Lucky" and then give them [the Russian folk song] Kalinka, which they have probably have never heard of before.
According to surveys, our video has changed [the Russian population's] attitude towards the police for the better. It is important to make everyone understand that our police service is manned by normal people. It is our mission to make our police respected and loved, so that people are not afraid to ask a police officer for help.
First published in Russian in Bolshoi Gorod Magazine.
All rights reserved by Rossiyskaya Gazeta.