The Bolshoi on the big screen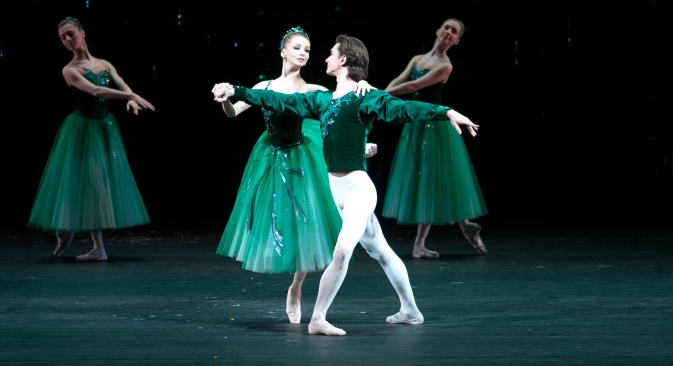 "Jewels" is a ballet by George Balanchine in three parts – "Emeralds", "Rubies", and "Diamonds." Source: Press Photo
Three of the Moscow theater's top ballets will be available to audiences worldwide.
Soon audiences around the world will be able to see some of the most famous ballets in the Bolshoi Theater's repertoire on the big screen.
The theater is following the example of the Metropolitan Opera and making some of its performances available in movie theaters around the world, including ballets choreographed by Russian masters George Balanchine, Yury Grigorovich and Alexei Ratmansky.
The Sleeping Beauty
December 15 and/or 22, 2013
Svetlana Zakharova will be in the main role. Source: AFP / Eastnews
The first performance of "Sleeping Beauty" by Marius Petipa was held at the Mariinsky Theatre in 1890. Since then six versions of the ballet have been staged at the Bolshoi. The biggest stars of Soviet ballet, including Maya Plisetskaya, Ekaterina Maximova, Natalia Bessmertnova and others, danced the role of Princess Aurora.
David Hallberg in Sleeping Beauty. Source: Youtube
In 2011, the premiere of Yury Grigorovich's new version was the most talked about event of the season after the opening of the historical stage at the Bolshoi Theater. The Italian couple of Enzo Frigerio (scenery) and Franca Squarciapino (costuming) were invited to stage the ballet, and they turned the performance into a parade of costumes from the 17th and 18th centuries.
Jewels
January 19, 2014
"Jewels" is a ballet by George Balanchine in three parts – "Emeralds", "Rubies", and "Diamonds." The ballet premiered at the Bolshoi Theatre in May 2013. Each part of the ballet is set to music by a different composer – Fauré, Stravinsky, and Tchaikovsky – and special choreography is created corresponding to each composer.
Diamonds from Jewels. Source: Youtube
"Jewels" showcases Balanchine's special style, combining three different ballet schools – the St. Petersburg ballet school, Sergey Diaghilev's Russian Seasons, and the new school in New York.
Lost Illusions
February 2, 2014
Lost Illusions was the first experience at the Bolshoi for French designer Jerome Kaplan. Source: Press Photo
Lost Illusions is a ballet based on the novel by Honore de Balzac that composer Leonid Desyatnikov and choreographer Alexei Ratmansky created especially for the Bolshoi Theater.
Ratmansky based his choreography on the original libretto by Russian composer Vladimir Dmitriev, which differs slightly from the original literary version. For example, the main character in Balzac's novel is Lucien, a poet, journalist and writer, and in the theater version he was transformed into a composer. Additinally, Balzac's female characters are actresses, and in the ballet, they are ballerinas.
Lost Illusions was the first experience at the Bolshoi for French designer Jerome Kaplan. He admitted that he had long dreamed of working on a production of the Bolshoi Theater, particularly since his grandfather had been from Russia.
For more information and a list of venues, visit the web-site.
All rights reserved by Rossiyskaya Gazeta.