Five most Russian restaurants in London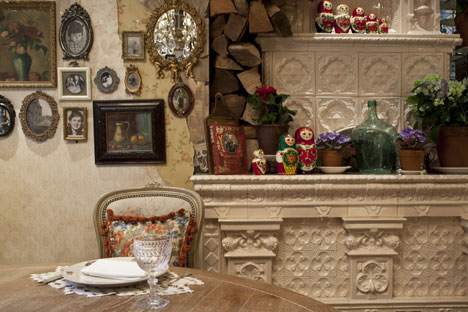 Mari Vanna in London. Source: Rex Features
RBTH presents a guide to the best spots in London to get a taste of Russian cuisine.
1) Mari Vanna
This restaurant offers Russian hospitality in Knightsbridge. Its allegiance is clear from the interior design's traditional motifs: bears, bookshelves full of Russian literature and other interesting domestic details. In a pleasant, homely atmosphere one can enjoy borscht, Siberian pelmeni and "herring in a fur coat" as well as sweet blini and vareniki (filled dumplings).
A set lunch menu is available at £25. Mari Vanna also has restaurants in Moscow, St Petersburg and New York.
The average bill is £35-44.
2) Novikov
Source: Press photo
The Russian restaurateur Arkady Novikov, who owns more than 50 restaurants in Moscow, opened this restaurant and bar in Berkeley Street, Mayfair. Novikov offers Chinese, pan-Asian and Italian cuisine in two rooms with geographically appropriate designs, as well as a cocktail lounge described as having "an eclectic collection of objects from different countries and periods".
The average bill is £45-54 plus service.
3) Mimino
Source: Press photo
This place, named after a Soviet movie by Georgian director Georgy Danelia, offers traditional Georgian food, which is now very popular in Russia, along with other post-Soviet cuisines. The restaurant in Kensington High Street offers starters such as lobio (red beans) and suluguni cheese, and main courses such as Khinkali (meat-filled dumplings). You can find several types of khachapuri (traditional cheese-filled bread) and a huge list of Georgian wines.
The average bill is £25-34.
4) Ruski's Tavern
Source: Press photo
This Russian-themed restaurant on Kensington High Street describes itself as a "Caviar & Vodka Tavern". Vintage lamps, posters and books decorate the interior in an art deco style. It recalls a restaurant of the same name that opened in 1893 in St Petersburg. The tavern is holding a Nutcracker's New Year's Eve party on December 31.
The restaurant menu includes dishes such as Tsar's ham hock, caviar and chips and a selection of Russian-inspired sashimi.
The average bill is £35-£44.
5) Sobranie
Source: Press photo
Describing itself on its website as "probably, the best Russian restaurant in London", sobranie means meeting or getting together.
Maybe that's why Sobranie, situated on Fountain Square, Victoria, offers karaoke and live Russian music for diners to enjoy, alongside home-made vodka and traditional Russian dishes, such as Olivier salad, pirozhki (baked stuffed buns).
Georgian khachapuri, chicken Kiev and Napoleon dessert are also on the menu.
The average bill is £25-£34.
All rights reserved by Rossiyskaya Gazeta.