How to enjoy the liveliest Russian New Year in Britain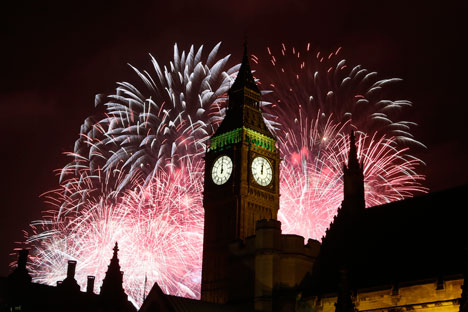 "Must-do" for a Russian in the United Kingdom is a New Year cruise along the Thames from Westminster Pier to Greenwich and back. Source: AP
Expats enjoy river cruises, ice-skating to the latest sounds and a refreshing visit to a bathhouse.
The New Year celebration is probably the big-gest event of the year for Russians, apart perhaps from birthdays. It's a mix of a family feast and going out with the crowd. Since the advent of the market economy, many Russians prefer to celebrate the New Year in an exotic location. London and Edinburgh may not count as the most exotic places on Earth. But both are among the top 10 New Year destinations for Russians, who come in droves to swell the already impressive numbers of compatriots who live in Britain.
Edinburgh, with its raucous Hogmanay crowd, is a magnet for many younger Russians. They strive to look and behave like the Scots, or at least the way they think they behave. They don tartan, swap champagne for whisky and join the swaying crowds, making friends as they follow a torchlight procession or sing along at a street concert. You will be hard pressed to find a Russian who cannot master a few lines of Auld Lang Syne. Vladimir, an air-conditioning systems engineer from the Moscow region, boasts probably the biggest collection of single-malt whiskies in Russia and plans to add more during his customary trip to Edinburgh. He is undaunted by the prospect of a non-stop three-day Hogmanay celebration for one simple reason – New Year holidays in Russia last for no fewer than eight days.
Whisky galore
Another "must-do" for a Russian in the United Kingdom is a New Year cruise along the Thames from Westminster Pier to Greenwich and back. Not a cheap thrill, but where else can one take in all the famous London landmarks while sipping champagne, and top it all off with a fireworks display over the Thames viewed from a wonderful vantage position? When the cruise finally ends at two in the morning, it is not too late to visit a Russian discotheque nearby. Andrey and Lyuba, who live in Folkestone in Kent, took their first cruise in 2000 to see the River of Fire and although the much-hyped Thames Millennium display did not live up to their expectations, they plan to sail again this New Year.
Good preparation is essential for an enjoyable New Year. And while more traditional Russian expats sweat in the kitchen preparing a hearty meal, or seek out Russian specialities such as "herring in a fur coat" in the Russian food shops of north London, others prefer to spend the last hours of the year in more relaxed mood.
Twenty years ago, when the Russian colonisation of London began, there was not much on offer by way of unwinding on New Year's Eve. These days there is no shortage of venues for a favourite Russian winter pastime – ice-skating. The most popular with Russians is Somerset House in the Strand. From mid-November to early January, the elegant rink runs Club Nights. From 8pm to almost midnight, the tempo of the music speeds up and the rink transforms into an ice dancefloor where skaters perform to a live soundtrack provided by DJs from some of Europe's leading clubs, festivals and labels.
Vera, who is studying at the nearby King's College, is planning to organise fellow students for a late-night skate on December 31. "We'll dress to impress," she says, "skate till we drop and then rush off to Trafalgar Square to join the New Year crowd."
Russian parents prefer to take their little ones to Winter Wonderland, a bigger but less hectic event in Hyde Park, which has what is said to be the UK's largest outdoor ice rink. Attractions include a giant wheel in which you can hold hands as you glide around the ice, the Magical Ice Kingdom, Christmas markets and a Cirque Berserk show.
Winter steam
One truly Russian New Year ritual has been missing in London until now. It is the Russian banya, or bathhouse – not to be confused with a sauna. While the sauna is very hot and dry, the Russian banya produces milder temperatures with humid steam, by burning wood in a stove. The super-heated fine and transparent vapour is easy to breathe and is fanned at the body by a bundle of oak or birch twigs (venik).
The heat of the steam cabin is followed by a dip in a barrel of cold water at 8C. A traumatic experience, a non-Russian might think. But the sudden change of temperature has a highly beneficial effect on the body – toxins are released, and a feeling of relief and lightness follows. You feel like a newborn baby ready for a new life in the New Year.
This was probably the only thing missing from the UK scene to make Russian expats happy on New Year's Eve. Thankfully, one of them, Andrey Fomin, swapped a career with a British PR consultancy for a banya start-up in Clerkenwell, east London. Banya No 1 brings the ultimate Russian New Year experience to the UK. A word of caution though – be careful not to lose track of time in this blissful place, or you will be late for the chimes of Big Ben when they strike midnight.
All rights reserved by Rossiyskaya Gazeta.