By the time she established the museum in 1996, Olga Sviblova had earned a degree in psychology, had written scripts and directed several documentaries. In addition, she had been the curator of contemporary art exhibitions in Russia, Finland, Switzerland, the Netherlands, Great Britain and France.
Today with the number of exhibitions close to 2,000, it is difficult to imagine Moscow without the Multimedia Art Museum (MMAM).
"When I started establishing the museum, I realized that photography is a kind of media," said Sviblova, who developed the museum from the House of Photography. "You can paint on canvas with paint, but you can also do it with elephant dung, like Chris Ofili does it. The work of a great artist does not become any worse because of it."
The remarkable 60-year-old also is a curator, academic of the Academy of Arts, Chevalier of the National Order of the Legion of Honor, and the winner of the International Award Montblanc de la Culture Arts Patronage 2013.
Sviblova refers to photography as "magic," saying that it is both a work of art and a document. Even a staged picture or a picture created with the help of a computer always seems like a documentary image of the situation.
"When I was starting to establish the museum, I knew that we would eventually come to contemporary art, and this would involve new technologies. These change not only the techniques but also the meanings," Sviblova said. "Then, in the mid-1990s, photography, being an affordable media, was the only way to involve the public. Then this public had to be educated."
The director of the new museum wanted not only to introduce Russian audiences to modern media arts, but also to show them the history of their country with the available documents in the bustling atmosphere of the mid-1990s, amid discussions about the future of the new Russia. At the same time, photography provided an opportunity to show people how the rest of the world looked, which Soviet people only heard about as myths, before the Iron Curtain fell.
"Some thought that beyond the borders lay paradise, while others thought that it was hell. But we showed them that real people lived there," she said.
Sviblova and the collection
Archives of many Russian photographers, whose styles or views did not fit the official "socialist realism" path, were at risk of being destroyed in the Soviet era. Often there was just no room to keep these items in communal apartments; authors had no workshops, and, moreover, it was dangerous and included risks of prosecution for keeping archives of modernist photographers or pictures allegedly "defaming the Soviet reality."
After the opening of the museum in the late 1990s, when there was no longer any fear that repressions would come back and when collectors and their heirs began to realize the value of their Soviet archives, many of them started to trust in Sviblova – and in her projects.
"The results of our work were more than just words. I am not a politician with campaign promises, but a practitioner who has great dreams. This is important. Nothing can be achieved without a dream, a vision and a strategy for future development," she said.
Sviblova has another goal – to return the concept of history into the everyday life of Russian art, where many monuments were irrevocably destroyed and others were reconstructed as replicas.
"We wanted to introduce the concept of different aesthetic views into Russia, including in contemporary art, through the concept of an authentic monument," said Sviblova. "And we have fulfilled this task."
Curator that is able to listen and to hear
"The idea that a curator is a demiurge is somewhat exaggerated," Sviblova said. "When I work with an author, I try to reveal his personal voice; sometimes this happens through a conflict, sometimes via a joyful merger. You have to keep quiet in order to hear the author."
Like the character in the movie "Being John Malkovich," Sviblova penetrates into the mindset and even, in her words, into the "circulatory system" of the artist.
Director, interpreter, constructer and attendant
This museum has occupied almost all the thoughts and all the time of its creator for the last 17 years. Sviblova said she could complain about many things in her life, but never about monotony.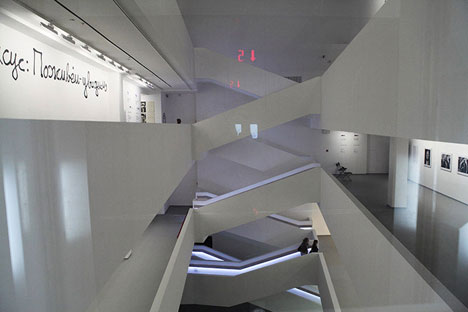 Inside the Multimedia Art Museum in Moscow. Source: www.mamm-mdf.ru
"Everything else revolves around the museum, in one way or another. Even if I, as the curator make the Russian pavilion at the Venice Biennale, where my first task is to build it so that it does not fall down, I rely on the experience of five years I spent on the construction of our museum, which taught me how to solve thousands of issues – financial, organizational, and practical. For example, if cleaners brought the wrong detergent into the museum, I will talk to them myself.
Sviblova can also act as an interpreter for guests from France, who often visit the museum. In addition, there were days when the exhibitions attracted large crowds, and the director of the museum helped cloakroom attendants to take overcoats and hats from the visitors.
Life in all its manifestations
Sviblova admits that she has never wanted to be an actress; this was the only profession that she was not drawn to. She is interested in reality, but not in staging, and she calls her own life as "the main play" she is writing. She does not feel ashamed of any roles in it: she has had time to stroll on the catwalk during fashion shows, and to sweep with a broom.
"I worked as a street cleaner for six years, and I'm proud to say that I was a good one. Everything was clean," she said.
Sviblova reads every night, even if she manages to get home only late at night: six newspapers and four political magazines, plus two art magazines and books. Her day is not over without reading news and articles. She has taken vacations in the month of August for 22 years in a row: she goes to the houseboat of her husband, Olivier Morand. There are thousands of hectares of wildlife all around: a marsh, birds, animals and a small kitchen garden, she said.
"I am a good gardener, I plant tomatoes, eggplants and peppers – all that is necessary for life," Sviblova said. "I just love life in all its manifestations."
All rights reserved by Rossiyskaya Gazeta.