Russian craftsmen share their art in Delhi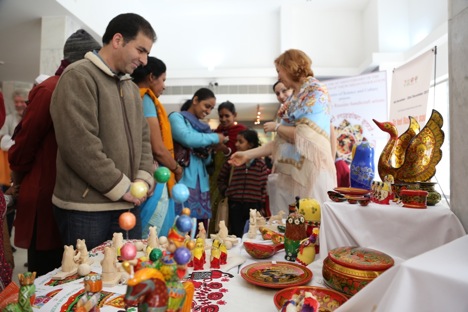 Artisans from different parts of India joined the workshop to get to know Russian crafts. Source: Alexander Tomas
A workshop titled 'To feel the Russian soul,' brought craftsmen from various Russian regions and Indian states together.
Love for traditional crafts and attempts to preserve them in the era of globalisation unite Russia and India. A workshop titled 'To feel the Russian soul,' at the Russian Centre of Science and Culture in New Delhi (RCSC) brought craftsmen together from both countries.
Source: Alexander Tomas
Tatiana Reznikova and Leonid Reznikov play in the musical bands 'Okolitsa' and 'Igray, rozhok' in the Kaluga Region and teach children to play folk musical instruments in their spare time. They brought over 30 Russian folk musical instruments to India, including an accordion, harmonica, pipes, tin whistles and Vladimir bugles. "Very simple instruments, where sound is born from virtually nowhere, like spoons and hand rattles, or a piece of birchbark to imitate nightingale, get a lot of attention in other countries," Reznikov said.
Source: Alexander Tomas
The town of Semenov in the Nizhny Novgorod region is one of the centres of production and painting of the matryoshka Russian nesting dolls. This is the birthplace of the famous Khokhloma Russian wood painting design known for its flower patterns, red and gold colours over a black background and reminds Indians of a Kashmiri designs.
Source: Alexander Tomas
Matryoshkas are very popular with Indian school children, and before the end of the workshop, a few dozen new dolls painted by young Indians were displayed on the table in front of Olga Astafieva from Semenov.
"Our guest from Belarus Vladimir Chikvin, a wood carver of monumental sculptures is also participating in the master-class. He came from Brest region," said Elena Korshunova, vice-president of the 'The Dialogue of Culture – United World Fund,' which co-organised the workshop wi master-class with the RCSC.
Source: Alexander Tomas
Another Russian folk craft demonstrated at the workshop was Bogorodskoe carving. In the Bogorodskoe village in the Moscow region different toys are carved out of soft types of wood – linden, alder and aspen. It is believed that since as early as the 17th century people engaged in wood carving in this area and in the mid-19th century the carving craft centre moved to Bogorodskoe.
Source: Alexander Tomas
Alexander Semakov, another participant works in tandem with his wife: as soon as he is done with the carving, his wife paints the toy. Most toys are carved form a single piece of wood. Semalkov brought a tree of friendship with the Russian and Indian flags to celebrate the workshop.
Source: Alexander Tomas
Dalbir Singh, National Secretary, All India Congress Committee, and Pratibha Prahlad, President, Delhi Arts Festival, also joined the students. "I like dishes with traditional Russian design and always bring them from Russia," Singh said. "Both Russia and India have a very rich culture".
Source: Alexander Tomas
Artisans from Assam, Gujarat, Jammu and Kashmir, Uttar-Pradesh, Western Bengal, Bihar and Orissa joined the workshop to get to know Russian crafts. They showed their work and even promised to return the visit and come to Russia to teach their craft to the Russian schoolchildren.
All rights reserved by Rossiyskaya Gazeta.