Roerich museum in Moscow facing financial hardships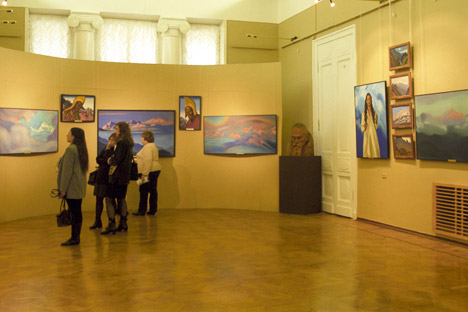 An exhibition hall at Moscow's Nicholas Roerich Museum, devoted to the famous Russian artist and visionary. Source: RIA Novosti
The museum in the Russian capital's city centre is struggling to pay salaries and has a large amount of rent arrears. Intellectuals have appealed to the government to support the museum and the legacy of the Roerich family.
The Nicholas Roerich Museum, which houses paintings along with literary, scientific and philosophical works of the great Russian humanist, is facing financial hardships, sources close to the museum told RIR.
The sources, who requested anonymity confirmed a report in the Financial Times blog Beyond Brics, which quoted Alexander Stetsenko, first deputy director of the museum as saying, "we have no money to pay salaries." Many members of the staff have agreed to work without pay until a financial solution can be found. "We don't know what will become of us. They can turn out the lights at any moment and evict us from the building," Stetsenko told FT blog.
The main benefactor of the museum, which is in the heart of the Russian capital and next to the Pushkin Museum, was Boris Bulochnik, the chairman of Master Bank, which lost its license last month. Bulochnik is believed to have invested a lot of money in restoring and maintaining both the exhibits and the museum building, which is a 17th century neo-classical museum once owned by the Lopukhin family.
Rent arrears for the mansion, which is owned by the Moscow city government have gone up to 24 million roubles (around $780,000).
Appeal for help
Admirers of the legacy of the Roerich family have called on the Russian federal authorities to help the museum, which till date has not received any public funds. Nikolai Sologubovsky, a well-known Orientalist, historian and film-maker created a petition online using Change.org, appealing to Russian President Vladimir Putin to save the museum. The petition, which has been signed by more than 36,000 people, calls for the Russian government to provide financial support and allow the museum to use the building for free.
Nicholas Roerich is remembered around world as an advocate of the arts and culture and as a man who initiated the Roerich pact for the protection of artistic and academic institutions and historical sites. He left behind some seven thousand paintings and dozens of books and essays. The Moscow Roerich museum offers a captivating look at his life and legacy.
All rights reserved by Rossiyskaya Gazeta.