Kremlin's ex-chef wants Russian cuisine in UNESCO heritage list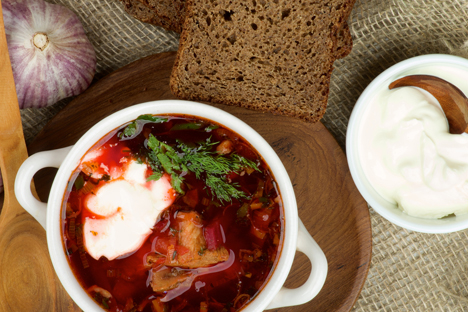 The Russian cuisine, which was so unique, diverse and colorful and which had an old tradition of cooking food on wood in a Russian stove could hardly be compared to any other world cuisine. Source: Fotomedia
Lev Yeryomenko believes Russian cuisine, which is so unique, diverse and colorful and which has an old tradition of cooking food on wood in a Russian stove was almost incomparable.
Well-known Russian culinary specialist Lev Yeryomenko believes that the United Nations Educational, Scientific and Cultural Organization (UNESCO) should have included the Russian cuisine in its List of Non-Material Cultural Heritage long ago. Yeryomenko was a Kremlin chef for 30 years. He was awarded the Order of Honor for high professionalism and popularization of Russian cuisine at home and abroad.
Quite recently, Yeryomenko learnt from newspapers that UNESCO had included the Japanese cuisine, Turkish coffee-making traditions, the culture of making a Korean national vegetable appetizer "kimchi" as well as Georgian wine-making methods in its List of Non-Material Cultural Heritage List.
Commenting on that, Lev Yeryomenko told Itar-Tass with full knowledge and expertise that the Russian cuisine, which was so unique, diverse and colorful and which had an old tradition of cooking food on wood in a Russian stove could hardly be compared to any other world cuisine.
Russia's northern peoples who live in a cold climate with temperatures dropping to minus 30-40 degrees Centigrade will hardly be satisfied with Japanese sushi or French dishes with delicate sauces. The northern peoples need food rich in calories so that it stays good even in bitter frost.
The old culinary traditions of northern peoples, according to Lev Yeryomenko, include the cooking of meat and poultry, with vegetables in an earthenware pot in a Russian stove. Wild berries such as red bill-berry, cranberry and fen-berry as well as soaked apples, fermented cabbage and pickled cucumbers and tomatoes which northern peoples prepare for winter save them from scurvy and a vitamin deficiency disease.
Russia occupies one sixth of Earth. Each of its climatic zones has its own culinary customs and traditions. People in the Siberia and the Urals have a New Year tradition of cooking "pelmeni" or meat dumplings for two or three months ahead of the holiday so that they can be stored outdoors in freezing temperatures. UNESCO includes rituals rather than recipes in its list. "Pelmeni" are usually made by a group of five or six women. They sing songs while at work and they teach their skills to their children who are the first to taste the boiled dumplings made of meat and bread dough.
"It would be interesting to know which dish is older: the Italian ravioli or the Urals pelmeni," Lev Yeryomenko said.
According to him, there is a world of difference between restaurant and home-made food. He himself is more of an expert on gala cuisine. In the time of the former Soviet Union, Lev used to organize receptions for 10,000 people in various Kremlin halls when the Congresses of the Communist Party of the Soviet Union (CPSU) were held. The menu consisted of minimum 50 dishes. Up to 200 cooks were mobilized to cook them. A table laid up for the presidium, which included the first persons of the Soviet state, was served by 'special' cooks who were employees of the State Security Committee or the KGB.
In order not to undermine the health of the Kremlin elders, Yeryomenko poured herbal infusion made of hedge rose into cognac bottles with their consent. Members of the political bureau of the Communist Party raised their glasses filled with the healthy drink to the glory of the CPSU.
All the participants in the reception were served traditional Russian delicacies as appetizers. They included various types of black caviar, jellied sturgeon and cold cuts made of seven types of white noble fish and seven types of salmon fish. Dishes made of feather game, including hazel grouses, pheasants, wood grouses, partridges and quails, were particularly popular in the Kremlin. Other delicacies included cooked meat of bears, deer and saiga antelopes. What other cuisine in the world can boast of such exotic variety? All these dishes ideally combine with crystal Moscow vodka which appeared in Russia in the the 15th century. Poland which claimed its right to the "vodka" brand wanted to take it away from Russia, but failed.
Hundreds of journalists who used to work at official receptions in Moscow will always remember the famous Kremlin bakery products. Ten types of patties with various fillings were served in Kremlin canteens and snack-bars without fail. In exceptional cases, honored guests were offered old Russian dishes such as a 50-centimeter pancake pie; "kulyebyakas" or pies filled with meat, fish or cabbage; and open-top patties known as "rasstegai". Russia's First President Boris Yeltsin used to treat U.S. President Bill Clinton with the aforesaid dishes in the Kremlin in the 1990s.
Like any other country, Russia has a tradition of decorating a festive table with flowers. But there were no flowers in Moscow in winter in the 1950s. However, Lev Yeryomenko, who was a young man at that time, solved the problem by cutting flowers out of carrots, beetroot and potatoes. Roses and lilacs looked as if they were alive. Twigs of a broomstick, which Yeryomenko stole from a yard-keeper, served as the stalks for the flowers. The newspaper Pravda wrote in those days that the banquet room was full of fresh and aromatic flower bouquets.
In various years, Lev Yeryomenko opened restaurants of Russian cuisine in Poland, the Czech Republic, Algeria and Belgium. He gave culinary master classes to local cooks. People swarmed into those restaurants.
Yeryomenko was chef at Russia's United Nations headquarters for several years. He used to feed Russian Foreign Minister Sergei Lavrov who was Russia's ambassador to the United Nations at that time. It is quite possible that Lavrov owes his enviable energy and self-assertiveness which he now shows in foreign policy to healthy nutrition.
Russian diplomats who used to work at the United Nations in those days still remember that Lev Yeryomenko could cook hundreds of various dishes from poultry and the same number from fish. He has a chance of being registered in the Guinness Book of World Records but he is not after personal fame.
At 75, Lev Yeryomenko has a dream. He wants his young fellow-chefs to create a public council and submit a proposal to UNESCO that the Russian cuisine be recognized humanity's non-material heritage so that the world starts perceiving Russia as a "tasty" country attractive to tourists.
First published by Itar-Tass.
All rights reserved by Rossiyskaya Gazeta.