Three Indian skiers all set for Sochi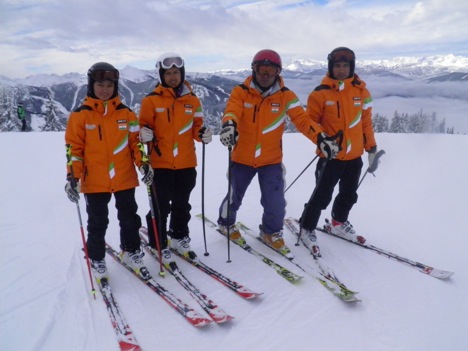 Skiing team India. Anchal Thakur is second from left. Source: Winter Games Federation of India
Himanshu Thakur, Hira Lal and Nadeem Iqbal beat odds to earn their participation in skiing competitions at the 2014 Winter Olympics.
Himanshu Thakur and Hira Lal will compete in giant slalom alpine skiing while Nadeem Iqbal will race in the cross-country category. They will join the fastest Asian luge pilot Shiva Keshavan taking the number of Indian Olympians for next year to four. Another skier, Aanchal Thakur, is still in the fray for women's alpine skiing event. It is still unclear whether the athletes can participate under the Indian flag, since the Indian Olympic Association remains suspended.
Hira Lal. Source: Winter Games Federation of India

This would be the second Olympic attempt for veteran Hira Lal, who had earlier participated in Turin 2006 where he did not finish the race. Lal also represented India at the Asian Winter Games in 2011 in Kazakhstan. The 19 year old Himanshu Thakur, who is still a high school student, has already adorned the Indian uniform a couple of times. He faced global competition last at the World Alpine Ski Championship in Austria. Before this he was contesting at junior level including the Junior World Alpine Skiing Championships in 2012. An elated Himanshu expressed relief at the news of his qualification, "I am glad that I managed to grab a spot. It's been a while that I've been travelling internationally. It was becoming difficult to sustain the expenses," he said.
The squad for alpine skiing has been gearing up for Sochi over the last couple of years. They have taken strenuous training alongside specialists in Europe, Japan, and New Zealand. There target was to participate in at least 30 FIS (International Ski Federation) sanctioned events and stay under 140 points in an average of five races. Thakur and Hira Lal achieved this in Turkey recently while their colleague Aanchal Thakur has two more opportunities to meet the qualifying criteria till January next year. Anchal was sole representative at the inaugural Youth Winter Olympics last year where she ranked 27th and 43rd in girl's slalom and giant slalom events respectively.
The biggest deal about their Olympic quest is the financial factor. There is hardly any winter sports infrastructure in India and athletes have to travel abroad extensively to seek proper training and participate in FIS events. This amounts to a major expense from the aspiring athlete's pocket as there is little or no monetary help from the government. This is the reason that very few athletes undertake international events although there are about hundreds of skiers registered with the Winter Games Federation of India (WGFI.) There is minimal participation from the country in winter sports despite the fact that children in the Himalayan regions of India grow up skiing and sledding. The villages around Manali in Himahcal Pradesh are the breeding grounds of ski talent. Here every household has decent ski blades though they might not have satellite television or another such urban luxury. Hira Lal, Himanshu and Anchal all hail from one such village named Burwa and have trained on the picturesque snow slopes of Solang valley and Rohtang Pass.
Himanshu Thakur. Source: Winter Games Federation of India
Shiva Keshavan also emphasized the potential of the local talent while expressing joy at their qualification. "It's great news that so many of our athletes have qualified for Sochi. I know all the alpine skiers as they are all from my neighbouring regions. There are so many youngsters here who are raring to achieve something in winter sports. Gulmarg [in Jammu and Kashmir], Auli [in Uttarakhand] and Manali are three main winter sports hubs in India and people from these places can win medals if world-class facilities are built here," Keshavan said.
Another major contributor of sporting talent in the country is the armed forces. Nadeem Iqbal is the latest addition to the long list of athletes who have been trained and promoted by the sports divisions of the forces. Iqbal serves with the High Altitude Warfare School of the Indian Army at Gulmarg. He had accompanied Hira Lal to Kazakhastan in 2011 and also participated in the Nordic World Championship in February this year. Iqbal's qualification was confirmed after the race in France earlier this month.
Since the last two Winter Olympics the WGFI has been striving to fill-up all qualification spots available to India."Their qualification and participation is in itself an achievement for us since we don't have even the basic infrastructure available in India," Roshan Lal, Secretary of WGFI, said. I hope our skiers will do well at the Olympics."
The Sochi Olympics might just the hope for the future of winter sports in India.
All rights reserved by Rossiyskaya Gazeta.