Cucumber monument comes up in town famous for pickle recipe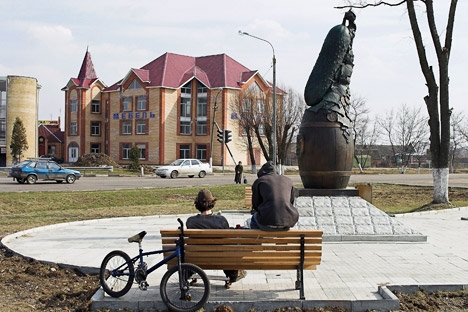 A monument of a cucumber in the town of Lukhovitsy. Source: ITAR-TASS
The Russian town of Lukhovitsy, known for a pickle recipe, gives thanks to cucumbers by building a memorial to the vegetable.
Everyone is familiar with the cucumber, a long, green vegetable from India that quickly became a familiar product in many worldwide cuisines, particularly pickles.
But over time, humanity has become more sophisticated in preparing cucumbers into pickles. There are even rival cucumber capitals, where they believe they have the best method of making pickles.
Nezhin in northern Ukraine is considered also to be a cucumber capital town. While passing through Nezhin, Catherine the Great, Empress was so impressed by the taste of local pickles, that she ordered to them to be deliever to the court in St. Petersburg. According to agronomists, outstanding qualities of Nezhin cucumbers are obliged to soil rich in silver ions.
Estonian residents of the small town of Takhkuranna and provincial Belarusian Shklow claim to be the capital of cucumber. Residents of the village of Berrien Springs, Michigan, have declared themselves as the World Capital of Christmas pickles, which are sweetened pickles.
Russia's cucumber capital is Lukhovitsy. Before the twentieth century, it was called Gluhov. Everything changed when the railroad was build from Moscow to the city of Ryazan nearby and later a highway connecting the small town to the economically important Chelyabinsk.
Lukhovitsy began to develop rapidly: an aircraft factory was built, whose MiG-29 is now well known in globally. Local aircraft manufacturers started growing cucumbers in backyards, thanks to a favorable climate: many sunny days but enough water to pour out 30 kilometers from the city to the confluence of the Moskva River in Oka.
Lukhovitsy would have remained a semi-secret industrial town, but in the 1990s the local industry began to experience difficulties. Residents had to come to grips with their gardens.
Former engineers and aircraft makers reacted to the vegetable gardens as seriously as they built fighter jets. They began to experiment with watering only by warm water; to breed new hybrids, of which there are about 70. In just 10 years, Lukhovitsy cucumbers became famous throughout Russia.
Unpretentious about food, Russians treat their home-made products with no less trepidation than the Italians do pasta or the Swiss do their cheese. The reason is the original recipe and the selection of spices, which include not only the usual garlic and dill, but the leaves of fruit trees, as well as the highest quality of raw materials.
Now the local vegetable has its monument with a touching inscription: "For the cucumber with appreciation from Lukhovitsy citizens." There are several fan sites, an annual festival and even a museum. Lukhovitsy citizens know about the other cucumber capitals, but treat them leniently. Lukhovitsky gardeners will not bomb the Berrien Springs with the formidable MiG-29.
All rights reserved by Rossiyskaya Gazeta.