Pelageya is known for her artful rock adaptations of folk songs from different Russian regions. Source: RIA Novosti
Kolyada Theater's tour, opera concerts, folk singing, a polar rescue expedition, and a Russian artist from Odessa.
January 13 (Monday)
Folk singer Pelageya will stage a concert in Moscow's Crocus City Hall. One of the most talented and renowned names on the Russian folk stage, Pelageya started singing at the age of four and has been performing regularly ever since.
She is known for her artful rock adaptations of folk songs from different Russian regions. Many of Pelageya's songs tap the collective unconscious.
Pelageya - Gorilka. Source: YouTube
The Cossack hit Lyubo, Bratsy, Lyubo (Brothers, our life is a pleasure), which Pelageya performed when she was nine, became an unofficial anthem of the Russian servicemen during the second Chechen war. The singer's constant prime-time presence on all the major TV channels speaks volumes of her popularity in Russia.
January 13 (Monday)
There are several floating museums in St. Petersburg. Apart from the obvious Cruiser Aurora, which started the 1917 revolution by firing a symbolic blank round, the city boasts another historic ship - the icebreaker Krasin. Built in 1917, the Krasin served for decades as the flagship of Soviet Arctic research. She finally retired in 1998.
The icebreaker Krasin. Source: Lori / Legion Media
This time around, the Krasin offers an exhibition devoted to the icebreaker's famous operation to rescue Italian researcher Umberto Nobile's airship expedition to the North Pole in 1928. The airship crashed on its way back, killing several of the 16-man crew.
The surviving researchers set up a tent camp on an ice float and had to spend a month in it before the Krasin finally arrived to collect them.
January 15 (Wednesday)
The Theater Center on Moscow's Strastnoy Boulevard is featuring a road tour by Yekaterinburg-based Kolyada Theater. The theater was founded by one of Russia's best playwrights Nikolay Kolyada, whose plays are popular in Russia and abroad.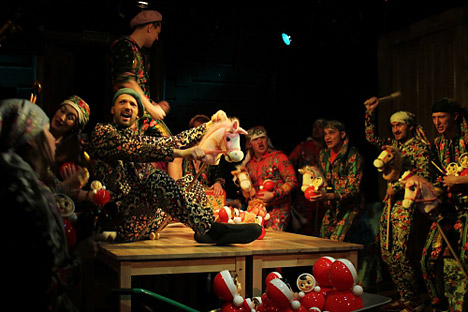 Yekaterinburg-based Kolyada Theater. Source: Press Photo
Kolyada is also renowned as a creative avant-garde theatrical director. He manages to turn bootstrap budgets, amateur lighting, makeshift props, and flea-market wardrobes into grandiose mythical tales.
Kolyada resorts to rituals, symbolism, and poetic images to radically transform classical plays by such authors as Shakespeare, Chekhov, and Gogol, leading the audience towards the catharsis with a steady hand. The Kolyada Theater troupe are welcome guests in France and Poland, and their traditional Moscow tours are invariably sold out.
During its 2014 tour, Kolyada Theater will offer most of its repertoire including Shakespeare's Hamlet, Chekhov's Cherry Orchard, Pushkin's Boris Godunov, Lermontov's Masquerade, Gogol's Dead Souls, Inspector General and Marriage, Goldoni's Servant of Two Masters, and Tennessee Williams' Streetcar Named Desire.
January 16 (Thursday)
The Moscow International House of Music is hosting the Voices of Bulgaria international opera concert. Maria Zhekova (mezzo soprano), Alexander Nosikov, Plamen Beykov, and Ivailo Giurov (basses) will be accompanied by the Russian State Brass Band.
Their repertoire will include Verdi, Rossini, Bizet, Saint-Saens, Glinka, Rachmaninoff, Rimsky-Korsakov, as well as romances by Russian composers. All four singers have studied in Europe and frequently perform in the leading opera houses of the world.
The upcoming concert will become a creative debut for the performers, a chance for opera lovers to appreciate the Balcan flavour of some of the most popular classical vocal pieces.
January 18 (Saturday)
Moscow's Triumph Gallery presents an exhibition by Russ Karablin. This Russian-speaking American artist, who was born in the city of Odessa in southern Ukraine, is growing ever more popular in the U.S.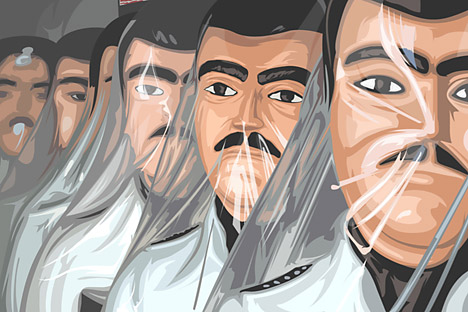 The exhibition by Russ Karablin will be held in Moscow's Triumph Gallery. Source: Press Photo
The artist works on the edge of a nervous breakdown, using his paintings to push the boundaries of what is acceptable in art. One of its works depicts four severed heads lying on the hood of a car.
All rights reserved by Rossiyskaya Gazeta.